B.C. Mudslide Leaves Woman Shaken After Narrow Escape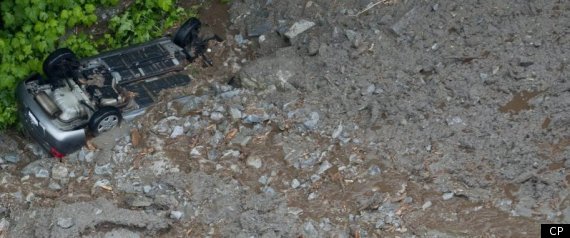 THE CANADIAN PRESS -- CHILLIWACK, B.C. - The woman was dazed and trembling as she walked in to the small-town truck stop, where she told the cashier a harrowing near-miss tale.
One minute, she's driving peacefully along the Trans-Canada Highway in the B.C. interior; the next, she's swerving to avoid an avalanche of mud and trees.
"She was shaking, literally," Cindy Mackin said Wednesday, shortly after the drama unfolded near Rosedale, B.C.
"I actually talked to a lady who crawled out of it."
The slide rushed down just after morning rush hour on the major roadway between Hope and Chilliwack, more than 100 kilometres east of Vancouver. No serious injuries were immediately reported.
Mackin, 24, was working when the middle-aged woman stumbled in.
"She said she seen the trees coming down and she slammed on her brakes and then she seen it basically happen right in front of her."
RCMP said they were only aware of the single vehicle getting caught up in the earth's tumble, and had searched with engineers for other cars or people that might have been buried around 11 a.m. PT. The highway was closed in both directions.
"We walked the area as best we could to determine if there were any further vehicles under the slide, but we were unable to locate any," said Sgt. Peter Thiessen, adding heavy equipment will move in next to ensure no one else was trapped.
Search and rescue teams, members of the volunteer fire department and provincial staff with the ministry of transportation were all assessing the scene.
"We're looking to make sure there's no one else, knock wood," said Lynn Orstad, emergency program manager for the Fraser Valley Regional District.
Orstad said the woman who showed up at the gas station suffered only minor harm, even though her car rolled twice.
"She did get herself out," Orstad said. "But she's OK. A little bit of a bruised knee as she rolled over. So she's doing well."
No homes are located near the slide area, which measured about 40 metres by 15 metres and coated mostly the two eastbound lanes of the highway, Orstad said of the situation on Wednesday afternoon.
"Right now, the slide is very fluid. What that means is the material is coming down. It's mostly water and mud."
RCMP set up a command post in the area.
Provincial engineers and geological technicians were flying over the affected stretch to assess slope stability.
Christy Anderson, spokeswoman for the BC Ambulance Service, said one ambulance was on standby as a precaution.
About 20 cars of a CN Rail train carrying consumer goods were also caught in the mud, stopping it about 20 kilometres east of Chilliwack, said spokeswoman Kelli Svendsen.
"There were no injuries, and there was no derailment as a result," she said of the train that was heading west towards the Delta port.
Orstad said the cause of the disruption couldn't immediately be determined. But she noted weather-related slides have occurred in the same area in the past. In January 2009, about ten mini-slides swept down.
"It's been quite dry here in this area in the last week, and we've just been getting sprinkles right now," she said. "It's not like a heavy rain we see in the fall, so at this stage we're not sure what has brought it down."
David Jones, an Environment Canada meteorologist, said he didn't believe weather was the main factor.
"I would be looking in other directions," he said. "Because I looked at the radar and even then it didn't look like there was much in the way of heavy rain showers that were persistent over a particular area."
Jones said only about 10 millimetres of rain fell at a nearby weather station on Wednesday morning.
"It's a good soaking, but it doesn't look absolutely spectacular. "
He said no more than 30 millimetres of rain fell in the eastern end of the Fraser Valley over the past 24 hours.
RCMP said the highway will be closed for an indefinite period of time.