Concrete Slab Collapses In Montreal's Ville-Marie Tunnel, No Injuries Reported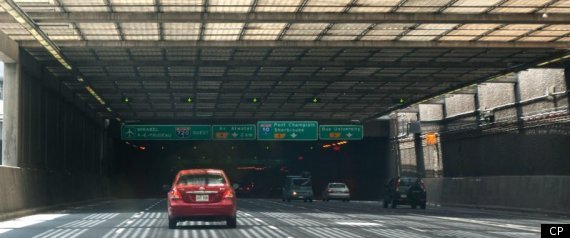 MONTREAL - A huge concrete slab fell Sunday on a major expressway that runs under downtown Montreal, the latest in a series of incidents that point to the city's crumbling infrastructure.
Police said no one was injured in the collapse, which happened in the Ville-Marie tunnel at around 9:30 a.m.
But the incident could have had disastrous consequences if it had occurred on Monday at the same time, during rush hour.
"Our officers arrived at the scene and we verified and made sure that no one was stuck underneath the rubble," Daniel Thibaudeau, spokesman for Quebec provincial police, told reporters Sunday.
About 100,000 vehicles use the expressway during an average weekday, according to Transport Quebec.
Construction workers, who had been doing repairs on the walls of the tunnel, were the first to report the incident.
One worker, who asked not to be identified, said he thought the vibrations from the repairs may have led to the collapse.
The fallen structure measured about 15 metres long in total, and was composed of several concrete blocks designed to prevent glare inside the tunnel.
Officials with Transport Quebec, along with emergency crews, were at the scene on Sunday trying to figure out what happened.
The incident is the latest in a series of infrastructure problems on the city's roads and bridges.
The emergency construction work on the Champlain Bridge and the city's biggest highway interchange has led to nightmarish traffic jams at odd hours, even in the dead of summer.
The incident on Sunday also brought back memories of the 2006 collapse of a highway overpass in nearby Laval, which killed five people and injured several more.
A spokeswoman for Transport Quebec tried to reassure Montreal drivers Sunday, saying the provincial government regularly inspects the city's transportation infrastructure and has invested $4 billion this year alone.
"We won't open this piece of infrastructure until we know it's safe," Caroline Larose told reporters.