'Joe Fresh' Faced: Joseph Mimran Talks Customizable Beauty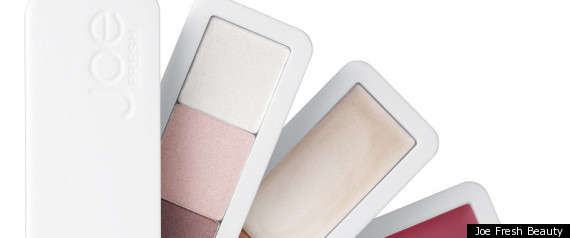 We love when a beauty product helps us look good in as little time as possible.
Enter the latest customizable beauty line from Joe Fresh Beauty. Instead of filling our makeup bag with separate containers of eyeshadow or multiple lipsticks -- which we spend way too much time digging for in our Mary Poppins' purse -- the new line of stackable compacts houses all of our go-to beauty staples (we're talking eye, face and lips colours) in one place, and are about the size of a small datebook.
Perhaps the best part is how the latest products look and feel on the skin: The cream blushes are smooth; the eyeshadows are velvety and won't cause eyelid creases, and the lip stains are silky. There's a wide array of colours to flatter every skin tone, too: Pinks, violets, shimmery beiges. Another plus: they're great for those with sensitive skin.
"It's really about starting with a great quality product," says Joseph Mimran, the mastermind behind Joe Fresh Style and Joe Fresh Beauty. "From there, we're offering a collection of classic pieces to suit all skin tones and trend-driven colours to reflect what's seasonally happening in the beauty world. The accessible price points give you the freedom to have fun with the products."
And what are the hot looks for fall? Joe Fresh Beauty is banking on the Ingénue, a nod to the '70s "girl next door" who is beautiful and strong, perfectly groomed; Coquette, a modern day take on fun and flirty, effortlessly chic French style; and the holiday look, Gamine, which is inspired by New York City nightlife.
Joe Fresh has quickly become an iconic Canadian brand just five years after Mimran -- the mastermind behind Club Monaco, Caban and Alfred Sung -- launched the affordable-yet-stylish clothing line in 2006. The design house expanded to include beauty three years later.
And how should you go about choosing a fall beauty colour palette that's right for you? Mimran says it's as simple as defining your personal sense of style.
"I find beauty in those unique moments that delight the eye. Not only do I find inspiration in fashion, but in art, film, music, architecture. I think a clean, fresh look is both modern and sophisticated. On the runway and throughout our campaigns, we choose one feature to play up and let the natural beauty of each girl shine through."
The new customizable beauty products will hit Joe Fresh and Superstore shelves in September.
Starter Compact (top with mirror and base), $10 for set; Eye Quad, $12 each, in Ingénue, Coquette, Gamine, Precious Metals, Soft Smoke and Pretty Pinks; Face Duo, $12 each, in Ingénue, Coquette and Gamine; Lip Duo, $12 each, in Ingénue, Coquette and Gamine.
WATCH: