Kathy Dunderdale, Newfoundland Premier, Uses TV Debate To Tout Fiscal Record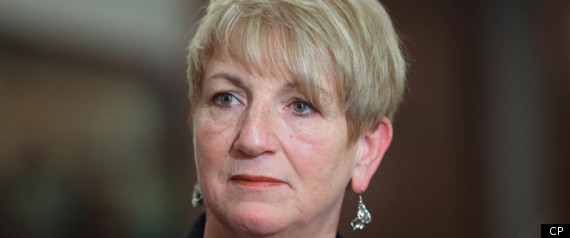 ST. JOHN'S, N.L. - Newfoundland and Labrador Premier Kathy Dunderdale smoothly fended off opposition attacks Wednesday as her Liberal foe faced the resignation via Twitter of an 11th-hour candidate in the middle of a televised election debate.
Liberal Leader Kevin Aylward downplayed the embarrassing development, but it was symptomatic of how the once mighty party has struggled to attract cash and interest heading toward the Oct. 11 vote.
Hours before the debate began, Aylward had announced the final six Liberal candidates. It was the last of the parties to claim a full slate of contenders.
Aylward confirmed after the debate that Phil Mullins — a candidate who in the space of a day mulled on Twitter about running, was named for the Liberal ticket, and then withdrew — was no longer vying for the St. John's-area district of Mount Pearl North. But he brushed it off as a minor setback.
"When you're in the Opposition it is more difficult to get candidates," Aylward told reporters after the debate.
"We will deal with that matter, and we have other people coming forward as we speak. So, we will have a full slate folks, and we will go forward. This is a democracy."
Aylward went after the Progressive Conservative leader for what he called the Dunderdale-Harper "coalition."
NDP Leader Lorraine Michael also took aim at Dunderdale's appearance alongside Harper during the federal campaign last spring as he promised a loan guarantee for the $6.2-billion Muskrat Falls hydroelectric project in Labrador.
Despite that grip-and-grin photo op, voters in the province barely elected one Conservative MP by a tissue-thin margin.
Both Aylward and Michael pointed out that Ottawa later announced plans to close the search-and-rescue co-ordination centre in St. John's — a move that set off protests in the city.
"I can't tell what their priorities are," Michael said of the provincial Conservatives.
Liberal Leader Kevin Aylward used the same tactic.
"Ms. Dunderdale and her government are barely able to get a return phone call," he said.
"You have to stand up to Mr. Harper."
Dunderdale said she has taken stands against the prime minister in the past over equalization payments and will do so again.
"It's too foolish to talk about," she said of the opposition barbs. "You know, when we were at odds with the federal government, members of (Aylward's) party stood in that house of assembly day after day after day critiquing us for not talking to the federal government, not doing something to improve relations.
"I'm not one bit interested in being buddies with Stephen Harper," Dunderdale said. "That's not my goal. My goal is to serve the interests of the people of this province. A significant number of those issues are in the hands of the federal government.
"I have to be able to talk to the federal government. And I'm going to do that."
Aylward also accused Dunderdale of abandoning the province's rural regions, a charge he has repeatedly levelled against her.
Dunderdale dismissed it, saying her government made strides in bringing down the province's debt and securing energy deals that have benefited all parts of the province.
"I don't think we take people for granted," she told reporters. "I think we listen to people.
"When we came to government in 2003, there was about $2.6 million being invested in economic development in this whole province by the provincial government. That number is up to $175 million a year, and 71 per cent of that money is invested outside of the Avalon Peninsula in rural communities."
During the debate, Dunderdale said the Opposition Liberals would drive spending to unsustainable levels, while the NDP would not act on the province's debt.
"We have on one hand the Liberals that are going to add billions of dollars to our debt and you who are going to ignore it," she told Michael.
Dunderdale became premier after her predecessor, the wildly popular Danny Williams, quit politics last December. A rift has grown between the two since then, but Dunderdale has resisted engaging in any public squabble.
In response to criticism that government spending has spiralled out of control, she is promising a $135-million array of tax breaks and targeted spending that stresses fiscal prudence. She is also banking on the proposed Muskrat Falls project, a development her government hopes to have on stream by 2018, though critics say it would add at least $3 billion on top of the province's net debt of more than $8.2 billion.
Michael is hoping that the late Jack Layton's sweep to Official Opposition in Ottawa, along with a $142-million platform that carries a share-the-wealth message, will help the NDP break its record of two provincial seats and challenge the Liberals in what polls have suggested could be a race for second place.
Her promise to impose a three per cent surtax on offshore oil royalties has triggered some controversy on the campaign trail, particularly after she admitted she didn't seek a legal opinion before committing to it. But she has stood by the pledge, prompting a brief exchange during the debate between the NDP and Conservative leaders.
"You will poison the investment climate in this province," Dunderdale said. "You're threatening the investment community in Newfoundland and Labrador."
"Not at all," Michael replied.
Aylward has been the Liberal leader for only six weeks after Yvonne Jones unexpectedly stepped down to focus on her breast cancer recovery. He comes with 18 years of political service, including nine years in provincial cabinet, that ended when he chose not to run in 2003. He is in a tough fight for a seat against Education Minister Joan Burke.
His party is promising to invest 10 per cent of oil revenues — about $250 million a year — in a legacy fund.
The 60-minute televised debate is the only one of the election campaign and is the first for Dunderdale and Aylward as party leaders.
Recent polls have suggested that Dunderdale's Conservatives hold a wide lead. At dissolution, the Tories held 43 seats, compared to four Liberals and one New Democrat.