Canada-US Price Gap: Mark Carney Says Canadian Shoppers Pay 11 Per Cent More Than Americans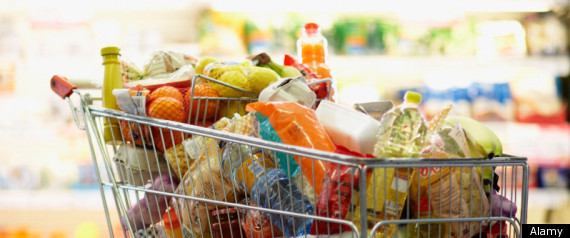 OTTAWA - Canadian shoppers are paying an average of 11 per cent more than Americans for the same goods, Bank of Canada governor Mark Carney said Wednesday.
Testifying before a Senate committee looking into the price gap, Carney said results of the bank's September survey — while still showing a major price gap — were nonetheless an improvement over a similar survey in April which put the difference at 18 per cent.
The April results were not far off those of a Bank of Montreal study, also conducted in the spring, which assessed the gap at about 20 per cent.
Carney said there could be a number of factors that contribute to the "stickiness" of prices despite currency fluctuations that have seen the loonie trading around par with the U.S. dollar in recent months.
Among those factors are higher taxes, retail labour costs that are about 20 per cent higher in Canada, a smaller population, higher transportation costs and economies of scale which allow retailers south of the border to reduce costs.
But competition from U.S. retailers does not appear to be much of a worry for Canadian retailers, he said, despite stories of angry Canadians taking their business south.
While the cross-border shopping phenomenon does effect Canadian retailers close to the U.S. border, it is a minor factor in the overall picture, he said.
"The actual scale of cross border shopping is quite modest, about two per cent of retail sales," Carney said.
"The degree of competition that has engendered does not appear to have been determinant in forcing a more rapid adjustment in prices to the currency," he added.
Carney also shot down a complaint often cited by the Retail Council of Canada that tariffs can add up to 18 per cent on the imported costs of some consumer items.
Last month, Finance Department officials testified that most goods that cross the border are duty free and where duties do apply, they tend to be small.
Carney said the central bank has not done a detailed analysis of tariffs, but voiced the same opinion. "While there are tariff differentials, the differences are not that large," he said.
The Senate committee was asked in September to look into the issue that has been a source of irritation among Canadian consumers, who continue to pay significantly higher prices for everything ranging from books to automobiles and gasoline despite the high Canadian dollar.
In testimony last month, federal Finance Minister Jim Flaherty told the committee that Canadians have every right to be angry about paying more than Americans for the same goods. He said he would look into the issue of tariffs if the committee found they were a major factor.
Also in previous testimony, the committee has been told that a price gap may always exist between Canada and the U.S. regardless of the time retailers have to adjust.
Carney agreed that the cost structure in the Canadian market could result in a persistent price "wedge" between the two countries.
Efforts to create a uniform North American market with identical tariffs and regulations will help close the gap, he said, but not completely.
"We still will have issues with one of the great benefits of this country, its vastness and the dispersed population and it costs (more) to ship," he noted.
But Carney said there could be some closing of the gap in future years.
"It is not lost on the retail sector that the square foot return in Canada is now higher than it is in the United States," he said, which could lead to more American retailers locating north of the border and increasing competition.
The governor said the bank looks at the impact of currency fluctuations on prices in order to calculate the effect on future inflation. He said as a rule of thumb, a 10 per cent gain in the value of the loonie can lower inflation by 0.4 per cent.
By Julian Beltrame, The Canadian Press