BCE, Bell Canada Parent Company, Posts 41.4 Per Cent Jump In Profit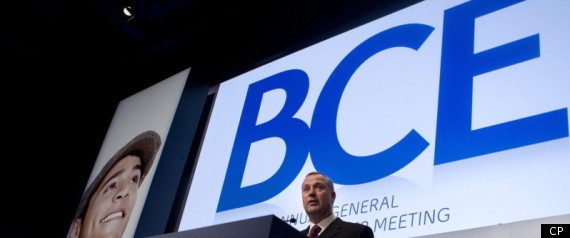 MONTREAL - BCE Inc. posted a 41.4 per cent jump in its third-quarter net income, helped by strong wireless results and by its recently re-acquired CTV assets _ part of the telecom company's push into the television sector and mobile media.
"All in all, a strong quarter," chief executive George Cope told analysts Thursday during a conference call after BCE (TSX:BCE) reported a quarterly profit of $652 million.
"We now generate more revenue from TV than we do from residential voice revenues and, at $454 million, we obviously expect that to continue to grow," BCE chief executive George Cope told analysts Thursday in a conference call.
But Cope also sounded a note of caution about the uncertain outlook for advertising revenues at its media holdings, which include not only the CTV conventional television network but also a range of specialty television channels such as TSN and the former CHUM radio group.
"We, as our other competitors have mentioned, are cautious about the fourth quarter in terms of advertising revenue," Cope said.
"Our guidance remains the same for the company, but clearly that's one area we're watching carefully given some of the events on a global basis."
Similar comments have been made recently by the CEOs of Astral Media Inc. (TSX:ACM.A), Corus Entertainment Inc. (TSX:CJR.B) and Torstar Corp. (TSX:TS.B) during their quarterly reports. All have referred to the uncertainty caused by the European debt crisis.
In its wireless division, BCE added 127,000 net postpaid subscribers, who are usually BlackBerry, iPhone and Android smartphone customers on three-year contracts, Cope said.
He said 43 per cent of Bell's wireless customers are now using smartphones, up from 26 per cent in the same quarter in 2010.
"The opportunity is the other 57 per cent," he said, referring to customers who don't yet have smartphones.
By comparison, Rogers Communications (TSX:RCI.B) added 74,000 lucrative net new subscribers in its post-paid operations, dropping significantly from 108,000 added post-paid subscribers in the second quarter _ even though the third quarter is considered a busy back-to-school period when students set up new phone plans.
But Rogers said 53 per cent of its wireless customers now have smartphones.
Bell, Rogers and Telus (TSX:T) are all competing against each other and new wireless players including Mobilicty, Wind Mobile and Public Mobile for cellphone customers.
In its financial results, the Montreal-based telecommunications company reported earnings of $642 million, or 83 cents per share, up from $454 million, or 81 cents per share a year ago.
On an adjusted basis, BCE's earnings rose 14.8 per cent to 93 cents per share, beating average analyst expectations of 74 cents, according to a estimates compiled by Thomson Reuters.
Revenues increased 8.7 per cent to $4.91 billion from $4.52 billion.
Bell added 26,000 net TV subscribers in the quarter, an increase of 41 per cent, meeting UBS analyst Phillip Huang's estimate.
Huang estimated that Bell would add 139,000 net postpaid wireless customers, a figure that Bell fell short of by 12,000 with its 127,000 net postpaid customers.
He has put a 12-month price target of $41 per BCE share.
At Bell Canada, the company's main subsidiary, operating revenues grew 10.1 per cent to $4.31 billion as the results from the purchase of CTV energized results in the company's new Bell Media unit where profit was $435 million.
Earlier this year, BCE was given regulatory approval to purchase the rest of the CTV assets that it didn't already own. BCE had acquired majority ownership of the network about 10 years ago but later sold off all but about 15 per cent, only to buy back most of the shares from its partners.
Canada's largest telecom company said it plans to use the content to put across wireless media platforms such as smartphones, personal computers and computer tablets.
BCE also boosted its full-year 2011 guidance to between $3.10 and $3.15 per share of adjusted earnings per share, up from between $3.05 and $3.10 that was predicted in May.
Shares in BCE were up six cents to $39.72 at midday Thursday on the Toronto Stock Exchange.