Killing Gun Registry Could Fuel Firearms Trafficking: Federal Government Memo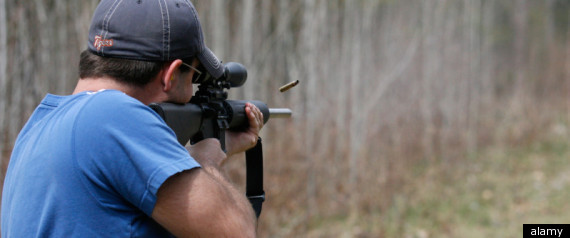 OTTAWA - The public safety minister is dismissing a warning from his own department that scrapping the requirement to register rifles and shotguns could fuel illegal firearms trafficking across the Canadian border.
Vic Toews told a Commons committee Tuesday that ending the long-gun registry would not diminish import controls, calling an internal Public Safety memo "factually flawed" and "a bit of a red herring."
But neither he nor his officials could explain precisely how the verification process would work in future.
Toews left without answering questions from reporters after his committee appearance.
The internal Public Safety memo says dismantling the long-gun registry would weaken import controls by eliminating a requirement for border officials to verify firearms coming into the country.
"Such a loophole could facilitate unregistered prohibited and restricted firearm trafficking into and through Canada," says the declassified memo, originally marked secret.
The memo was released under the Access to Information Act to the National Firearms Association and posted along with hundreds of other pages on the organization's website.
It was prepared by Mark Potter, a senior Public Safety Department official, for an assistant deputy minister as Parliament was debating a private member's bill to kill the registry. That bill was narrowly defeated in the House of Commons last year.
Upon winning re-election with a majority, the Conservatives made legislation to end the long-gun registry a priority. The bill introduced last month would halt registration of long guns and permanently delete more than seven million files on gun ownership.
Many police, health and victims' groups oppose the move, while anglers and hunters generally welcome plans for the registry's demise.
The internal memo notes that businesses and individuals who have a valid firearms licence and supporting documentation may import non-restricted firearms such as common hunting rifles into Canada — a process administered by the Canada Border Services Agency.
Firearms brought into Canada must go through a verification process, to ensure people have the proper licensing privileges to possess the gun they're importing.
Verification, the responsibility of the RCMP-administered Canadian Firearms Program, involves providing a detailed description of the firearm and in some cases may entail a physical inspection.
The memo says the border services agency is "neither trained nor required to verify firearms," and the requirement would disappear along with the long-gun registry.
As a result, says the document, restricted or prohibited weapons could be brought into Canada — either intentionally or otherwise — under the guise of unrestricted guns.
The RCMP did not have an immediate answer to questions about any continuing role in the verification of long guns entering the country should the bill pass.
Public Safety officials declined to be interviewed Tuesday. In an email response to questions, Michael Patton, a spokesman for Toews, said the border services agency "will continue to ensure that individuals and goods crossing the border are in compliance to the law."
NDP justice critic Jack Harris accused the government during question period of "endangering public safety by opening the floodgates for arms smuggling."
Toews reiterated that his department's assessment was "misleading" and "flawed," insisting the bill would not remove any controls on the importation of firearms.
Blair Hagen, a spokesman for the firearms association, also said eliminating the registry will not mean looser controls on guns at the border.
"Just because there is not an individual registration assigned to that firearm any more does not mean it is not controlled and that there's not a record of it entering Canada. There will still be a record of it entering Canada if it's done legally," he said in an interview.
"I think they're alleging that some people will try to fudge it a bit to get illegal guns into Canada and, frankly, that's offensive."
The Tories argue the registration of long guns is wasteful and unnecessary, although they support the licensing of gun owners and the registration of prohibited and restricted weapons, including handguns.
At committee Tuesday, Toews called the long-gun registry a "failed boondoggle."
"There is no evidence that it has stopped a single crime or saved a single life."
Supporters of the registry dispute this, saying it has provided on-duty police with advance information about guns in suspects' houses, helped defuse a 2009 hostage-taking incident in Edmonton, and has reduced the rate of women killed by their partners.
The Public Safety memo says elimination of the registry would "significantly compromise" law enforcement's ability to trace firearms in Canada — for instance, linking a weapon left at a crime scene with an individual owner — or to support foreign police forces trying to do the same.
"In such a scenario, Canada would no longer meet its international commitments relating to firearms tracing and record-keeping."
By Jim Bronskill, The Canadian Press
Loading Slideshow
What does this new bill on the gun registry do?

We keep hearing about scrapping the long-gun registry, but really what we're talking about is scrapping the requirement for people to register their rifles and shotguns - that's what Bill C-19 aims to do by making amendments to the Criminal Code and Firearms Act. Once passed, people will not have to register their non-restricted or non-prohibited firearms. It also provides for the destruction of existing records in the Canadian Firearms Registry for those firearms. <em>With files from CBC</em>

What exactly is the registry?

It's a centralized database overseen by the Royal Canadian Mounted Police that links firearms with their licensed owners. It contains information about all three types of guns that must be registered - non-restricted, restricted and prohibited. (All firearms must be registered.) To register a firearm, you have to have a licence to possess it.

Does the bill make any changes to licensing requirements?

No. Canadian residents need a licence in order to possess and register a firearm or ammunition and that won't change. There are a couple of different kinds of licences because of various changes to laws and regulations over the years.

What are long guns?

There are three types of guns under Canadian law: non-restricted, restricted and prohibited. Most common long guns - rifles and shotguns - are non-restricted but there are a few exceptions. A sawed-off shotgun, for example, is a prohibited firearm. A handgun is an example of a restricted firearm. Different regulations apply to different classifications of firearms.

How many guns are we talking about?

As of September 2011, there were about 7.8 million registered guns. Of those, 7.1 million are non-restricted firearms.

Why does the government want to get rid of the long-gun registry?

The government says it is wasteful and ineffective at reducing crime and targets law-abiding gun owners instead of criminals, who don't register their firearms.

Who wants to keep it?

Police and victims' groups are big supporters of the registry. Police say the database helps them evaluate a potential safety threat when they pull a vehicle over or are called to a residence. They also say it helps support police investigations because the registry can help determine if a gun was stolen, illegally imported, acquired or manufactured. This year, the RCMP says police agencies accessed it on average more than 17,000 times a day.

When will the registry cease to exist?

The government has passed the legislation and the registry no longer exists. Except for in Quebec, where an ongoing court challenge means the owners must still register their guns in the province.

Why does the government want to destroy the records?

The government is doing this to ensure that no future non-Conservative government can recreate the registry. Public Safety Minister Vic Toews has also made it clear that if any province wants to set up its own registry it would get no help from the federal government. The Conservatives are so fundamentally opposed to the existence of the records, because they say they focus on law-abiding citizens instead of criminals, that they don't want them available for anyone to use.

How much does the registry cost?

The registry cost more than $1 billion to set up in 1995 and the cost was the source of much controversy. Public Safety Minister Vic Toews said on Oct. 25 that the government's best estimate is that it costs about $22 million a year to operate. That's the entire registry, not just the long-gun portion, but he noted most of the guns in the registry are long guns. He said he didn't know how much money scrapping the requirement to register long guns would save the government. Conservative MP Candice Hoeppner says there are also "hidden costs" that are borne by provincial and municipal police agencies to enforce the registry.