Gun Registry: Info Watchdog Criticizes Federal Plan To Destroy Data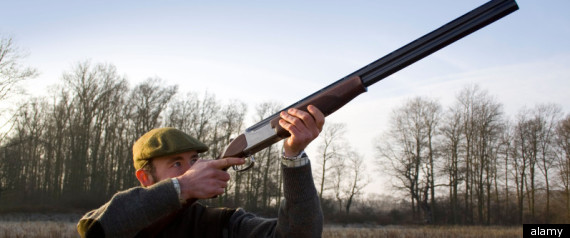 OTTAWA - The federal information watchdog says a government move to destroy gun-registry records sets a bad precedent.
Suzanne Legault told a Commons committee Tuesday that a federal bill to scrap the long-gun registry — and delete millions of records — violates the letter and spirit of the Library and Archives of Canada Act.
"It does raise major concerns in terms of transparency and accountability in general," Legault said.
"As information commissioner, I have serious concerns about the impact this bill will have on government information management."
Legault is an ombudsman for users of the Access to Information Act, the law that allows requesters to seek copies of federal government files. Many of those records are held by Library and Archives Canada, responsible for preserving federal documents for future generations.
The national archivist is best placed to oversee the maintenance of federal records, she said.
The federal bill introduced last month would halt registration of long guns and permanently delete more than seven million files on gun ownership. It would override provisions of the Library and Archives of Canada Act and the Privacy Act to allow for destruction of the records.
The Tories argue the registration of long guns is wasteful and unnecessary, although they support the licensing of gun owners and the registration of prohibited and restricted weapons like handguns.
The Association of Canadian Archivists recently wrote to Public Safety Minister Vic Toews, arguing that destroying records for "political expediency" and ignoring existing legislation "sets a very dangerous precedent for future legislation and record-keeping practices."
Conservative MP Garry Breitkreuz said Tuesday it would be irresponsible to turn the gun-registry data over the archives due to numerous inaccuracies in the files.
"Archivists want accurate information," he said during the committee hearing. "They wouldn't want to collect a lot of garbage."
Quebec wants to use the long-gun data to create its own registry. But the Conservative government is refusing to share the records.
Privacy commissioner Jennifer Stoddart has said there is nothing in federal privacy legislation that would prevent the government from sharing the long-gun data with the provinces.
At committee Tuesday, Stoddart urged caution in destroying the data, pointing to regulations that require institutions to keep records for at least two years. The rules ensure information is available for use in court proceedings, to cite one example, she said.
Kenneth Epps of Project Ploughshares testified that elimination of the long-gun registry "will create a significant hole" in Canada's record-keeping, preventing it from meeting commitments under international agreements aimed at curbing illicit firearms sales.
The Conservative government says there is no evidence the registry has saved a single life.
Lyda Fuller of YWCA Yellowknife insisted the long-gun data has been of great value to police responding to domestic disputes, as it tells them what guns might be inside a home.
"The RCMP use this for every single domestic call they get," she said. "They need those records."
Critics say gang members and other outlaws don't register their guns — meaning their firearms won't be listed in the registry anyway.
Other witnesses appearing Tuesday, including shooter Linda Thom, an Olympic gold medallist, said the gun registry effectively treats responsible firearms owners as criminals.
Loading Slideshow
What does this new bill on the gun registry do?

We keep hearing about scrapping the long-gun registry, but really what we're talking about is scrapping the requirement for people to register their rifles and shotguns - that's what Bill C-19 aims to do by making amendments to the Criminal Code and Firearms Act. Once passed, people will not have to register their non-restricted or non-prohibited firearms. It also provides for the destruction of existing records in the Canadian Firearms Registry for those firearms. <em>With files from CBC</em>

What exactly is the registry?

It's a centralized database overseen by the Royal Canadian Mounted Police that links firearms with their licensed owners. It contains information about all three types of guns that must be registered - non-restricted, restricted and prohibited. (All firearms must be registered.) To register a firearm, you have to have a licence to possess it.

Does the bill make any changes to licensing requirements?

No. Canadian residents need a licence in order to possess and register a firearm or ammunition and that won't change. There are a couple of different kinds of licences because of various changes to laws and regulations over the years.

What are long guns?

There are three types of guns under Canadian law: non-restricted, restricted and prohibited. Most common long guns - rifles and shotguns - are non-restricted but there are a few exceptions. A sawed-off shotgun, for example, is a prohibited firearm. A handgun is an example of a restricted firearm. Different regulations apply to different classifications of firearms.

How many guns are we talking about?

As of September 2011, there were about 7.8 million registered guns. Of those, 7.1 million are non-restricted firearms.

Why does the government want to get rid of the long-gun registry?

The government says it is wasteful and ineffective at reducing crime and targets law-abiding gun owners instead of criminals, who don't register their firearms.

Who wants to keep it?

Police and victims' groups are big supporters of the registry. Police say the database helps them evaluate a potential safety threat when they pull a vehicle over or are called to a residence. They also say it helps support police investigations because the registry can help determine if a gun was stolen, illegally imported, acquired or manufactured. This year, the RCMP says police agencies accessed it on average more than 17,000 times a day.

When will the registry cease to exist?

The government has passed the legislation and the registry no longer exists. Except for in Quebec, where an ongoing court challenge means the owners must still register their guns in the province.

Why does the government want to destroy the records?

The government is doing this to ensure that no future non-Conservative government can recreate the registry. Public Safety Minister Vic Toews has also made it clear that if any province wants to set up its own registry it would get no help from the federal government. The Conservatives are so fundamentally opposed to the existence of the records, because they say they focus on law-abiding citizens instead of criminals, that they don't want them available for anyone to use.

How much does the registry cost?

The registry cost more than $1 billion to set up in 1995 and the cost was the source of much controversy. Public Safety Minister Vic Toews said on Oct. 25 that the government's best estimate is that it costs about $22 million a year to operate. That's the entire registry, not just the long-gun portion, but he noted most of the guns in the registry are long guns. He said he didn't know how much money scrapping the requirement to register long guns would save the government. Conservative MP Candice Hoeppner says there are also "hidden costs" that are borne by provincial and municipal police agencies to enforce the registry.