Gun Registry: Montreal Massacre Survivor Slams Federal Plan To Scrap Records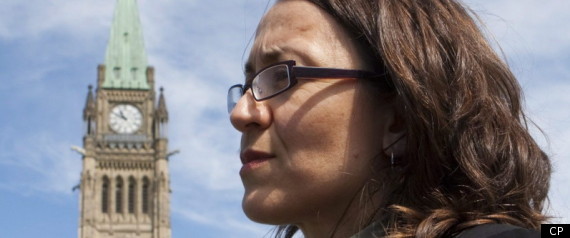 OTTAWA - The Conservative government is ignoring evidence and common sense in dismantling the long-gun registry, says a survivor of the 1989 Montreal massacre.
Nathalie Provost, an engineer who was shot at the Ecole Polytechnique, told the Commons public safety committee Thursday she's watching with a "heavy heart" as the Tories move to scrap the registry.
"Long guns are dangerous. And this I know," Provost told MPs studying a government bill.
The legislation introduced last month would end registration of common rifles and shotguns and permanently delete more than seven million files on gun ownership.
The Tories argue the registration of long guns is wasteful and unnecessary. However, they support the licensing of gun owners and registration of prohibited and restricted weapons such as handguns.
Provost said all guns can be used to do harm.
"In 11 days, it will be the 22nd anniversary of the Polytechnique massacre, in which I was injured and escaped death," she said at the hearing.
"So it is with a heavy heart that I am witnessing the legislative process that is leading to the dismantling of one of the few positive outcomes of this tragedy: the law that helps save hundreds and hundreds of lives."
The government argues the long-gun registry merely penalizes law-abiding gun owners and has not saved a single life since being ushered in by the Liberals in 1995.
Officials should be trying to keep guns away from people who shouldn't own them, Sgt. Duane Rutledge of the New Glasgow, N.S., police service told the committee.
"I think we've targeted the wrong people."
The bill before Parliament will not only spell the registry's demise, but "critically weaken" the firearms licensing system that determines who can own a gun, said Heidi Rathjen — like Provost a graduate of Ecole Polytechnique and one of the gun-control advocates who supported creation of the registry in the 1990s.
The legislation would eliminate the need for a fresh registration certificate to be issued when a non-restricted gun is transferred to a new party, thereby scratching a requirement to tell the federal registrar of firearms.
The person selling or transferring the gun would simply have to believe that the new owner has a valid firearms licence.
"Technically they don't even have to ask to see a licence," Rathjen told the committee.
"It could be a revoked licence, a counterfeit licence or even a shabby but slightly official-looking plasticized card that could be produced in any copy shop," she said.
"It's a huge loophole that you could drive a freight train through."
In just over two years, 4,612 long guns were seized in relation to licences revoked for public safety reasons, Rathjen and Provost said in their brief to the committee.
In the Commons, New Democrat MP Francoise Boivin said the Conservatives are letting victims down by killing the registry.
"Will the government not realize this error before it is too late?"
Public Safety Minister Vic Toews said selling a gun to an unlicensed person is a crime. "If you do so you will be held accountable to the full extent of the law."
Rathjen argues, however, that it will be almost impossible for police to prove a seller is lying when they say they believed the buyer had a valid firearms licence.
The legislation would override provisions of the Library and Archives of Canada Act and the Privacy Act to allow for destruction of the long-gun records.
Quebec wants to use the data to create its own registry, but the federal government refuses to share the records.
Loading Slideshow
What does this new bill on the gun registry do?

We keep hearing about scrapping the long-gun registry, but really what we're talking about is scrapping the requirement for people to register their rifles and shotguns - that's what Bill C-19 aims to do by making amendments to the Criminal Code and Firearms Act. Once passed, people will not have to register their non-restricted or non-prohibited firearms. It also provides for the destruction of existing records in the Canadian Firearms Registry for those firearms. <em>With files from CBC</em>

What exactly is the registry?

It's a centralized database overseen by the Royal Canadian Mounted Police that links firearms with their licensed owners. It contains information about all three types of guns that must be registered - non-restricted, restricted and prohibited. (All firearms must be registered.) To register a firearm, you have to have a licence to possess it.

Does the bill make any changes to licensing requirements?

No. Canadian residents need a licence in order to possess and register a firearm or ammunition and that won't change. There are a couple of different kinds of licences because of various changes to laws and regulations over the years.

What are long guns?

There are three types of guns under Canadian law: non-restricted, restricted and prohibited. Most common long guns - rifles and shotguns - are non-restricted but there are a few exceptions. A sawed-off shotgun, for example, is a prohibited firearm. A handgun is an example of a restricted firearm. Different regulations apply to different classifications of firearms.

How many guns are we talking about?

As of September 2011, there were about 7.8 million registered guns. Of those, 7.1 million are non-restricted firearms.

Why does the government want to get rid of the long-gun registry?

The government says it is wasteful and ineffective at reducing crime and targets law-abiding gun owners instead of criminals, who don't register their firearms.

Who wants to keep it?

Police and victims' groups are big supporters of the registry. Police say the database helps them evaluate a potential safety threat when they pull a vehicle over or are called to a residence. They also say it helps support police investigations because the registry can help determine if a gun was stolen, illegally imported, acquired or manufactured. This year, the RCMP says police agencies accessed it on average more than 17,000 times a day.

When will the registry cease to exist?

The government has passed the legislation and the registry no longer exists. Except for in Quebec, where an ongoing court challenge means the owners must still register their guns in the province.

Why does the government want to destroy the records?

The government is doing this to ensure that no future non-Conservative government can recreate the registry. Public Safety Minister Vic Toews has also made it clear that if any province wants to set up its own registry it would get no help from the federal government. The Conservatives are so fundamentally opposed to the existence of the records, because they say they focus on law-abiding citizens instead of criminals, that they don't want them available for anyone to use.

How much does the registry cost?

The registry cost more than $1 billion to set up in 1995 and the cost was the source of much controversy. Public Safety Minister Vic Toews said on Oct. 25 that the government's best estimate is that it costs about $22 million a year to operate. That's the entire registry, not just the long-gun portion, but he noted most of the guns in the registry are long guns. He said he didn't know how much money scrapping the requirement to register long guns would save the government. Conservative MP Candice Hoeppner says there are also "hidden costs" that are borne by provincial and municipal police agencies to enforce the registry.