How To Wear Red: Designer Cynthia Rowley Shares Tips For Wearing The Current It Colour
Red, you may already know, is having a moment. Emerging last spring as a surprising splash of colour on many a Parisian panted leg, the bold hue made its way across the Atlantic to New York City this summer, and has recently penetrated the Canadian fashion psyche.
Now, with holiday party season fast upon us, crimson ensembles are popping up in store windows everywhere. Call it a seasonal sartorial dilemma: how do you pull off red without looking like Santa's wife (no offence, Mrs. C)?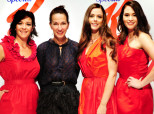 "I'd stay away from anything pile-knit or trimmed with white faux fur, for starters!" says Cynthia Rowley, the renowned designer and author who was in Toronto this fall for LG Fashion Week, where she unveiled a unique collection created in support of the Special K Start Something Fabulous campaign. Rowley custom-designed dresses for three women, and in keeping with the brand's iconic logo, the frocks were a vibrant scarlet, similar to the shade that's given red a fresh take.
"I think a bright, orangey-red is particularly relevant right now, as so much of what's in style this season is about experimenting with more daring color," says the designer, who spoke to HuffPost at Fashion Week and via email. And tone can make all the difference when choosing a holiday outfit.
"More sophisticated fabrics and a fusion of multiple shades of red within one look are both easy ways to avoid building a closet that's a little too holiday cheer-y." For those who are daunted by the thought of wearing such an intense hue, there are ways to downplay.
'It's bold, but it's so classic that you can think about it like you would a black dress," she says. You can temper a bright red piece by pairing it with black pieces, such as tights or accessories. Or start small: "Red lips are always a great way to stand out and dress up whatever you've got on, but red is also good for highlights within an ensemble -- a bag or a shoe."
"Think of it as more of a neutral," Rowley says, referencing Liza Minnelli, who said something along the lines of, "All a woman ever needs is red, white and black." This holiday, that includes all of us, not just Mrs. Claus.
Check out our slideshow of red worn well. Will you wear it this holiday? Tell us how in the comments below.
Sometimes you just have to go all-in when wearing red. Kate Winslet is a beautiful example of how to do so fearlessly. Shown here in Ellie Saab at this year's Emmy Awards, the actress lets her gown speak for itself, with simple hair and makeup and a gold clutch and diamond bracelet that makes an understated but definite 'This ain't the minor leagues' statement. Actress Kate Winslet arrives at the 63rd Annual Primetime Emmy Awards held at Nokia Theatre L.A. on September 18, 2011 in Los Angeles, California.

If you're ready to waltz into a party and have all eyes on you from start to finish, rock a red suit. Bold? Check. Daring? Check. Risky? Check. So if you're ready to go all out with red, a suit will instantly get noticed. There's not one hint of Santa in this ensemble. A model walks the runway at the Givenchy Ready to Wear show during Paris Womenswear Fashion Week Fall/Winter 2011 at Lycee Carnot on March 7, 2010 in Paris, France

Your shoes and purse don't have to match anymore. So why not match your purse to your lips? Lily Allen at the Chanel autumn/winter 2010/11 show paired an emerald green coat with orangey red lips and quilted clutch. It ties together her outfit without making the loudest statement in the room. Designer Karl Lagerfeld poses with various guests ahead of the Chanel Ready-to-Wear Fall/ Winter 2011-2012 show held at Grand Palais as part of Paris Fashion Week Picture shows: Lily Allen

Matte red lips were many designers go to look for the runway this fall. From Diane Von Furstenberg to Giles, red lips are making a statement. Red lipstick packs a serious punch so keep the rest of your make up minimal to make this trend look its best. This matte lipstick by Mac in Russian doll is the perfect deep red to wear while you're out on the town.

This bright red coat at Lanvin is a definite way to bring colour into a dreary winter season. If the rest of your outfit has to be covered up to stay warm, why not bring the colour to the outside and make a statement as you walk down the streets? It's a bold way to keep the winter bright. A model walks the runway during the Lanvin Ready to Wear Autumn/Winter 2011/2012 show during Paris Fashion Week at Espace Ephemere Tuileries on March 4, 2011 in Paris, France.

This look is for the truly daring. This coat by Zero + Maria Cornejo is a fantastic take on the fall trend of the cocoon coat. Pair this minimal style with other red tones to create a truly showstopping look. If you want to make a statement this loud, it's either go big or go home. A model walks the runway at the Zero + Maria Cornejo Fall 2011 fashion show during Mercedes-Benz Fashion Week at Highline Stages on February 14, 2011 in New York City.

The man who has been putting red on the soles of women's feet around the world flaunts these crimson pants at a benefit in France. Christian Louboutin wears the major fall trend for men and women -- coloured pants. Red jeans make a statement, whether they are dressed down with a plain t-shirt, colourblocked with a contrasting colour or dressed up with a blazer as Louboutin shows. The White Fairy Tale Love Ball held at the Chateau de Wideville, home of Valentino Garavani, to benefit the Naked Heart Foundation (NHF) Picture shows: Christian Louboutin, Farida Khelfa

Nothing adds a whole lot of drama to an outfit like a bright red sock peeking out from inside a pair of amazing heels like these models at the Kate Spade New York fall 11/12 presentation. If you're too afraid to plunge into the red trend, this is a great way to ease in a simple accessory that packs a lot of power. A view of shoes included in the Kate Spade New York Fall 2011 presentation during Mercedes-Benz Fashion Week at 48 West 25th Street on February 15, 2011 in New York City.

Carmen San Diego isn't the only one that can pull off a red hat. Hats can turn a boring outfit into an exciting one and draw attention to your face. These red hats at Kate Spade pull together the models looks and keep the girls looking young and stylish. Models are seen at the Kate Spade New York Fall 2011 presentation during Mercedes-Benz Fashion Week at 48 West 25th Street on February 15, 2011 in New York City.

Anna Wintour's matching red watch and skirt make for an eye catching addition to a otherwise dark look. By keeping the hemline longer, a red skirt can bring a super classy touch to any outfit. Anna Wintour (R) and her daughter Bee Shaffer attend the Lanvin Ready to Wear Autumn/Winter 2011/2012 show during Paris Fashion Week at Espace Ephemere Tuileries on March 4, 2011 in Paris, France.

Karl Lagerfeld showed a mysteriously dark collection this fall for Chanel. This menswear inspired look is given a touch of femininity by adding the cropped red blazer. The blazer gives the look an added wow factor that makse Arizona Muse stand out on the runway. Try adding a bright red blazer to daily outfits for a new take on your classic looks. A model walks the runway during the Chanel Ready to Wear Autumn/Winter 2011/2012 show during Paris Fashion Week at Grand Palais on March 8, 2011 in Paris, France.