World AIDS Day Canada 2011: Organizations Seek To Raise Awareness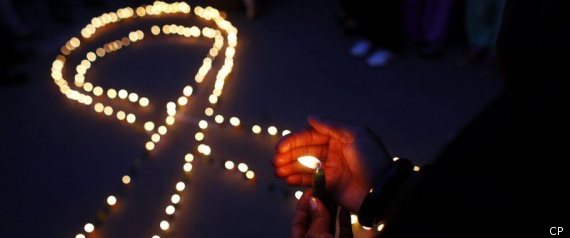 "There are more people today living with HIV in Canada than there were 10 years ago," says Christopher Bunting, president and CEO of the CANFAR.
At a time where HIV/AIDS is just one of the many health concerns in Canada and resources for support are more accessible than they were a decade ago, organizations still stress that more needs to be done. December 1, 2011 officially marks World AIDS Day, as countries take a stand to raise awareness and find treatments. This year also marked 30 years since the first documented case of the disease.
"Awareness, prevention, education and treatment all need more support. The rate of new infections continues to rise across the country and people with HIV are living longer," Bunting says. "Successful prevention initiatives are required to both educate and influence behaviour among all Canadians and particularly those in high-risk categories."
The number of youth aged 15 to 19 diagnosed with HIV/AIDS in Canada continues to increase and more than half of Grade 9 students in Canada believe there is a cure for AIDS, according to CANFAR. It was statistics like this that compelled Shamin Mohamed Jr. to start raising awareness in his own community.
After reading media reports on the increase of HIV and STIs in his west end Toronto neighbourhood, the then-15 year old decided to take action and fundraise. His principal, however, shut him down.
"My principal thought I was starting a scam for money," says Mohamed, now 23 and the founder of LetsStopAIDS, Canada's largest youth HIV organization. "I felt a stigma, nobody talked about it and I realized the biggest [thing] was the lack of support," he says.
These feelings are similar to what someone with HIV/AIDS may experience, Mohamed says. His organization grew by spreading word and finding volunteers. Today Mohamed speaks to communities around the world on prevention, education and youth involvement and hopes to one day stop HIV/AIDS.
Story continues below: HIV/AIDS in Canada and worldwide by the numbers.
Loading Slideshow
Sources: Casey House, Avert.org, Public Health Agency of Canada, CBC.
This year, AIDS Vancouver designated the entire month of November as World AIDS Month.
"As of last year, we felt we needed more than a day to do all the awareness and fundraising," says Brian Chittock, the executive director of AIDS Vancouver.
While gay men continue to make up the largest group of people living with the infection in Canada, the demographic of Aboriginal people, women and newcomers are also being treated, according to a report released by the Casey House.
These communities are also the most stigmatized. Some tend not to seek community support or take time to learn about HIV/AIDS prevention and treatment. Others even refuse to get test results back because of fear and anxiety, Mohamed says.
Stigma isn't the only struggle -- donations are also a concern. Last year, AIDS Vancouver raised over $400,000 and this year plans to raise more. But Chittock and his team have also been struggling to collect donations for their grocery program --an initiative that provides food for people living with and affected by HIV/AIDS -- which has seen increases in demand.
Quinn Bennett, manager of volunteer resources and support services at AIDS Vancouver says for people interested in getting involved, today is a day to research local organizations and bring these issues to the dinner table.
"It's hard when you are not familiar yourself. Talking to your kids will open up talking to other people," he says.
Here are some events and campaigns happening across Canada for World AIDS Day 2011:
Ottawa:
World AIDS Day Breakfast
Montreal:
World AIDS Day at St. James United Church
Vancouver:
"Getting to Zero" Campaign
Toronto:
Undies for (world)AIDS(day) Fundraiser for ACT
Calgary:
World AIDS Day at the Calgary Cares Centre
Edmonton:
"Angels Amongst Us - a Storytelling"
Halifax:
World AIDS Day at the Italian Cultural Center