NDP Leadership Race: First All-Candidates Debate Could Shake Things Up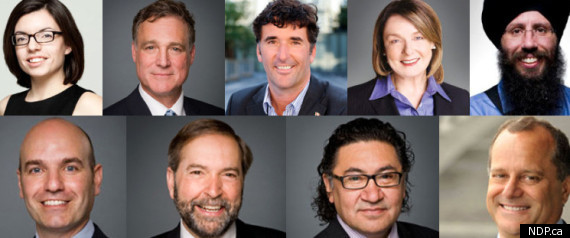 OTTAWA - New Democrats will get their first chance on Sunday to do some comparison shopping among the nine candidates vying for the federal party's leadership.
With so many contenders, the first of six party-sponsored all-candidates debates is unlikely to produce a clear winner. Each candidate will have fewer than 10 minutes over the course of two hours to make a mark.
But it may shake up some of the early assumptions about who's got the inside track in the seven month race, illuminating which candidates have the political skills, the intellectual depth and the personal charm to fill the big shoes left by the untimely death of Jack Layton in August.
"This is definitely going to be a great opportunity to compare the candidates in a more formal setting," Toronto MP Peggy Nash told The Canadian Press in an email.
"Local meet and greets provide one important insight on how candidates handle themselves one-on-one with and in a crowd but these national debates will highlight if the candidate can also stand their ground against other politicians and be strong enough on the public stage to replace the Conservatives in a few years."
There is no accurate way to gauge support for the candidates among the party's almost 100,000 card-carrying members, each of whom is entitled to vote for the next leader on March 24.
Hence, handicapping in the opening few months of the lengthy campaign has been based primarily on endorsements, geography and media coverage.
On that score, former party president, backroom strategist and Layton confidante Brian Topp has been pegged as the presumptive frontrunner. He's racked up an impressive roster of endorsements from party luminaries, including former leader Ed Broadbent and former Saskatchewan premier Roy Romanow, and appears to have developed a strong organization in British Columbia, the province with the largest NDP membership, among other places.
He's also dominated the war over the airwaves with his steady stream of high-profile endorsements and some specific proposals to make wealthy individuals and corporations pay more income tax — proposals timed to set the agenda for Sunday's debate, which is to focus on the economy.
But Topp has never sought elected office and has yet to prove he's got the retail political skills to connect with voters. Sunday's debate will be his coming out party.
Like any good strategist, Topp is trying to lower his performance bar in hopes of exceeding it.
"As someone with no experience in politics, I'd say expectations about me are very low indeed," Topp said in an email. "I'm looking forward to seeing what these debates are like and, hopefully, I'll be able to make a few points in the course of the discussion."
Montreal MP Thomas Mulcair faces the opposite challenge.
The one-time Quebec cabinet minister has a reputation as a fiery, high-octane political performer and his camp has been touting him as the only contender capable of standing up to Prime Minister Stephen Harper. Well known in Quebec — which accounts for only six per cent of NDP memberships despite delivering more than half the party's seats in last May's election — Sunday is Mulcair's first real chance to strut his stuff for party members in the rest of the country.
Yet, he seems determined to tone down his combative instincts for the debate, perhaps hoping to disprove critics who claim he's not a team player or is unwilling to throw punches that could provide fodder for Tory attack ads in the next election.
"I am looking forward to having a pleasant and constructive exchange," Mulcair said in an email. "I expect we will agree much more than we will differ as the main distinction we will all be trying to convey to the Canadian people is not so much the differences between us as the differences between us and the Tory government."
Meanwhile, Nash, who was the party's finance critic before stepping aside to join the leadership contest, should be in her element with the economy as the first topic for debate.
She released a policy paper Friday, slamming Harper's reliance on unfettered free enterprise and sketched out an alternative plan of job creation and income security measures.
Ottawa MP Paul Dewar has been touting his own job creation recipe, including a permanent national infrastructure program. He unveiled endorsements Friday from economist Mike McCracken and former Manitoba finance minister Eugene Kostyra.
Dewar will be playing to a hometown crowd for the first debate, which could help his performance, although the party plans to instruct the debate audience to hold their applause until the end.
The second hour of the debate, which is to be conducted entirely in French, could however prove to be a trial for him. Dewar's French is laboured while the other leading contenders are effortlessly bilingual.
But at least Dewar will speak French. Nova Scotia MP Robert Chisholm told The Canadian Press last week he intends to rely on simultaneous translation, a serious handicap for someone hoping to lead a party that owes its historic electoral breakthrough last May to Quebec.
Up to this point, Topp, Dewar, Nash and Mulcair have been widely touted as the top tier of the nine candidates.
For the others — Chisholm, B.C. MP Nathan Cullen, Quebec MP Romeo Saganash, Manitoba MP Niki Ashton and Nova Scotia pharmacist Martin Singh — Sunday's debate represents a chance to break out of the also-ran ranks and be taken more seriously.
"I've been to seven provinces so far, put out more policy than any candidate, and the sense on the ground is quite different than in Ottawa," said Cullen.
"So I'm looking forward to us all being on the same stage and looking forward to engaging with the others in both languages."
NDP LEADERSHIP HOPEFULS: