Year In Review 2011: Canada's Top 5 News Winners Of The Year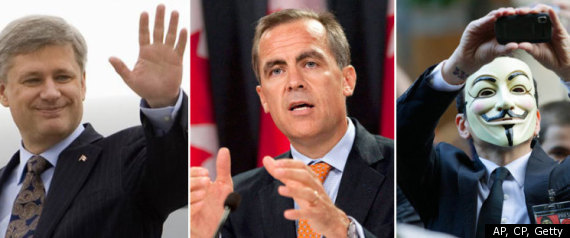 4. MARK CARNEY
In a year of nuclear disasters, debt crises and political turmoil, Mark Carney may have been one of the few people having a good year in 2011.
The Bank of Canada governor was undoubtedly busy, landing one of the most important positions in international finance, getting into a public spat with a prominent Wall Street banker, and finally becoming something of an unlikely hero to the Occupy movement.
Carney, a former Goldman Sachs banker and deputy finance minister, reached new heights this year with his appointment to the head of the Financial Stability Board, a relatively new international agency set up by the G20 in 2009 to make recommendations about changes to the world's financial system.
Carney, in landing the position, no doubt benefited from Canada's reputation as a seat of sober-minded banking. In light of the country's not-entirely-deserved reputation for having avoided a banking crisis similar to the U.S.'s or Europe's, having Canada's central banker take the reins of the FSB must no doubt have been a move to instill confidence in global banking.
But 2011 will also be remembered as the year Carney found himself in a public spat with one of the world's most prominent bank CEOs — and came out with new friends on the other side.
News began to emerge in September about a meeting in New York in which JPMorgan Chase CEO Jamie Dimon launched into a tirade against Carney in front of numerous prominent bankers. Dimon reportedly described Carney's call for stricter banking regulations as "anti-American" and "growth-killing," in a rant that apparently stunned those present.
Carney held his ground, and in a speech two days later, he declared: "If some institutions feel pressure today, it is because they have done too little for too long, rather than because they are being asked to do too much, too soon."
So Carney was well on his way to being a hero for the bank-reform movement when he waded into the debate about the Occupy movement, and showed himself to be something of a populist as well.
In an interview on the CBC, he called the protests "entirely constructive."
"I understand the frustration of many people, particularly in the United States," he said. "You've had increase in inequality because of ... globalization, because of technology. You've had a big increase in the ratio of CEO earnings to workers on the shop floor."
Of late, Carney has been warning the public that the European debt crisis risks spilling over to the rest of the world and curbing economic growth.
"Global liquidity has fluctuated wildly over the past five years and we are on the cusp of another retrenchment," he said in November.
Carney is more optimistic about Canada's economic future, which is good, because with his new duties, the country's top banker will have to spend much more time worrying about the problems beyond our borders.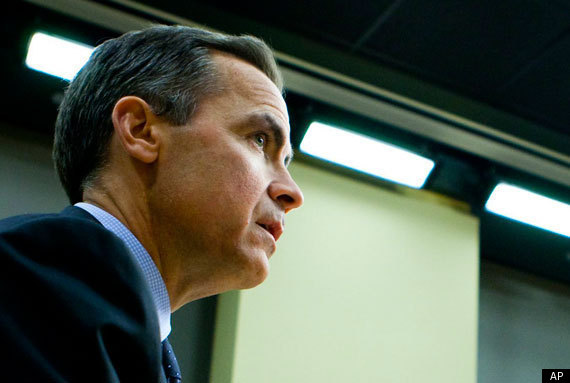 Bank Of Canada governor Mark Carney has risen to become one of the most powerful figures in international finance. (AP)

What were the biggest Canadian news stories of 2011? We want to know. Tell us on Twitter using the hashtag #2011news