Canada Winter Weather Forecast: Colder Temps Out West, More Snow In Ontario, Quebec Says AccuWeather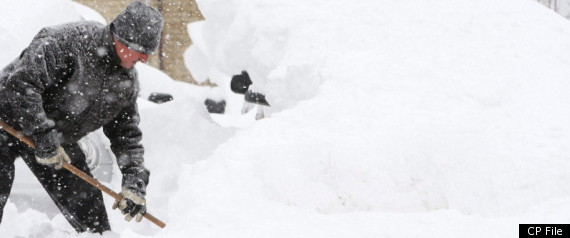 TORONTO - The kind of winter you're in for depends entirely on which side of the country you live in — but take heart Canada, it's not expected to be a particularly brutal season.
Residents of Western Canada should hunker down for a colder than normal winter while those on the East Coast can look forward to a milder season, according to predictions for the country from meteorologists at AccuWeather.
But when it comes to snow, the residents of Ontario and Quebec should ready their shovels for a little more of the white stuff than normal, although they can take solace in the fact that temperatures won't be as frigid.
"I guess you could call it a mixed bag, but that's probably pretty typical of any winter in Canada — one part of the country is going to end up having an easier winter than normal while another part of the country gets hit harder," said senior meteorologist Jack Boston.
"As you divide Canada into two pieces right around Winnipeg, east of there it's probably going to be a little less harsh than it usually is and west of that line it's going to be harsher than it is temperature wise."
Those in the Atlantic provinces can expect a tamer season but those in the southern Maritimes should brace for a mix of rain and snow for the second half of the winter.
Over in Quebec, ski and snow board enthusiasts can look forward to a good season north of Montreal and Quebec City once the new year begins.
Meanwhile, northern and central Ontario can expect above normal snowfall while southwestern parts of the province are predicted to have milder temperatures which could lead to more rain.
Ottawa, Toronto, London, Ont., Sudbury, Ont., and NorthBay, Ont., will likely see a stormier, snowier winter, but it won't be that frigid, said Boston.
He warned however that residents of Ontario and Quebec should get their winter tires on and brace for episodes of icy roads and snowy driving conditions over the next few months.
WINTER SO FAR (Story Continues Under The Slideshow)
Loading Slideshow
WINDBER, PA

Michael Stilson of Windber, Pa., shovels wet-heavy snow along Graham Ave. in Windber, Somerset County, Monday, April 23, 2012.(AP)

JACKSON TOWNSHIP, PA

Snow blankets the trees and a road in Jackson Township, Pa., Monday, April 23, 2012. A spring nor'easter packing soaking rain and high winds churned up the Northeast Monday morning, unleashing a burst of winter and up to a foot of snow in higher elevations inland, closing some schools and sparking concerns of power outages. (AP Photo)

GLENSHEE, U.K.

Two girls sit on sculptures amid the snow at Glenshee on April 4, 2012 in Glenshee, Scotland. (Jeff J Mitchell/Getty Images)

SEBASTOPOL

A rainbow appears as water splashes a local walking on the Sebastopol sea-front on March 3, 2012. (GENYA SAVILOV/AFP/Getty Images)

HEBRON

Palestinians walk during a snow storm in the West Bank city of Hebron as wintry weather swept through the region on March 2, 2012. (MENAHEM KAHANA/AFP/Getty Images)

RANUA

Palle-Jooseppi, a male brown bear of Ranua Zoo, begins to wake up after winter hibernation in Ranua on February 23, 2012. (KAISA SIREN/AFP/Getty Images)

ST. MORTIZ

Rushing Dasher ridden by Natalie Friberg (c) leads the field in to the second turn during the Grand Prix Prestige race at the White Turf horse racing meeting held on the frozen Lake St Moritz on February 19, 2012 in St Moritz, Switzerland. (Photo by Alex Livesey/Getty Images)

CONCORD, NH

Golfers practice at the driving range Wednesday, Feb. 22, 2012 in Concord, N.H. The range opened early this year because of a mild winter. (AP Photo/Jim Cole)

QUEBEC CITY

A man races his six-dog sled during the winter carnival on Jan. 28. (photo THE CANADIAN PRESS/Jacques Boissinot)

KITIMAT

Sea smoke hugs the Kitimat, BC, harbour on Jan 19, 2012, surrounding the tug Smit Cecil and obscuring an empty barge anchored off the dock. Warmer fresh water from the Kitimat River is caught between the ocean water in the harbour and the frigid air, creating the sea smoke which is then caught by the wind. Kitimat was experiencing -23 C air temperature on this day, a windchill of -38 as arctic air kept much of Canada in the first deep freeze of the winter. (The Canadian Press Images/Robin Rowland)

LONDON, ONT.

Patrick O'Hara enjoys a walk through Springbank Park in London's west end with his daughter Quinn and grandson Aidan. (photo: The Canadian Press Images/Mark Spowart)

SASKATOON

David Ferguson attempts to stay warm on his walk home from work -27C weather (with the wind chill it felt like -40C) in Saskatoon, Wednesday, January 18, 2012. (THE CANADIAN PRESS/Liam Richards)

VANCOUVER

Lucy Venegas, a soccer referee from Mexico in the city for the CONCACAF women's Olympic qualifying tournament, catches snowflakes in her mouth in downtown Vancouver, B.C., on Wednesday January 18, 2012. Cold weather has enveloped the lower mainland with Vancouverites dealing with temperatures 10 degrees below normal. (THE CANADIAN PRESS/Darryl Dyck)

VANCOUVER

A cyclist is framed by icicles hanging from Christmas lights on a tree in Vancouver, B.C., on Wednesday January 18, 2012. Cold weather has enveloped the lower mainland with Vancouverites dealing with temperatures 10 degrees below normal. (THE CANADIAN PRESS/Darryl Dyck)

MONTREAL

A horse-drawn carriage makes its way down a street in Old Montreal during snowfall Thursday, Jan. 12, 2012. CANADIAN PRESS/Paul Chiasson.

OTTAWA

Pedestrians brave the blustery winter weather as a storm system hits Ottawa on Thursday, Jan. 12, 2012. THE CANADIAN PRESS/Sean Kilpatrick.

DUBUQUE, IOWA

Joe Graham works to clear snow from the front of his family's business in Dubuque, Iowa, Thursday, Jan. 12, 2012. AP PHOTO.

HALIFAX

A motorist clears snow from their vehicle in Halifax on Wednesday, Nov. 23, 2011. A blast of wintry weather descended on the Maritimes causing numerous accidents, closing schools and delaying flights.THE CANADIAN PRESS/Andrew Vaughan

OTTAWA

Karen Kelly shovels a walkway as snow removal crews clean up on Parliament Hill in Ottawa on Wednesday, November 23, 2011, after the first snowfall of the season brought upwards of 10 cm of snow to the nation's capital. (THE CANADIAN PRESS/Sean Kilpatrick)

MONTREAL

A woman cleans snow from her car in Montreal, Wednesday, November 23, 2011 as the first heavy snowfall of winter hits Montreal and surrounding areas. THE CANADIAN PRESS/Graham Hughes

OTTAWA

Minister of Justice Rob Nicholson makes his way along Wellington Street during a snowfall in Ottawa on Wednesday, November 23, 2011. The first snowfall of the season brought upwards of 10 cm of snow to the Nations capital. (THE CANADIAN PRESS/Sean Kilpatrick)

BEIJING

Beijingers walk through the first snowfall of the year at a section of the rebuilt city wall in Beijing on December 2, 2011. (MARK RALSTON/AFP/Getty Images)

SAMARA, RUSSIA

Shoppers walk past large piles of snow in Samara's Leningradskaya Street on November 10, 2011 in Samara, Russia. Samara is one of thirteen proposed host cities as Russia prepares to host the 2018 FIFA World Cup. (Photo by Harry Engels/Getty Images)

NEW MEXICO

A horse stands in the intense wind and snow Monday, Dec., 5, 2011 near his corral off of Highway 70 in Las Cruces, N.M. Snowfall started to blanket the City of the Crosses at about 11 a.m. and steadily continued throughout the day. (AP Photo/Las Cruces Sun-News, Shari V. Hill)

COLORADO

Traffic backs up behind snow plows clearing a street in Denver on Thursday, Dec. 1, 2011. As much as seven inches of snow is in the forecast for the Mile High City on Thursday. (AP Photo/Ed Andrieski)

CHATTANOOGA, TENN.

Ruth Chauff, of New Orleans, laughs after making a small snowman near Point Park on Tuesday, Nov. 29, 2011., after snow fell across the Chattanooga, Tenn., area. She made a snowman with her daughter April Fontenot, not seen. (AP Photo/Chattanooga Times Free Press, Jake Daniels)

TBILISI, GEORGIA

Snow covers Narikala, an ancient fortress dominating Tbilisi, the capital of Georgia on Monday, Nov. 28, 2011. (AP Photo/Shakh Aivazov)

HARTSVILLE, PA

Leaves and snow rest on the ground after a winter storm October 30, 2011 in Hartsville, Pennsylvania. Thousands in Pennsylvania and Delaware were left without power from the early winter storm that left up to 10 inches of snow in parts of the states. (Photo by William Thomas Cain/Getty Images)

SIGNAL MOUNTAIN, TENN.

An early snow covers tackling dummies at Signal Mountain High School football practice field, in Signal Mountain, Tenn., early Tuesday morning, Nov. 29, 2011. The snowfall is considered early for the region. (AP Photo/Chattanooga Times Free Press, Dan Henry)

CONCORD, N.H.

Paul Worsowicz watches his putt during the traditional 29th annual Thanksgiving Day golf tournament Thursday, Nov. 24, 2011 in Concord, N.H. More than 100 players showed up at sunrise to play nine holes in the snow covered course.(AP Photo/Jim Cole)

EAST MONTPELIER, VT.

A flock of wild turkeys walk through a snow-covered field Wednesday, Nov. 23, 2011 in East Montpelier, Vt. Snow mixed with sleet and freezing rain is knocking out power to thousands of Vermonters and making the morning commute a slippery one.(AP Photo/Toby Talbot)
The Prairies are expected to get cold, dry and windy conditions for much of the winter with below-normal precipitation and snow days predicted for much of Saskatchewan and Manitoba.
Those living in Saskatoon, Regina and Winnipeg will be whipped by the wind and chilled by the cold thanks to a stronger northern jet stream, but they can expect few snowstorms.
Further west, Alberta is bracing for a typical harsh winter but it's British Columbia which is predicted to get notably lower than normal temperatures thanks to a stream of Arctic air bearing down on the regions.
"Western Canada is where you should be prepared for the extreme cold," said Boston. "We think temperatures are going to be below to much below normal this winter basically from the southern Yukon down through B.C., Alberta and into southern Saskatchewan."
Boston cautions those out west to take care against the looming frigid conditions and dress appropriately for the weather.
AccuWeather meteorologists are even expecting Vancouver and Victoria to experience one of their top three coldest winters in the region in the past 20 years.
By Diana Mehta, The Canadian Press
ALSO ON HUFFINGTON POST: