Canadian Sex Lives: Canadians Having Less Sex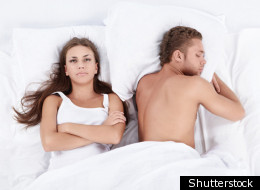 Save sex for Saturday.
At least that's what a new study is saying. Canadians prefer to have sex on the weekends and on Saturdays in particular, according to an international survey released by Eli Lilly Canada this week.
Canadians between the ages of 46 and 60 have sex an average of 1.35 times per week, compared to the global average of 1.41 times per week. Canadians also don't enjoy spontaneous sex compared to other countries, according to the survey.
"This research reveals important information about the sexual behaviour of Canadians. When you compare our results to other nations, it's clear that Canadians aren't necessarily experiencing the most active or vibrant sex lives," said Dr. Gerald Brock, Professor of Surgery, Division of Urology from the University of Western Ontario, in a press release. "While work and family pressures are likely to be a factor in this equation, medical problems such as erectile dysfunction may also be playing a role."
In fact, erectile dysfunction affects approximately 40 per cent of men over 40, according to the survey.
These results may be a surprise to some, especially since in 2006, Canadians were seen as having the best sex lives, according to a study in the Journal of Sex and Marital Therapy. In Canada, the United States and Australia, 80 per cent of men were reportedly the most sexually active -- defined in that study as having sex sex at least once in the year prior.
But it seems that when it comes to planning our intimate experiences, Canadians are slightly more prepared than other countries: 13 per cent of us plan sex an hour in advance, compared to the eight per cent who do so globally.
However, it is possible that scheduling sex in advance can lead to even less of it. Huffington Post women's associate editor Jessica Pearce Rotondi says a new list -- "The Sex in 7 Days Regimen" -- could be another thing for women to fret over. This list has a week-long cycle, including exercises and diets to follow before having sex. Some say planning ahead can be healthy for relationships while others say ridiculous lists like this may lead them to never have sex again.
The survey gathered responses from over 13,000 adults aged over 34 in 13 different countries, including more than 1,000 adults from Canada.
Sometimes it could be the surroundings. Here are seven ways to keep the heat up in the bedroom
.
7 Ways To Spice Up Your Sex Life
"Kissing is one of the most erotic things you can do. Just spending time [together] and remembering you can go back to those first night sensations is another aphrodisiac," says Dr. Laurie Betito, a clinical psychologist and sex therapist based in Montreal.

When it comes to heating up the bedroom, don't forget about your surroundings to turn you on either. "Flickering lights or fire can get you in the mood," she says. Dr. Betito says some pastel colours like red -- the colour of love -- have both a calming and exciting element. "There was a study done that showed women who saw men in red shirts were more attracted to them." Playing the right music can also get you and your partner in the mood.

Be considerate and thankful for what your partner does for you. "Anyone who makes their partner a priority outside the bedroom, will make their partner a priority inside the bedroom," says sexologist Dr. Jessica O'Reilly. Another aphrodisiac is switching up household roles. "There's something about [your man] doing dishes or cooking... it can be real turn on," says Dr. Betito.

Both experts say having sex shouldn't be something you feel like you need to do every day. Learn how to understand each other's schedules. "Balance is a need of both spontaneous and planned sex. If you both have really busy schedules, plan ahead with date nights or brunch," says Dr. O'Reilly. She also recommends changing up where you get it on. If you usually have sex in your bedroom at night, try connecting in the laundry room in the morning.

A lot of couples want to go back to those first nights, those first dates and that feeling of teenage love. Fast-forward to now when you're married, have kids and work a nine-to-five job and staying connected can be tough, says Dr. Betito. "Take time to make sure you show your love [for your partner]. Saying "I love you" or planning little surprises that say "I was thinking about you,"" will go a long way to increasing intimacy.

All of this, however, doesn't mean we should forget food as a way of increasing libido. "What's important is food's impact on how you function sexually," says Dr. O'Reilly. She says keeping up with healthy diet will lead to higher levels of energy and improve sexual health. And foods like whipped cream, chocolate sauce or strawberries can also be used during sex, Dr. Betito says.

Remember, sex isn't about fulfilling duties. Dr. Betito says you need to find time for yourself to keep your sex life exciting. "You have to have your own time to strengthen yourself," she says. "Pick up a hobby, go out with friends or read a book."