Celeb Clothing Lines.. And Nicki Minaj Design Rumours (PHOTOS)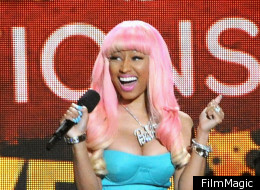 Nicki Minaj's often outlandish (and "what the heck!?" comment-worthy) looks belie the fact she knows fashion. Not only was she a New York Fashion Week front-row staple (Prabal Gurung, Oscar de la Renta to name two), she's also well versed in high-end design (her go-to clothing line choices include Betsey Johnson and Versace).
So it comes as no surprise that the pint-sized phenom may be starting up her very own fashion line.
Her star is clearly on the rise: she -- and Ricky Martin -- were recently announced as the replacement spokespeople for MAC's Viva Glam line, taking over for Lady Gaga.
And she wouldn't be the first star to market themselves as an actor/actress and as a clothing designer.
Which got us thinking about the labels we love that are designed by Hollywood's A-list.
Do you love the celeb-designer trend? Let us know on Twitter!
Celeb Designed Clothing Lines
Line: Victoria Beckham and Victoria By Victoria Beckham Available At: Holt Renfrew Victoria Beckham in the press room at the British Fashion Awards.

Lines: The Row and Elizabeth and James Available At: Net-A-Porter Actresses Mary Kate Olsen and Ashley Olsen attend the launch of MARKTBeauty.com.

Line: L.A.M.B. Available At: Holt Renfrew Recording artist Gwen Stefani on December 8, 2011 in Hollywood.

Line: Rocawear Available At: rocawear.com Shawn "Jay-Z" Carter announcing his Carnegie Hall performances to benefit the United Way and the Shawn Carter Scholarship Foundation.

Line: House of Dereon Available At: dereon.com Beyonce at the Paris Theatre in New York City.

Line: Sean John Available At: Macy's Sean "P. Diddy" Combs leaving a restaurant in the Grove.

Line: Kanye West Kanye West performs during the 2011 Victoria's Secret Fashion Show in New York City.

Line: Stuff by Hilary Duff Available At: No longer available, but was distributed by Zellers Actress Hilary Duff attends the Danskin "Skate For A Cause" benefit in Santa Monica, California.

Line: LC Lauren Conrad Available At: Kohls Lauren Conrad on November 8, 2011 in Los Angeles.

Line: Jessica Simpson Collection Available At: The Bay Jessica Simpson visits The Bay to promote her new tween line for girls "Jessica Simpson Girls" on December 3, 2011 in Toronto.