Our Favourite Jewelry Designers.. And How You Can Become One, Too (PHOTOS)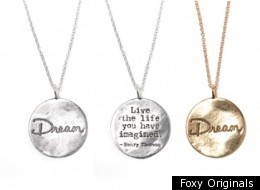 If it seems like craft shows -- like The One Of A Kind -- are being taken over by indie jewelry designers, you're probably right. Thanks to sites like Etsy, more and more women (and some men) are spending their spare time crafting necklaces, bracelets and earrings. The hard part is turning that hobby into a full-time business.
"It comes down to keeping up with the trends and being innovative," say Jennifer Ger and Suzie Chemel, the two minds behind the ground-breaking line Foxy Originals.
The two friends met in university and realized they shared a mutual passion for fashion design and jewels. Ger started selling her own indie necklaces to boutiques while in high school; Chemel comes from a family of designers. After a few months, they developed the branding and logo for their company (naming it Foxy because the dictionary defines the term as crafty and cunning). Within months they were selling their wares at concerts and campus events; by the end of their university career their items were being sold in 30 to 40 boutiques across Canada.
Today, only eight years after taking their once indie dream full-time, Foxy has become one of the biggest jewelry success stories in Canada. The pair now evolves and reinvents the line on a yearly basis, and have signed on to create baubles with brands like Umbra, Barbie, Calvin Klein, Smashbox and Nike (to name only a few).
But they're not the only jewelry success story Canada can boast about.
Stonefox, designed by Andrea Tsanos, is taking the semi-precious stone jewelry market by storm (Foxy specializes in metal-based designs). Tsanos, a former full-time clinician at the Centre for Addiction and Mental Health in Toronto, fell into designing jewelry six years ago.
Want some more designer inspiration? Here are some of our favorite jewelry lines. Story continues below.
This piece is a major statement maker. The combination of pearls and rhinestones gives it a vintage vibe that will take any holiday outfit to the max. Abbey by Lauren Elan, $195. Available at www.laurenelan.com

Anchors away with this nautical inspired bracelet by Erica Weiner. This bracelet is effortlessly easy to wear because it will go with just about anything. Dress it up at night with a little black dress or wear it to the office to add a splash of gold to everyday outfits. Ahoy Bracelet by Erica Weiner, $75. Available at www.ericaweiner.com/

Snakes on your outfit! This snake brooch by Alexis Bittar is not only a good conversation starter, it's an excellent way to dress up a coat or blazer. The combination of lucite and gold makes the Egyptian-inspired piece a stand out. Alexandria Gold Snake Pin by Alexis Bittar, $325. Available at www.alexisbittar.com

This quirky shaped ring is sure to grab people's attention. Made for your middle finger, the concave design creates a place for your other fingers to nestle into. It's not any everyday item by any means, but when it's worn it's bound to attract many compliments. Concave Cube Ring by Disegno Jewellery, $2,425. Available at www.disegnojewellery.ca

Who says jewelry only comes in gold and silver? This purple necklace by Biko combines brass and silk chiffon to create a bold look. It will add a bright pop of colour to any outfit. Mimi Necklace by Biko, $125. Available at www.ilovebiko.com

Earrings are effortlessly classy, they add a sense of sophistication to absolutely anything. Pull your hair back and let these sterling silver earrings by John Hardy shine. Small Door Knocker Earrings by John Hardy, $325. Available at www.johnhardy.com

Play with the sizes of your jewelry! This over-sized ring with a turquoise stone will look amazing on its own or when combined with other rings (which will give your hand a decidedly bohemian look). Precioso Ring by Scout and Catalogue, $36. Available at www.scoutandcatalogue.com

This long necklace actually doubles as a bracelet. It's dramatic and perfect for the holiday party circuit. New Original by Stoned Originals, $310. Available at www.stonedoriginals.com

Body chains are for fashion daredevils. Popularized by street style blogs, body chains add an element of surprise to any outfit. It adds a little bit of sparkle and shows you're willing to take a risk. Body chain by Eliza Kozurno, price unknown. Available at www.elizakozurno.com
"A colleague of mine asked if I'd come with her to check out a jewelry store at lunchtime. She had just received a well-deserved promotion so wanted to reward herself with something special, and had her sights on "one of those necklaces with semi-precious stones." Sadly, the necklaces were quite pricey. The owner emphasized the one-of-a-kind nature of the designs and that they "hailed from a New York designer" as her justification for the high price points. I couldn't help but turn to my friend and say I felt I could make jewelry like that myself."
From there, Tsanos learned the ins and outs of designing jewelry (on her own and with a little help from local bead store boutiques) and began digging for semi-precious stones in Canada and Europe. She started selling her wares to friends and colleagues at the hospital and worked her way up to selling stuff at corporate jewelry events. Media caught wind of her success and, after a few spots on local television programs and websites, her designs quickly became in-demand in Toronto and Bermuda. In 2010, Tsanos opened her first stand-alone boutique.
While there are countless beautiful jewelry lines out there, Tsanos believes her line has become successful for a few reasons.
"My pieces are original... They're handmade and one-of-a-kind... They're entirely made of gemstones... [And] many of the designs are "convertible.""
It all shows, with enough patience, creativity and tenacity, you can make it on your own as a jewelry designer.
Tell us about other designers you love on Twitter.