New Year's Eve Party Planning: Celeb-Inspired Ideas From Designer Samantha Pynn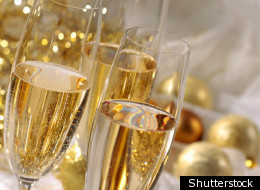 Not all New Year's Eves parties are created equal. Some people want to go all out, while others just want to kick back and relax with a few good friends (or a few good drinks).
Since there's no one formula to concoct the best New Year's party, we asked designer and stylist Samantha Pynn, of HGTV's 'Pure Design', for some inspired ideas.
And since everyone loves a bit of celeb watching, we asked Samantha: What should Kim Kardashian do as a single lady? What would Brad and Angelina do as a couple? And, most importantly, what would young Suri Cruise do to ring in the new year?
Check out Pynn's suggestions on making this New Year's Eve memorable in the slideshow below. If you have an idea for hosting an epic New Year's party, let us know on Twitter.
If you're newly single like Kim Kardashian and are ready to make a splash with your own new year's bash, Pynn suggests... (next slide) Kim Kardashian on October 28, 2011 in New York City.

The Setting: "A single gal wants to have a more glamourous party and she definitely wants to steer clear of any sit-down dinners. It's more about passing out great food and hiring a bartender or a waiter to clean up things and to pass out drinks. Some single girls would have a signature cocktail to keep the budget low, but I think that most single girls would definitely have a bar. Serve some wine, serve a little vodka and have some drinks." Décor: "There should be lots of flowers. It doesn't have to be giant arrangements, small arrangements work. Add a little bit of sparkle. Maybe it's a few ornaments that are neutral -- it is New Year's after all." Music: "The music will be upbeat and hip -- maybe something you'd hear if you were at a lounge."

If Brad and Angelina, aka the couple, were going to have all their friends over for the countdown, Pynn suggests... Brad Pitt and Angelina Jolie on December 8, 2011 in Hollywood.

The Setting: "You're definitely going to have a bar and you want to keep things comfortable. It will still be glamourous, but comfortable. Guests can be dressed casually, but not wearing their old dumpy jeans and Lululemon pants. They still want to look great, but they don't have to be so uber glam in stilettos. I would try to make [the party] more comfortable, and have lots of really great food. You'll also want to have great champagne. You're not necessarily there to meet somebody, but it's more about the great food and the great drinks." Décor: "I think the décor is a little bit understated, you don't have to be as sparkly and glam as the party the single girl would throw. You would have beautiful classic arrangements. I'm seeing white magnolias." Music: "The music should be really laidback and easy. Music that is familiar and that people really like."

We have a sneaking suspicion that Suri Cruise would be able to host a better New Year's bash than anyone who is of legal age. If she were to host a bash of her own, Pynn suggests... Suri Cruise seen on the streets of Manhattan on November 10, 2011.

The Food: "You should definitely have a lot of different drinks, but you don't want anyone to go sugar crazy. When you're making the non-alcoholic beverages make sure there's something with a little fizz to it, like sparkling apple cider -- and let them toast! It's nice to have a little pizza bar where the kids can make their own pizza and then follow that with an ice cream bar. Also, always be sensitive to people's allergies." Activity: Include a project -- you make a resolution and then put it into a little box and open it a year later. For girls, have a make-your-own jewelry station. Girls should definitely dress up and wear sparkles and tiaras. They will want to dance, so play some great age-appropriate music." Note: "You should give the kids some privacy. You can be there for the make-your-own pizza and build-your-own sundae stations, but kids need their own time to hang out and to do their own thing."