Parenting Coach's Advice On Letting Kids Stay Up On New Year's Eve: Quick Study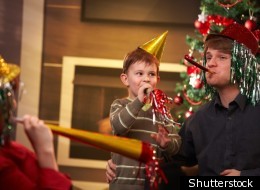 Quick Study [kwik stuhd-ee]: The Huffington Post Canada's tips to make your life a little sweeter, five minutes at a time. Think of it as a cheatsheet for your general well-being.

For the next 30 days, we're checking out how to take a break from your busy holiday schedule and relax -- in unexpected ways.
THE EXPERT:
New Year's Eve is probably the only night parents let the "you can't stay up past your bedtime" rule slide. The Huffington Post Canada talked to parenting coach Terry Carson, to see if she thinks letting your little ones stay up with you is a good idea.
"I think children like to break the rules once in a while. For an occasion, I don't see this as too much of a problem.
There is nothing wrong with letting your kids stay up, but parents should prepare for the ones under five -- they will have a hard time going back to their sleeping schedule. Parents should also understand they [the kids] may not be sleeping in the next morning. Kids will likely get up early and be tired during the day. My advice? Both children and parents should take a nap during the day."


HUFFPOST SECRETS:
If your still thinking about resolutions to set for yourself, you may want to consider tweaking your parenting skills. Parenting editor and mother Mira Jacob says sometimes, looking at a list of things to NOT do can be more helpful.
Why did you bite that boy? Why did you hit your sister? Why is there spaghetti in your ear? Why am I asking you a question you can't possibly answer in any way that will make me feel better? Oh yes, because it's easier than accepting the idea that I am in charge of a tiny lunatic.

This includes shoes, spatulas, cell phones, small animals, keys, and a whole eggplant that looks an awful lot like a human head to your middle-of-the-night eyes.

Number two, for example, can occasionally end up in your purse.

More importantly, DO NOT assume that repeating directions increases their likelihood of being followed.

"Sorry, honey. Mommy is just in a bad mood because she doesn't understand why she chose to make a living on the Internets. And taking out a second mortgage to fund your preschool appears not to have been the prudent thing to do. And wow, your sitter is expensive! That noise? Oh, that's just Daddy weeping through the wall."

This is akin to saying, "Let's put this large needle in your eyeball." If you really feel like you have to warn your toddler about the upcoming sudsing, consider something relatively benign and tangentially related, like, "Let's put this large needle in your eyeball."

You know that fantasy you have about being unintentionally violated by giddy elves? Yeah, me neither. To read the rest of the list, click here.
WATCH:
Sometimes, we may decide on a few New Year's resolutions, but not necessarily consider the importance of them.