Margaret Thatcher And Britons Who Shaped The World (PHOTOS)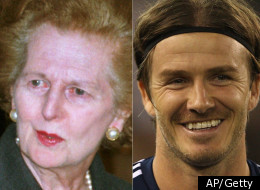 The United Kingdom's empire may have faded into the history books, but there is no doubt that in all aspects of society, from politics to literature, the term "British Invasion" seems to more apt as "British Influence". Margaret Thatcher, Tony Blair and Winston Churchill are modern leaders who made their mark on world, exerting the British influence well beyond the maritime borders of the country. We can trace great thinkers of the past, such as Sir Isaac Newton or Charles Darwin, and find equally impactful figures in the modern era, including Tim Berners-Lee, widely acknowledged as the father of the internet.
The list goes on, the Beatles, U2 in arts, while in sports, David Beckham may not be the most skilled, but brought the game to an entire world through a mix of stardom on and off the field.
Here are just some of the Brits who helped shape the world.
Britons who shaped the world
Accomplishments aside, Margaret Thatcher could easily just be praised for being Britain's first female Prime Minister. But, Thatcher didn't break through the glass ceiling, she smashed it to bits proving politics wasn't a man's game any more. asdasd

The former Prime Minister was a key figure of the turn of the century. His early career was peppered with accomplishments that earned him 10 years in office. Though he strengthened Britain's relationship with a post Sept. 11 2001 United States, his popularity among the general public was irreversibly tarnished by close alliance with George W. Bush, and Britain's role in the Iraq war.

Sharp dresser, cigar in hand, and unique overall features of this man make him easily caricatured, and his way with words was so legendary that at times they overshadow his political accomplishments. Leading his country through the Second World War, beginning a strong allied partnership with the Unites States, and being a skilled historian, artist, writer make him one of the most memorable leaders Britain, or any other country, has ever produced.

An upcoming feature film makes the case (which some hold to be true) that Edward de Vere is the true author Shakespeare's plays. Either way, the writings of William Shakespeare just might be best ever produced in the English language, British or otherwise. What's in a name?

The author of the controversial "On the Origins of the Species" Charles Darwin is easily one of the most influential scientists in human history. His theory of evolution and concept of natural selection had such an impact on our perceptions of biology that he was laid to rest in good company, near Isaac Newton.

A master of many fields - physics, mathematics, astronomy - Sir Isaac Newton is the definitive scientific mind, developing his theory of gravity after watching an apple fall from a tree instead of just eating it.

Sales figures for the Harry Potter series become inaccurate the second you write them down and they've spawned one of the most successful film series of all time. The stories she created will probably live on as long as anything else the country has ever produced.

Physicist Stephen Hawking believed that his complex field of study should be availible to everyone and his book "A Brief History of Time" became a best seller by taking a layman's approach to a wide range of subjects such as Genral Relativity and Quantum Theory.

The Beatles were one of those bands that hit the mark both critically and commercially. All members of the Fab 4 contributed songwriting credits to their body of work, which is quite the feat at 12 albums, when you consider the quality and staying power of the music made over the span of just 10 years.

Entrepreneur and business magnate Richard Branson is most well known as founder of Virgin Records. But, as Britain's 4th richest citizen he sure does spend his money in an interesting way - by attempting world records, developing space tourism, and funding humanitarian efforts to name a few. His "service to entrepreneurship" has received him a knighthood.

Diana became a prominent public figure with her marriage to Charles, Prince of Wales but it was her charitable impacts that made her beloved.

His "Life" series, which began in 1979, is a vast body of television programming which sets the standard for wildlife film making. A nature documentary not narrated by Attenborough just isn't quite the same.

Beckham's name is as synonymous with Soccer as Pelé, but his celebrity that rules tabloids the world over makes him unique among sports heroes. Marrying Pop stars, modeling and designing for H&M, and being a tabloid regular is just a short list of accomplishments off the field that has made him one of the most recognizable athletes in the world.