Dry, Itchy, Winter Skin? Tips To Relieve The Cracks (PHOTOS)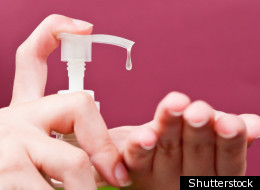 NEW YORK, N.Y. - If it's dry and cold where you live, work or play, it's winter skin season, but the fixes may not be as obvious as they seem.
Rather than bide your time until April, The Associated Press asked dermatologists for tips on seasonal care and protection to stave off itchy, flaky and cracked skin.
- Don't take extra hot showers. As much as you want the comfort of that heat when it's chilly, there's less moisture in the air during winter and hot showers can further dehydrate your skin, said Dr. Neil Sadick, clinical professor of dermatology at Weill Cornell Medical College.
"Make showers as tepid as you can tolerate," he said. If you can't stand the chill, find a space heater safe for bathroom use.
Dr. Alicia Zalka, associate clinical professor of dermatology at Yale, put it this way: "Take shorter, fewer, cooler or soap free showers." By soap free, she means stay away from products that contain detergents because they can remove protective, essential oils.
- Don't assume that drinking water or replacing fluids internally is enough to keep your skin healthy during cold weather.
Zalka is all for drinking water to stay hydrated but cautions that moisture from the extra fluids can evaporate if not trapped by the epidermis, the skin's outer layer. Moisturizing is so important this time of year because it protects the outer layer from winter's wrath while retaining natural moisture from within.
"If you've got the driest of dry skin, the best defence for that is a couple of days of plain old Vaseline, as a a sealer and a protectant," she said. "If the skin is already cracked, it does not sting."
Remember that certain beverages are dehydrating, such as those containing alcohol or caffeine, so consume them in moderation, said Clinique dermatologist Dr. David Orentreich.
Here are nine of the best winter foods for your skin. Story continues below.
Pick a pink one, though, because pink grapefruit gets its pink-red hue from lycopene, a carotenoid that may help to keep your skin smooth. In a study published in 2008 in the European Journal of Pharmaceutics and Biopharmaceutics, researchers found that of the 20 individuals studied, those who had higher skin concentrations of lycopene had smoother skin. You can also get lycopene from tomatoes, carrots, watermelon, guava and red peppers. More from EatingWell: 5 Winter Foods to Help You Lose Weight 9 "Bad" Foods You Should Be Eating The Health Benefits And Cons Of Coffee Flickr photo by Liz West

Drinking a single cup of coffee daily may lower your risk of developing skin cancer. In one study of more than 93,000 women, published in the European Journal of Cancer Prevention, those who drank one cup of caffeinated coffee a day reduced their risk of developing nonmelanoma skin cancer by about 10 percent. And the more they drank -- up to about six cups or so per day -- the lower their risk. Decaf didn't seem to offer the same protection. Flickr photo by Ed Sweeney

Edamame is rich in isoflavones -- and isoflavones act like antioxidants, scavenging for and mopping up harmful free radicals caused by sun exposure. Isoflavones may also help to preserve skin-firming collagen -- which begins to decline starting in our 20s. Flickr photo by joyosity

Research suggests caffeine in tea (coffee too) may help to protect your skin against skin cancer. Caffeine basically kills precancerous and ultraviolet-damaged skin cells by blocking a protein that they need to divide, explains Paul Nghiem, M.D., Ph.D., associate professor of dermatology at the University of Washington Medical School. In a study where mice were exposed to harmful sunburn-causing ultraviolet B rays, caffeine inhibited the formation of skin tumors. Flickr photo by Eduardo Mueses

Carrots contain the carotenoids beta carotene and lycopene -- both of which may shield your skin against UV damage. In one study, participants who were exposed to UV light had almost 50 percent less skin reddening after they drank about 1 2/3 cups of carrot juice or ate 2 1/2 tablespoons of tomato paste daily, in addition to their regular diet, for 10 to 12 weeks. Flickr photo by Clay Irving

Tuna -- and other omega-3-rich fish -- may help keep your skin looking youthful and prevent skin cancer. EPA (eicosapentaenoic acid), one of the omega-3 fats in fatty fish, has been shown to preserve collagen, a fibrous protein that keeps skin firm. And EPA in combination with the other omega-3 in fish, DHA (docosahexaenoic acid), helps to prevent skin cancer by reducing inflammatory compounds that can promote tumor growth, says Homer S. Black, Ph.D., professor emeritus in the department of dermatology at Baylor College of Medicine in Houston. Aim to eat two servings of fatty fish each week: not only are the omega-3s good for your skin, they're good for your heart too.

Eating more vitamin C-rich foods, such as broccoli, may help to ward off wrinkles and age-related dryness, suggests research from 2007 in the American Journal of Clinical Nutrition. Vitamin C's skin-smoothing effects may be due to its ability to mop up free radicals produced from ultraviolet rays and also its role in synthesizing collagen, a fibrous protein that keeps skin firm. Flickr photo by whologwhy

Spinach boasts lutein, a carotenoid that protects your skin from UV damage. When buying spinach, pick the one right up in the light: New research, published in the Journal of Agricultural and Food Chemistry, reveals that spinach stored continuously under the light for as little as three days boasted higher levels of vitamin C and preserved levels of K, E, folate and the carotenoids lutein and zeaxanthin. Flickr photo by vmiramontes

Cocoa (and tea and red wine) contain a type of flavonoid called epicatechin. In a study of 24 women, published in the Journal of Nutrition, drinking an epicatechin-rich cocoa beverage daily for 12 weeks improved skin texture. The authors explained that epicatechin increased blood flow to the skin, boosting nutrient and oxygen supply -- both factors essential for keeping skin healthy. More from EatingWell: 5 Winter Foods to Help You Lose Weight 9 "Bad" Foods You Should Be Eating The Health Benefits And Cons Of Coffee Flickr photo by thepinkpeppercorn
- Don't necessarily stick to the same skin products for face and body. Orentreich said a skin care regimen that worked during the warm, humid days of summer may not provide the same results in cold weather.
Change your cleanser from a strong to milder formulation, your exfoliator from strong to gentler and your moisturizer from light to richer, he suggests.
"Humidify the air in your home, especially in your bedroom so that healing and repair can take place while you sleep," Orentreich said.
- Don't forget sunblock. It's just as important during winter as it is in summer, experts say, especially during winter sports like skiing at high altitude.
"In the winter it feels cold because very little infrared light reaches the earth," Orentreich said. "The opposite is true in the summer. However, in the winter ultraviolet light is 90 per cent as strong as it is in the summer but since we can't feel or see it we mistakenly think it's absent, too."
Application of a broadband screen once a day should suffice, Sadick said.
- Don't ignore hair and nails. They're made of the same basic compounds as the skin and crack and split in similar fashion, Zalka said. "I don't think people realize that when nails split it's 90 per cent from lack of proper moisture. She said B vitamin supplements can improve skin, hair and nails, especially during winter.
"They're better for the skin when ingested, rather than when you put them on the skin topically," Zalka said.
Orentreich said clothing can protect exposed, sensitive skin such as the cheeks and hands but be careful of fabrics like rough wool that can further irritate chapped skin.
Zalka said wearing slightly loose cotton gloves to bed after applying a sealant will speed the healing process for hurting hands and nails.
For hair, Sadick said use a conditioner more frequently during winter.