Canada Mortgage Rates: BMO's Record-Low Rate Likely To Spur Competition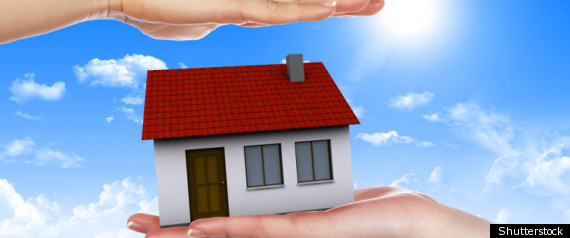 The Bank of Montreal announced Thursday it is lowering its rate on five-year fixed mortgages to 2.99 per cent, an all-time record low in Canada.
The move is expected to set off a wave of competition among the country's mortgage issuers, and comes as market observers grow increasingly uneasy about Canada's prolonged housing boom.
According to the Montreal Gazette, the Royal Bank of Canada has told mortgage brokers it will be lowering its mortgage rates to match BMO. TD Canada Trust also lowered its mortgage rate this week, bringing its six-year fixed mortgage down by 1.3 percentage points, to 3.79 per cent.
More on mortgages at Walletpop:

Fixed Vs. Variable Rates: Pay Yourself Instead Of The Bank

How To Apply For And Get Your First Mortgage
Five-year fixed mortgages are the most common type taken by first-time home buyers.
BMO's rock-bottom interest rate is a limited-time offer, running until Jan. 25, and comes with a few catches. Borrowers will only be able to repay 10 per cent of the mortgage value in a lump sum, per year, compared to the typical 20 per cent, and -- in a move the bank says is meant to encourage responsible borrowing -- the maximum amortization period is 25 years.
A lower interest rate could push home prices higher by making mortgages affordable to a larger group of potential homebuyers, but the shorter amortization period allows borrowers to emerge from debt more quickly.
"We are trying to invite customers to make better financial decisions by offering this great rate," Katie Archdekin, head of BMO's mortgage products, told the Financial Post. "It's not a move driven by competition, we believe a 25-year amortization is a better choice for more Canadians at this time."
The government, as well as the mortgage industry itself, has been growing concerned about excessive debt loads among Canadians. Over the past several years, Ottawa has incrementally reduced the maximum amortization period for government-backed mortgages from 40 years to 30, and some are pushing for a further reduction to 25.
Canadian household debt hit an all-time high of 153 per cent of average household income last year, even as Canadians saw their net worth decrease due to shaky stock markets. It's the highest personal debt burden in the G7. The issue has even grabbed the attention of the IMF, which has warned that excessive debt poses a threat to Canada's economy.
BMO's move comes even as the bank's chief is sounding alarm bells about the sustainability of Canada's long-running real estate boom.
"I wouldn't give up on the Canadian housing market, but … there has to be a landing," BMO CEO Bill Downe told an investor conference Tuesday.
Other bank CEOs have expressed similar concerns.
"When you look at markets like Vancouver and Toronto, there is a level of caution from a risk perspective that is higher today than it would have been a few years ago," RBC CEO Gordon Nixon told the same conference.
Yet 2012 may not be the year the chickens come home to roost in Canada's housing market. In a forecast released this week, realtor Royal LePage predicted house prices will continue to rise this year, albeit at a slower rate than in the recent past.
Statscan reported this week that new home prices continue to rise, with November prices 2.5 per cent above the same month a year earlier. Toronto and its suburb Oshawa posted the largest year-over-year jump, at 6.2 per cent.
With files from CBC
WHAT $350,000 WILL BUY YOU IN THESE CANADIAN MARKETS
Loading Slideshow
St. John's, Nfld. -- $125 Per Square Foot

This four-bedroom, two-bathroom custom-built bungalow in St. John's West End neighbourhood boasts hardwood floors, a covered sundeck and an oversized yard. With an asking price of $349,900 and 2,750 square feet of livable space, this spacious home costs approximately $125 per square foot.

Trois Rivieres, Que. -- $127 Per Square Foot

This five-bedroom, two-and-a-half bathroom house features a double-width garage and a heated inground pool. At approximately 2,750 square feet and an asking price of $349,900, it works out to around $127 per square foot.

Winnipeg -- $160 Per Square Foot

This spacious split-level home in southeast Winnipeg features four bedrooms and three baths, a stone fireplace and a jazuzzi in the master bedroom. It sits on a 142-foot-long, pie-shaped lot. At 2,182 square feet and a $349,900 asking price, it works out to around $160 per square foot. <strong>CORRECTION:</strong> <em>An earlier version of this slide incorrectly listed the price-per-square foot as $600</em>.

Red Deer, Alta. -- $248 Per Square Foot

This five-bedroom, three-bath home features vaulted ceilings, a fireplace and a massive walk-in closet in the master bedroom. At 1,408 square feet -- this average-sized house on the prairie works out to $248 per square foot.

Montreal -- $250 Per Square Foot

This two-story townhouse condo just east of downtown Montreal features three bedrooms and two baths, cherry wood floors and a terrace. At 1,400 square feet and an asking price of $349,000, this condo works out to $250 per square foot.

Burlington, Ont. -- $388 Per Square Foot

This cozy bungalow on the edges of the Greater Toronto Area features four bedrooms, two baths and a long, 175-foot lot. Highlights include a granite countertop and newly finished hardwood floors. At a snug 900 square feet, this house is going for $388 per square foot.

Toronto -- $499 Per Square Foot

This one-bedroom, one-bath condo in Toronto's Entertainment District features a balcony with a southeast exposure. In a sure sign the condo is outfitted with just the basics, the unit's sellers boast of its "brand name appliances" and "frost free refrigerator." At 700 square feet (including the balcony), it works out to $499 per square foot.

Vancouver -- $688 Per Square Foot

This one-bedroom, one-bathroom corner unit in Vancouver's Kitsilano neighbourhood "shows much larger than the square footage," the realtor boasts. That's good, because at 508 square feet, this place is only slightly larger than some of the bedrooms and living rooms available in similarly-priced houses in other markets. The condo boasts "gorgeous mountain views," but it'll cost you -- $688 per square foot.