Nortel Fraud Trial To Begin For Former Execs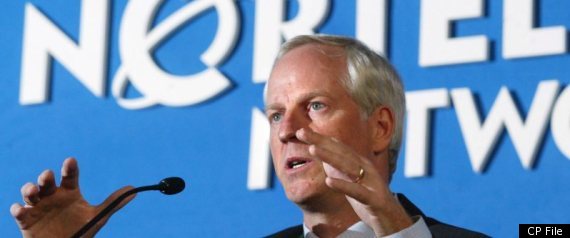 Opening arguments are expected Monday in the trial of former executives at insolvent Nortel Networks Corp. who are accused of defrauding investors ahead of one of the biggest corporate collapses in Canadian history.
Former CEO Frank Dunn, 57, was charged in 2008 — just as the company imploded — with fraud affecting the public securities markets, as well as with falsification of accounts and documents and involvement in issuing a false prospectus.
Former Nortel chief financial officer Douglas Beatty, 56, and former corporate controller Michael Gollogly, 52, face similar counts.
The Ontario Superior Court trial, expected to last more than six months, will be presided over by Justice Frank Marrocco.
The court will hear arguments that the men, dismissed from the company in 2004, fraudulently misstated financial results in order to get bonuses they were promised if the company returned to profitability.
Nortel went on to restate its financial reports four times over as many years as regulators and investigators began looking at the company's financial statements.
Before the trial begins, Marrocco is expected to rule on a defence request for more details about the fraud allegations levied against the men. That could be followed by opening arguments, but if more information is required those could be delayed.
Scandal sent Nortel shares to penny-stock status
The Nortel accounting scandal of 2002-2003 produced one of the most spectacular stock market flameouts of a Canadian company, dragging down the share price of what had been Canada's premier technology firm from a peak of $124.50 in 2000 to penny-stock status.
Kevin O'Leary, a CBC business commentator, said Nortel's case needs to be put in the context of the "dot-com bubble."
"We suspended belief in the fundamentals of business for almost six years," he said. "We didn't care about cash flow. The whole market was moving on momentum, and Nortel was part of that story.
"But when you erase $440 billion worth of value, somebody has to pay. And that's what we're working on today."
The company filed for bankruptcy protection in 2009 in North American and Europe amid mounting losses, falling sales, big debts and a legacy of legal issues.
Thousands of Canadians lost their jobs when Nortel folded, though thousands of positions were also rescued when other tech giants bought up Nortel's assets.
The company has sold almost all its operating businesses to various buyers for more than $3 billion.
At its peak during the 1999-2000 technology boom, Nortel was Canada's most valuable company after the telecom equipment maker went through several years of rapid expansion and diversification funded by debt and stock sales.
The Nortel case was one of a wave of accounting scandals that led to the collapse of high-profile companies such as energy trader Enron Corp., the WorldCom phone giant, cable operator Adelphia Communications and the Hollinger newspaper group.
Various executives, notably Canadian-born Bernie Ebbers of WorldCom and Conrad Black of Hollinger, were sent to prison after U.S. crackdowns that held them responsible for wrongdoing at their companies.
A BRIEF HISTORY OF NORTEL

Loading Slideshow
Bell Telephone Co.

In a way, it was economic protectionism that made Nortel come into existence. The company's history began in 1882, when the Bell Telephone Company of Canada opened a manufacturing division. It did so because of restrictions on the import of telephone equipment from the U.S.

Northern Electric And Manufacturing Co.

Bell spun off its manufacturing arm into a publicly traded company in 1895. The company launched under the name Northern Electric and Manufacturing Company.

Northern Electric

In 1914, the Northern Electric and Manufacturing Company merged with another Bell-controlled enterprise, the Imperial Wire and Cable Company, to become Northern Electric. This First World War-era photo shows women at a Northern Electric factory in Montreal.

Northern Telecom

In 1976, Northern Electric announced a new focus on digital technology, and changed its name to Northern Telecom.

'The Tricorporate'

Deregulation of the telecommunications industry brought big changes in the 1980s. Bell Canada, now BCE, partnered with Northern Telecom as joint owners of Bell-Northern Research, effectively forming a "tricorporate" of Canada's dominant telecom players.

Boom And Bust

The 1990s were a period of rapid expansion for Northern Telecom, which changed its name to Nortel and, in 1998, bought Bay Networks to become Nortel Networks. Speculators drove up the price of Nortel stock to astronomical levels, far beyond what the company's revenue justified, causing a stock price collapse that saw the company lose half its value in one day in October, 2000. The stock slide would continue until Nortel became a penny stock. Here, former CEO John Roth and communications VP Andy Lark answer questions in April, 2001.

Bankruptcy

On January 14, 2009, in the midst of the financial crisis and with nearly a decade of struggling behind it, Nortel filed for bankruptcy protection. Nortel had a $107-million interest payment due the next day which it could not cover. The bankruptcy left Nortel's retirees -- such as John Mlacak, pictured above -- with a severely underfunded retirement pension plan.

Criminal Trial

In 2004, then-CEO Frank Dunn, as well as execs Douglas Beatty and Michael Gollogly, were fired after the company admitted it had mis-stated some $3 billion of earnings in 1998, 1999 and 2000, and paid execs bonuses on the basis of those reports. This has come to form the foundation of the criminal fraud trial that launched on January 16, 2012, and which sees the three above-named execs facing the most serious fraud charges under Canadian law. Ex-CEO Frank Dunn is pictured above.

Not Guilty

On Jan. 14, 2013, after a a trial that lasted a day short of a year, Dunn, Beatty and Gollogly were found not guilty by a judge who decided the charges were baseless. The prosecution was given 30 days to appeal the verdict.