Twinsies: Matching Celeb Couples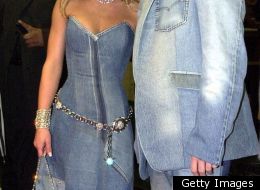 Whether you think it's cute, tacky or just plain cheesy, celebrities all around town are being caught dressing up to match their significant other. Jennifer Aniston and boyfriend Justin Theroux are the latest couple to be spotted looking matchy-matchy in aviators, dark skinnys and black coats. But instead of embracing their cute-couple look, they looked like a pair of sad bikers. Come on guys, don't you know that a couple that dresses together, stays together? Okay, maybe that's the not always the case, but we can hope, right?
According to Harley Street psychotherapist Christine Elvin, couples who dress similarly do so because one them has less confidence than the other. Whether it's rooted in psychology, planned or just "happens," celebrities have been embracing the copycat look for years.
So take a look at some of our favourite matching celebrities and tell us which look you like most on Twitter.
Twinsies: Couples Who Dress Alike
Do they do it on purpose or are they just so stylishly in tune with each other that they always seem to match?

Justin and Selena looked cute in matching polos on a recent trip to the zoo.

A couple that dresses together doesn't always stay together. We're blaming it on this jean disaster.

Matching leather suits? What were they thinking? We're glad the Becks have stepped up their sartorial game over the years.

Even on the slopes, these two find it necessary to plan matching outfits. But those boots? Come on, Mariah...

Cheer up, Jen -- we're sure he didn't copy you on purpose...

There's no doubt in our minds that these two raid each others closets on a regular basis.

Is there anything these two can do wrong? We think not!

Embracing earthy tones has never looked cuter.

Ellen and Portia look effortlessly chic in matching royal blue.

Matching tee's, matching shades -- Gwen and Gavin know how to keep it simple, yet fabulous!

Alicia Keys and hubby Swizz Beatz know how to rock it, even at a basketball game.

Ralph Lauren and wife Ricky rock the suit and glasses combo without a hitch!

Nicole Kidman proves she can kick it with her man in a baseball cap and leather coat.