Thorsten Heins New RIM CEO: Twitter Reacts To Research In Motion Shake-Up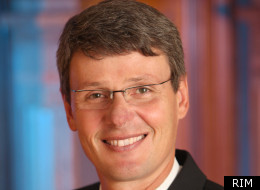 It was a busy day for Twitter Sunday with the death of Joe Paterno, the NY Giants' victory over the 49ers, and the shocking changing of the guard at ailing tech giant Research In Motion. The company announced late Sunday night that co-executives Mike Lazaridis and Jim Balsillie would be stepping down from their operating roles at RIM to make way for a new CEO, insider Thorsten Heins.
Faster than you can say BBM, the commentary started flying on Twitter. Some thought the move to appoint Heins was the right one, others that it wouldn't make a difference. And who can resist a random Tebow reference?
Here's a slice of what the Twitterverse had to say about Thorsten Heins taking the RIM reins. Let us know what you think on Twitter.