Ontario Budget 2012: Premier Dalton McGuinty Says Province Must Deal With Public Sector Salaries To Reduce $16 Billion Deficit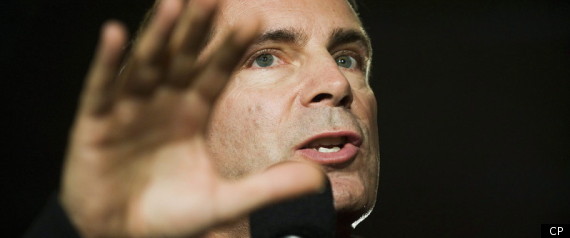 TORONTO - Doctors, nurses, teachers and one million public sector workers in Ontario will have to hold their salary demands in check while the province eliminates a $16-billion deficit, Premier Dalton McGuinty said Tuesday.
"One half of all government spending, about $55 billion, is invested in wages and salaries," McGuinty told the Canadian Club.
"It is simply not possible to reduce spending without addressing salary expenditures."
However, McGuinty rejected the Progressive Conservatives' demand for a legislated pay freeze for public sector workers, saying he has built up goodwill with unions and will continue to show them respect at the bargaining table.
"There is a determination to ensure that we get expenditures under control, but to do that by bargaining fairly but firmly through the collective bargaining process," he said.
The Liberals tried a voluntary public sector wage freeze in 2009, but most unions continued to negotiate salary increases, leading to situations where some workers got pay hikes while managers or even non-unionized colleagues doing the same work did not.
The Tories said they won't be giving up on their demand that the March budget include a legislated public sector wage freeze.
"As he's pointed out, this is a minority government," said Opposition critic Peter Shurman after watching McGuinty's speech.
"As far as we're concerned a wage freeze is not off the table. A wage freeze is essential when it comes to dealing with the broad public sector."
The premier declined to offer any specifics about program and service cuts expected to be in the March budget, but said the government would soon outline its plans to transform the health care system.
The Liberals want to cap the increase in health spending at three per cent a year, less than half the amount seen in each of the previous eight years, and hold the government's overall spending hike to just one per cent.
The lack of specifics on the looming changes to the health care system has the NDP worried.
"When this government starts to say we're going to transform the health care system, I think we all have to be pretty nervous," said NDP Leader Andrea Horwath.
"The other thing that's possible is 'transformation' is just a code word for more cuts."
McGuinty told the business audience it was critical to stick to a deficit reduction schedule to help grow the economy and create jobs, and said the Liberals will not raise taxes to help balance the books.
The province won't be looking to increase revenues from the Liquor Control Board of Ontario and Ontario Lottery and Gaming to help stem the flow of red ink, he added.
"When it comes to assets, restructuring and those kinds of fees, there's just not a lot of magic there," McGuinty told reporters.
"People ask if that is kind of the easy way out, whether in government or others. There is no easy way out of this."
McGuinty said the Liberals will protect health and education as they rein in spending, but the Tories questioned the party's commitment to making the difficult choices needed to balance the budget.
"The man who for the last eight years has held the shovel while digging Ontario into the biggest hole it's ever been in is now saying we all have to work together to get out of it and suddenly has found religion where the deficit is concerned," said PC finance critic Peter Shurman.
"I am very disturbed at the prospect of having him at the helm when it comes to attacking a deficit, especially in the way he's talking about, which is without any real terrible inconvenience to anybody."
McGuinty warned there are no quick fixes or easy solutions to the deficit crisis, but said the government "won't be rash or timid" as it looks for steady, measured progress on reducing spending.
Related on HuffPost:
CANADA'S LEAST POPULAR PREMIERS
Loading Slideshow
Jean Charest - 26 per cent approval

Quebec's Liberal Premier is Canada's least popular. (<a href="http://www.angus-reid.com/wp-content/uploads/2011/12/2011.12.19_Premiers_CAN.pdf">Data from Angus Reid Survey</a>)

Dalton McGuinty - 38 per cent approval

Ontario's Liberal Premier is second from bottom on the list of Canadian provincial leaders.

Darrell Dexter - 39 per cent approval

Nova Scotia's NDP Premier is third from the bottom.

Christy Clark - 40 per cent approval

B.C.'s Liberal Premier is near the middle of the pack.

David Alward - 40 per cent approval

New Brunswick's Progressive Conservative Premier is near the middle of the pack.

Greg Selinger - 50 per cent approval

Manitoba's NDP Premier is near the middle of the pack.

Alison Redford - 53 per cent approval

Alberta's Progressive Conservative Premier is third from the top.

Kathy Dunderdale - 60 per cent approval

Newfoundland and Labrador's Progressive Conservative Premier is second from the top.

Brad Wall - 71 per cent approval

Saskatchewan's Saskatchewan Party Premier is Canada's most popular.