Ellen DeGeneres: Happy Birthday To The Daytime TV Queen We Love (PHOTOS)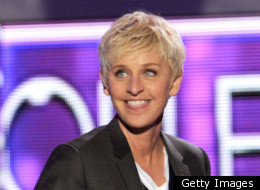 Whether it's because of her laid-back style, her sense of humour, kind heart or her crazy dance moves, there's no doubt about it -- we love Ellen DeGeneres. And today, our favourite daytime talk show host turns 54!
While she'll be celebrating in studio with Jimmy Kimmel and legendary band Earth, Wind, & Fire, we'll be celebrating, too (albeit remotely). Grab a piece of cake, serenade her with a happy birthday, a la Portia de Rossi, and take a look at Ellen's confident and fun style.
Don't forget to tell us why you love her so much on Twitter.
Happy Birthday, Ellen DeGeneres!
Baby Ellen was such a doll -- just look at those curls!

Scheming up ideas for 'The Ellen DeGeneres Show' from an early age.

Ellen in a dress? We're sure she tore up the dance floor at her high school prom, despite this, uh, sartorial decision.

Confident, spunky and fun -- we love that Ellen's not afraid to show off her true personality.

Who wouldn't love to have a slumber party with Ryan Gosling and Ellen?

Is Ellen training to be the next U.S. Open champion?

Comedian, talk show host and model? Ellen rocked it at the Richie Rich Spring 2011 fashion show.

Snooki's poof ain't got nothing on Ellen's 2010 halloween costume. We love her creative ideas!

We love how happy and in love Portia and Ellen always look. Not to mention how well they coordinate their outfits.

Pregnant? No -- that's just Ellen's Oscar baby at the 2007 Academy Awards.

Even in a sombrero, Ellen looks good!

Her vegan diet and campaign to stop animal cruelty led her to be PETA's 2009 Woman of the Year. Work it, girl!

Sit-ups while holding the Olympic torch? What a woman!

... No, it's just Ellen dressed as Spiderman while presenting at the 2004 MTV Movie Awards.

What better way to show off a cause that you support than on your tee?

Ellen shows everyone that reading can be -- and is -- cool. You tell 'em, girl!

We couldn't think of a more perfect couple!

Who needs a janitor when Ellen DeGeneres is at the Grammy Awards?

Bjork, is that you? No, it's Ellen at the 53rd Annual Emmy Awards.

If her talk show doesn't work out, we're sure Ellen can land a gig in a folk band. We love that she's rocking a vest!

We want to play a round of golf with these two! Where do we sign up?

Ellen in stilettos? We never thought we'd see the day!

We're not surprised she took home honours at the 2012 People's Choice Awards. Ellen, don't ever change!