Super Bowl Weekend And Kids: How To Keep Kids Busy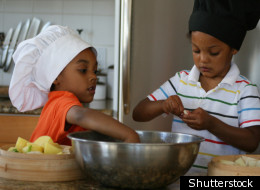 When you think Super Bowl, you might picture men in jerseys huddled up on the couch, with beer and chicken wings in hand. But these days, friends, relatives and kids are all fighting for a spot in the comfy seat.
If your kids love football, then this weekend should be a breeze. But if they have no interest in the game (or you're just tired of explaining Roman numerals), there are ways to get the little ones involved.
"If you invite kids to a Super Bowl party, make sure other kids are coming too," advises Toronto stylist and event planner Lu Curran of Style By Lu. "Kids love to play with other kids and this will take the pressure off the host to occupy and entertain them."
Curran says on top of planning a Super Bowl party, make sure you have recipes and activities in mind for everyone in the house that night.
"Kids just like having something to do. It doesn't have to be fancy, but something to take up a bit of their time and not get them in trouble."
Here are some activities Curran suggests for the weekend. Parents, divide yourselves up into shifts, this way everyone can still watch the game.
Activities For Kids During Super Bowl
Just like any party, having kids involved in the planning process will keep them interested and excited about the event. Curran suggests making some cupcakes or shortbread cookies before the event, and having kids decorate them. Try this football themed cupcake recipe.

Flag football can take place in the basement or outside if you live in an area with enough space. Play with a soft football to avoid any injuries.

Pick your favourite player or rivalries and have the kids pin the football in the player's hand. Print out a poster of a football player and if you're secretly an artist at heart, paint team colours on the uniforms. Use construction paper to cut out a small football and add tape on the back.

Have the kids throw a soft football through a hula-hoop or at another target and give prizes for the most accurate football player. Set it up like an obstacle course and have the kids complete three drills -- this is a great way for the parents to get involved and burn off calories too.

Charades is a great way to prep kids for football season next year. Have kids act out plays and rules, while you teach them what they mean. Tip: Have your kids act out some of your favourite player's touchdown moves -- Tebow anyone?