How To Organize Your Wallet: What Stays In And What Goes Out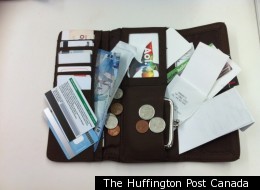 Quick Study [kwik stuhd-ee]: The Huffington Post Canada's tips to make your life a little sweeter, five minutes at a time. Think of it as a cheatsheet for your general well-being.
THE EXPERT:
Ever experience that awkward moment at the cash register when you can't seem to find where your debit, credit card or gift card is stashed? We all know what it feels like when your wallet becomes an oasis for your receipts, children's graduation photos and business cards from your last job, so we talked to professional organizer Laura Kay of Laura Kay Organizing in Toronto, on what to keep in your wallet and what to ditch.
"People tend to carry way too much stuff in their wallets, handing their entire lives over to identity thieves. Pare down to just the essentials to protect your finances and identity, and lighten the load on your backside or shoulder."
"Remember, keep photocopies of the fronts and backs of all your cards at home. Also, never close your accounts if your cards are stolen -- ask for your account number to be changed. Closing an account can damage your credit, and you may lose previous reward points, interest rates or credit limits."
Here are Kay's verdicts on what to keep in your wallet and what to leave at home.

How To Organize Your Wallet
Keep Out Get in the habit of taking receipts out of your wallet at the end of the day or once a week to file away.Many of us use our wallet as a receipt-holder, but receipts can sometimes have credit card information or your signature. Not to mention that you may need some important receipts for returns or warranties or work-related tasks.

Keep Out Don't carry every credit card you have: If your wallet is lost or stolen, a thief will have a field day with more cards to rack up on. Plus, you won't have anything to use in the meantime as you take care of getting new cards. Carry only one or two of your main cards, and possibly a back up. If you don't need it, leave it at home. Tip: Don't carry your social insurance or health card -- keep these at home.

Keep Out Don't carry gift cards around in the off-chance you'll pass by the store and decide to use it. If you wallet falls into the hands of a thief, gift cards can be first thing used, because they're just like cash. Leave them at home, unless you know you're going shopping at that store.

Keep In If you love to network and meet people, keeping your business card handy is a good idea. However, when other people's business cards are collected, transfer the information to your contact list or file them away.

Keep It It's always handy to have a little loose change, but use it up when you are given the chance at the cash register. Some men's wallets often don't have a change section (how unfortunate) but keeping it in your pockets can make pants misshapen.

Keep Out Chequebooks seem innocent enough, but they have your bank account number, address and imprints of your signature. In the wrong hands, blank cheque are easily cashed. If you know you need to write a cheque that day, rip one out and take it with you.

Keep Out Try to carry only as much cash as you are willing to lose. You should always have some cash on you in case of an emergency, but you don't want to feel a huge hit if your wallet is stolen or lost. If you're on a cash diet, carry only what you need for the day.

Keep In Now that you have room in your wallet -- it's time to decorate. According to a 2009 study in Scotland, wallets with photos are more likely to be returned than wallets without photos. And guess what? A photo of a baby takes the lead -- 88 per cent of wallets were returned in the study.
Now that your wallet probably feels a bit lighter, you can save some of that cash to find a new one.
"The shape and and size of a wallet is very much a personal decision. For a woman, the size often depends on her handbag. Using a wallet that is brightly coloured or patterned can be easily and quickly seen when opening up a cluttered handbag. For Men, fewer folds usually means less bulk."
WATCH:
Who says you can't mix duct tape and fashion? Well maybe some people, but in the meantime, check out this DIY wallet project.