Meet The World's Highest Paid Supermodels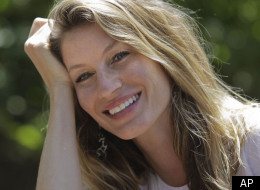 They've worked hard to be called "the hottest and most desirable women in the world" -- you try spending your days walking along runways in high heels and keeping svelte for photographers.
But there's more than meets the eye when it comes to these 20 supermodels.
According to Extra, these knockouts are also savvy businesswomen -- amassing a huge fortune thanks to not only modelling gigs, but also side businesses, like developing fashion, beauty or accessory lines. In fact, these ladies make almost as much (maybe even more!) than some of today's hottest celebs.
Whether you love them, hate them or just hate to love 'em, here are the world's 20 most wealthy supermodels.
Meet The Richest Models In The World
Net worth: $15M

Net worth: $15M

Net worth: $17M

Net worth: $17M

Net worth: $17M

Net worth: $20M

Net worth: $20M

Net worth: $23M

Net worth: $28M

Net worth: $29M

Net worth: $34M

Net worth: $36M

Net worth: $48M

Net worth: $55M

Net worth: $59M

Net worth: $70M

Net worth: $78M

Net worth: $80M

Net worth: $90M

Net worth: $151M