Valentine's Day: Date Night Outfit Ideas To Steal From Celebrities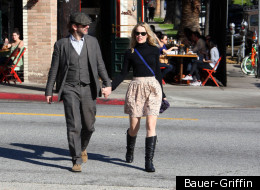 It's Valentine's Day, and we know, if you're like us, you're wondering what to wear for your big night out (if you're hanging with a lover or just going out with friends).
Of course, nothing screams Valentine's Day more than donning something red and turning yourself into a little cupid. But before you go overboard with the hearts, take a cue from LeAnn Rimes, who was recently spotted wearing a simple black dress, and red jacket while on a lunch date with hubby Eddie Cibrian.
Keeping it simple, yet chic, is obviously the way to go -- even on a day like Valentine's Day.
Take a look at what some of our favourite sartorially savvy stars were caught wearing while on the town with their significant others.
Date Night Outfit Ideas To Steal From Celebrities
This couple looks perfectly cute on their way to grab lunch at Little Dom's restaurant in California.

Ryan and Eva take a stroll through Pere Lachaise cemetery in France.

This leather clad duo show off their style (and love) on a walk through the West Village.

Drew and her new finance Will look comfy cute as they enjoy lunch together at an L.A. restaurant.

Even President Obama and Michelle need a little break to go out on a date together. And what better way than to kick back with a hot dog and catch a basketball game in Maryland?

Justin and Selena head off on their beach date, walking hand-in-hand toward, in Hawaii.

Just because you have a little one, doesn't mean you can't go on lunch dates anymore. Matthew, Camila and son Levi enjoy some eats at Cafe Habana in New York.

The happy couple are all smiles after a casual lunch date at Sushi Ike in Hollywood.

Peaches and her fiance share some lunch time PDA on Portobello Road.

This stylish couple keeps it chic, yet classy, while heading to a lunch date at E&O in Notting Hill.

Pippa looks playful and fun as she and her mystery companion head out to lunch at Carluccio's restaurant in West London.

Even when dressed down for a rainy lunch date at Mestizo Mexican restaurant in Hampstead, Sienna and her beau still manage to look chic.