Martin Condemns Asbestos Proponents To Face Justice In Hell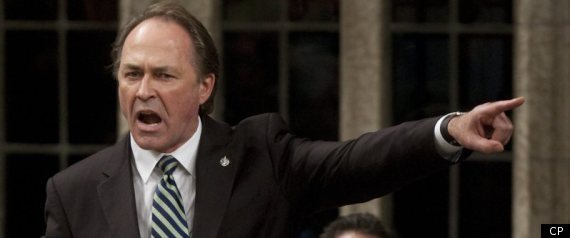 Winnipeg NDP MP Pat Martin once worked in an asbestos mine and often speaks out against the promotion of chrysotile asbestos as a safe product for Canada to export.
He's also fond of expressing his opinions using colourful language.
He used his member's statement prior to question period in the House of Commons on Monday to condemn the Harper government's support for Quebec's struggling asbestos industry.
Martin's outburst follows a CBC investigation into allegations that a major 40-year study on asbestos safety by a group of scientists at McGill University contained manipulated data. The Chrysotile Institute — a lobby arm funded by, overseen and closely associated with both Liberal and Conservative governments — used the findings of the McGill study to market Canadian asbestos overseas.
Here's the full text of Martin's statement:
"Mr. Speaker, the best science money can buy has been used to justify and defend exporting a made-in-Canada asbestos epidemic throughout the developing world, but the Conservatives and their Asbestos Institute can no longer hide behind the phoney research they bought and paid for.
I rise today to condemn the Conservatives for their boosterism and cheerleading of the asbestos cartel and the human misery it causes. I condemn the scientists and researchers who compromise their professional integrity and the reputation of our great university.
Dante should have reserved a special level of hell for the charlatans and the fraudsters of the government-sponsored Asbestos Institute who knowingly and willingly conspired to hide the effects of asbestos exposure from the world.
I denounce them in the strongest possible terms. I pray that some day their treachery and deceit leads to criminal charges of corporate manslaughter so that they may face justice in this world as well."
FAMOUS POLITICAL CURSES
Loading Slideshow
Careless Whisper

However you look at Canada's 15th prime minister, it's hard not to see Pierre Elliott Trudeau as a politician cut from a very different cloth. While much of his globe-trotting, playboy image was doubtless driven by the media -- Trudeau was actually a workaholic and sleepless intellectual -- the man certainly had his moments. Luckily, the news wasn't delivered quite so relentlessly in 1971 as it is these days - or Trudeau wouldn't have heard the end of it when he told an opposition member to <a href="http://quotes4all.net/pierre elliott trudeau.html">"F-- Off".</a> Well, actually he mouthed it. And although the TV tape clearly captured his salty salute, Trudeau was allowed to tell reporters he had actually said 'Fuddle Duddle'. And that was that.

That's Pat F--ing Martin, To You

Outspoken doesn't seem to quite cut it when describing NDP MP Pat Martin. The man speaks out a lot. And every now and then, he brings the thunder. Like last November, when he treated his 1,400 Twitter followers to a <a href="http://www.huffingtonpost.ca/2011/11/17/pat-martin-twitter-swearing_n_1099126.html">smorgasbord of swearage.</a> "This is a f---ing disgrace... closure again. And on the Budget! There's not a democracy in the world that would tolerate this jackboot s---." And the cherry on top? Telling one of his followers, "F-- you."

What About Bob?

Interim Liberal Leader Bob Rae took a page from Pat Martin's profanity playbook on Wednesday -- <a href="http://www.huffingtonpost.ca/2011/12/14/bob-rae-twitter-bs-young-liberals_n_1149155.html?1323898891">and took it to Twitter.</a> A tweet about a feud between liberals Zach Paikin and Max Naylor may have caught him before breakfast. "What bullshit is this?" he tweeted back. Sure, the word likely ceased offending most people decades ago. In fact, we don't even bother covering most of the letters with asterisks. But hey, it does incorporate the s-word - which we still cover with asterisks.

No Fuddle Duddling Around

Unlike his father, Justin Trudeau didn't merely mouth the words. In fact, he let them ring out from the rafters at the House of Commons on December 14. 'You piece of sh---' The recipient? Environment Minister Peter Kent. You know, Canada's <a href="http://www.huffingtonpost.ca/elizabeth-may/canada-kyoto-protocol-withdrawal_b_1145648.html">public face of Kyoto withdrawal.</a> Also unlike his father, young Trudeau probably knew the Fuddle Duddle Defence wouldn't cut it. So within minutes of uttering the words, he owned up to them. "I lost my temper and used language that was most decidedly unparliamentary and for that I unreservedly apologize and withdraw my remark," Trudeau said at the end of question period.

15-Year-Old 'Jack Ass'

<a href="http://www.huffingtonpost.ca/2012/01/10/tony-clement-jackass-twitter_n_1196261.html">Treasury Board President Tony Clement was forced to apologize after calling 15-year-old Keith Pettinger a "Jack ass"</a> in a private Twitter message. Clement sent the message after the teen criticized the spelling in one of the minister's tweets.