Nortel Collapse Linked To Hacking Attack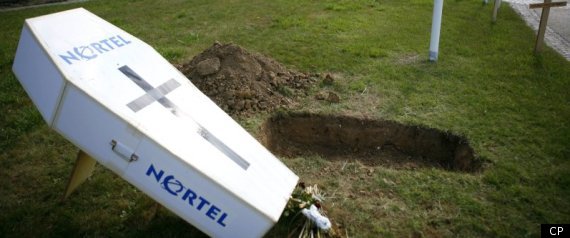 A former systems security adviser to Nortel Networks says he has no doubt that extensive cyberattacks on the technology company contributed to its downfall.
In an interview with the CBC's As It Happens, Brian Shields, the former senior systems security adviser at Nortel, said spying by hackers allegedly based in China "absolutely" was a "considerable factor."
"When they see what your business plans are, that's a huge advantage. It's unfair business practices that really bring down a company of this size," Shields said.
Nortel is currently selling off assets in the wake of a 2009 bankruptcy filing.
Shields said both the Canadian and Chinese governments should investigate.
"Your government needs to step in and provide direct assistance with an expert team … [that will] help with the forensics."
He insisted the hackers were based in China, something the Chinese government has rejected.
Earlier this week, its embassy in Canada said "cyberattacks are transnational and anonymous. It is irresponsible to prejudge the origin of attacks without thorough investigation and hard evidence."
The embassy added that China's government "strictly prohibits" hacking and "stands ready to step up international co-operation in this field."
RIM a 'huge target'
"The Chinese government ought to go to that location and get those computers and work with the Canadian government to help solve what happened here," he said.
Shields has alleged that Chinese hackers had unfettered access to the former telecommunications giant as far back as 2000, downloaded business plans, research and development reports, employee emails and other documents.
He maintains that Canadian companies — including Waterloo, Ont.-based Research in Motion — continue to be targets.
"Absolutely. Without a doubt. The questions you've got to ask is, is there something of value? Companies, for example, like RIM [are] a huge target. They ought to worry about this stuff. And anybody else that is in technology or oil exploration. This is economic espionage. It truly is."
Corporate espionage is a growing problem for North American companies, with the majority of attacks coming from China.
Last November, a group of U.S. analysts said there were as many as 12 different Chinese groups participating in cyberattacks on U.S. companies and government agencies.
During BHP Billiton's hostile takeover bid for Saskatchewan's PotashCorp, hackers traced to China targeted Bay Street law firms and other companies to get insider information on the $38-billion corporate takeover.
Those same hackers also targeted Canadian government computers in fall 2010, targeting the Finance Department, the Treasury Board, and Defence Research and Development Canada, a civilian agency of the Department of National Defence.
"It's very personal to me because I'm very sad-hearted about what happened to so many of my friends, to this once great Canadian company," Shields told As it Happens.
"I was very proud to work there for so many years. I used to say it was the best job in the world."
A BRIEF HISTORY OF NORTEL
Loading Slideshow
Bell Telephone Co.

In a way, it was economic protectionism that made Nortel come into existence. The company's history began in 1882, when the Bell Telephone Company of Canada opened a manufacturing division. It did so because of restrictions on the import of telephone equipment from the U.S.

Northern Electric And Manufacturing Co.

Bell spun off its manufacturing arm into a publicly traded company in 1895. The company launched under the name Northern Electric and Manufacturing Company.

Northern Electric

In 1914, the Northern Electric and Manufacturing Company merged with another Bell-controlled enterprise, the Imperial Wire and Cable Company, to become Northern Electric. This First World War-era photo shows women at a Northern Electric factory in Montreal.

Northern Telecom

In 1976, Northern Electric announced a new focus on digital technology, and changed its name to Northern Telecom.

'The Tricorporate'

Deregulation of the telecommunications industry brought big changes in the 1980s. Bell Canada, now BCE, partnered with Northern Telecom as joint owners of Bell-Northern Research, effectively forming a "tricorporate" of Canada's dominant telecom players.

Boom And Bust

The 1990s were a period of rapid expansion for Northern Telecom, which changed its name to Nortel and, in 1998, bought Bay Networks to become Nortel Networks. Speculators drove up the price of Nortel stock to astronomical levels, far beyond what the company's revenue justified, causing a stock price collapse that saw the company lose half its value in one day in October, 2000. The stock slide would continue until Nortel became a penny stock. Here, former CEO John Roth and communications VP Andy Lark answer questions in April, 2001.

Bankruptcy

On January 14, 2009, in the midst of the financial crisis and with nearly a decade of struggling behind it, Nortel filed for bankruptcy protection. Nortel had a $107-million interest payment due the next day which it could not cover. The bankruptcy left Nortel's retirees -- such as John Mlacak, pictured above -- with a severely underfunded retirement pension plan.

Criminal Trial

In 2004, then-CEO Frank Dunn, as well as execs Douglas Beatty and Michael Gollogly, were fired after the company admitted it had mis-stated some $3 billion of earnings in 1998, 1999 and 2000, and paid execs bonuses on the basis of those reports. This has come to form the foundation of the criminal fraud trial that launched on January 16, 2012, and which sees the three above-named execs facing the most serious fraud charges under Canadian law. Ex-CEO Frank Dunn is pictured above.

Not Guilty

On Jan. 14, 2013, after a a trial that lasted a day short of a year, Dunn, Beatty and Gollogly were found not guilty by a judge who decided the charges were baseless. The prosecution was given 30 days to appeal the verdict.