Canada Retail Sales: December Posts Drop In Time For Holidays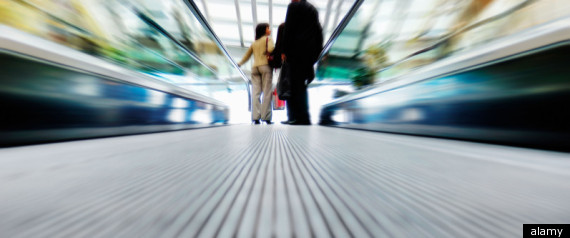 OTTAWA - Canadian shoppers reined in spending before Christmas this year as retail sales slumped 0.2 per cent in December despite apparent deep discount sales from stores.
The fall-off followed a revised 0.4 per cent pop in November, an indication that shoppers had both completed their Christmas shopping early and were cautious consumers during the holiday season, analysts said.
"The overall story here is that after a nice bounce out of the recession, Canadian consumer spending is cooling, and I think that will be the dominant story in 2012," said Douglas Porter, deputy chief economist with BMO Capital Markets.
"In a nutshell, disposable income growth is very modest and likely to become more modest as job growth slows down and we begin to see various forms of government restraint. That will likely weigh on disposable incomes as well."
The Bank of Canada has warned for some time that rising indebtedness by Canadian households would pose a problem to growth. With debt to income having reached a record 153 per cent, that dynamic may be beginning to unfold, analysts said.
The analogy appears to be reflected in a RBC post-holiday spending poll released at about the same time as the Statistics Canada data. It found 69 per cent of respondents surveyed said they managed to keep their Christmas spending in check.
Those respondents listed high levels of debt and wanting to keep spending within a budget they can afford as key reasons for not going out on a binge. Only 31 per cent said they spent more than they intended during the holidays.
"It's encouraging to see that the majority of Canadians kept an eye on personal debt and took a more cautious approach to holiday purchases," said Richard Goyder, vice president of personal lending at RBC.
December's result was not all bad. Real sales in terms of volumes were flat, meaning that all the losses were due to retailers discounting prices in order to attract customers.
The discounting also showed up in the steep 0.6-point drop in the inflation rate to 2.3 per cent during December reported last month. The consumer price index has since risen somewhat to 2.5 per cent.
In total, sales were worth $38.6 billion to retailers in the final month of 2011.
In keeping with the theme, stores that usually cater to holiday gift-givers were among the worst performers.
Sales at department stores were down 1.5 per cent for a fourth consecutive month and sporting goods, hobby, book and music store saw sales drop for the first time in five months, down 3.4 per cent in December.
Electronics and appliance store sales were down 2.8 per cent, falling for the second month in a row, while sales at clothing and clothing accessories stores fell 0.8 per cent after rising in October and November.
Sales at motor vehicle and parts dealers slipped 0.1 per cent, the first decline in five months. Gasoline stations reported a 1.1 per cent decrease in sales after four consecutive months of increases.
"Surprisingly, furniture/building material store sales were strong, in contrast to softness in those categories in recent months," noted CIBC World Markets economist Emanuella Enenajor.
Despite the decrease, retail sales are still likely to be a modest contributor to gross domestic product in the fourth quarter when the agency releases the final report card on 2011 next week.
Porter, like many analysts, believe the fourth quarter will see a modest increase in GDP of between 1.5 and 2.0 per cent, following the third quarter's strong 3.3 per cent expansion. For the year as a whole, analysts are expecting Canada to have recorded a growth rate of about 2.4 per cent.
Loading Slideshow
5 Signs Canada's Workers Are In For A Rough 2012

Photo: CP/Andrew Vaughan

Good Jobs Few And Far Between

When it comes to evaluating Canadian job growth, the employment numbers are just part of what worries Benjamin Tal, deputy chief economist at CIBC World Markets. "It's not only the quantity, but also the quality of employment that's falling in Canada," says Tal. "A lot of the jobs that are being created are low-quality, especially part-time jobs and low-paying jobs." Though -- unlike the U.S. -- Canada has regained all the jobs lost in the recession, he says that an absence of good-paying jobs is the "main reason" why wages have stagnated. Adjusted for inflation, personal after-tax income is now rising at the slowest rate since 1995. Meanwhile, the skills mismatch in many jurisdictions has left employers short on skilled labour despite still-high unemployment levels in other regions. "If you lose a job, you don't have the skill set to go an find a job elsewhere that companies want and need," says Tal. (Alamy photo)

Globalization

When Caterpillar decided to stop assembling locomotives in its Electro-Motive facility in London, Ont., it was a poignant reminder of how globalization is giving deep-pocketed, transnational corporations the ultimate trump card in bargaining with workers: a cheaper alternative. According to Mike Moffatt, a labour expert at the University of Western Ontario's Ivey School of Business, because of automation and an increase in imports from lower wage jurisdictions like China and Mexico, Canadian workers are competing for fewer manufacturing jobs. "That's given firms real power to negotiate down wages," says Moffatt, who points to the <a href="http://www.reuters.com/article/2012/02/06/riotintoalcan-alma-idUSL2E8D699U20120206" target="_hplink">Rio Tinto lockout in Quebec</a> as another illustration of the might afforded to companies with global reach. Since locking out workers at its aluminum smelter in Saguenay-Lac-Saint-Jean on December 31, the Anglo-Australian mining giant has used non-union workers to operate the facility at one-third capacity. With no plans to return to the bargaining table, the company recently announced it is restarting two suspended lines, and is expecting to return to full capacity in May. As Tal maintains, "In this environment, the bargaining power of labour is diminishing."

Austerity Agenda

Just as the power has shifted toward private-sector employers, Michael Lynk, a labour law expert at the University of Western Ontario, says there is a sense that governments are becoming emboldened amid the post-recession climate of austerity that has swept from Toronto's City Hall to Parliament Hill. "There's increasingly an attitude of take-it-or-or leave-it by [private sector] employers, but we may begin to see that with public sector bargaining as well, where they basically say, 'You have to meet our bargaining objectives this round, and we're going to be prepared to endure a short or lengthy lockout to prove our point," he says. Though global economic instability recently prompted federal Finance Minister Jim Flaherty to pull back on his earlier commitment to deep cost-cutting in the upcoming budget, government departments are expecting spending to be slashed by between five and 10 per cent, a goal that will be met at least in part at the expense of public service jobs and benefits. The Canadian Centre for Policy Alternatives recently estimated that the <a href="http://www.behindthenumbers.ca/2012/02/02/federal-cuts-could-push-unemployment-to-8/" target="_hplink">federal government's budget cuts could push unemployment up half a percentage point, to 8 per cent</a>. (CP photo)

Pension Problems

From <a href="http://dalgazette.com/featured/faculty-strike-rumours-explained/" target="_hplink">Dalhousie University</a> to <a href="http://www.thestar.com/article/1120516--labour-strife-ahead-in-air-canada-pilot-talks" target="_hplink">Air Canada</a>, employers no longer able -- or willing -- to fund costly pension plans are mounting attempts to roll back retirement benefits, stoking labour unrest and a growing sense of financial insecurity among workers. As Dalhouse University labour economist Lars Osberg explains, the financial crisis took a huge bite out of the value of corporate pension portfolios and the interest rate required to generate the stream of returns to make these programs sustainable. All of which explains why experts anticipate a deepening of the trend away from inflation-protected, gold-plated defined-benefit pension plans, shifting responsibility for retirement savings from employers to workers.

Decline Of Unions

The power in numbers that enabled Big Labour to negotiate better wages and benefits in the aftermath of the Second World War is a distant memory today, as the <a href="http://www.huffingtonpost.ca/2011/12/12/canada-income-inequality-decline-unions-middle-class-jobs_n_1139136.html" target="_hplink">erosion of unions continues to whittle away the strength of collective bargaining</a>. This is particularly true in the private sector, where unionization sits at 16 per cent of employees, less than a quarter of public sector unionization. "I think you will see more disputes with unions having to compromise more than in the past," says Tal. "I really don't see that they have the upper hand at this point." Given the yawning gap between private and public sector unionization, Lynk warns that pressure on public sector unions could mount as it has in the U.S. in recent months. "The argument they've been floating is, 'Why should public sector workers have jobs for life, good pensions, and decent wages? They're eating up your taxes,'" he says. "I wouldn't be surprised if we're not [starting] to see the beginnings of that kind of argument here in Canada."