Oscars 2012: Red Carpet Hits And Misses And Advice On What Celebs Should Wear (PHOTOS)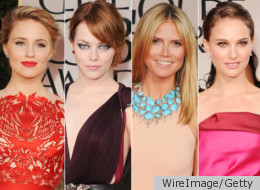 This weekend, the eyes of fashionistas and movie lovers alike will be glued to their televisions as they watch out for fashion faux pas and potential award winners at the 2012 Academy Awards (aka: the Oscars).
So far this award season, we've been less impressed with the sartorial decisions of our favourite celebs: there were some serious hits and misses along the Screen Actors Guild and Golden Globe awards red carpets -- as the below slideshow proves. Some outfits made us wonder who, exactly, is styling some of Hollywood's elite.
Which is why we've taken it upon ourselves to pick and choose what nine beautiful ladies should wear to the Oscars this Sunday. We hope to see colour and bold choices. And to see fewer hits and misses than we've seen throughout 2012's award season. Take a look.
Oscars 2012: What Should -- And Shouldn't -- These Famous Ladies Wear?
Do you know what drops of blood look like when they hit the water? Mila Kunis's red flowing strapless chiffon gown by Alexander McQueen might give you a hint.

The 'Black Swan' star opted for a lot less colour at the Golden Globes. She wore a simple, but gorgeous, black Dior dress.

We think Kunis should opt for some colour at the Oscars. This Oscar de la Renta cobalt ruffle gown -- minus the bold black necklace -- would definitely complement her dewy complexion.

Kelly Osbourne's grey hair was somehow able to complement her beautiful Badgley Mischka white gown (featuring a tassel belt).

The 27-year-old captured a lot of negative attention when she rocked this blue Zac Posen gown. Although many weren't a fan of her choice, we give her kudos for sticking with a bold decision.

While we didn't mind Osbourne's Octopus-like dress at the Golden Globes, we think she would look her best with a more classic look. This Marchesa Resort 2012 soft pink strapless gown with establishments is the way to go.

Julianna Margulies arrived at the Screen Actors Guild Awards wearing a custom Calvin Klein Collection, dove embroidered, strapless dress. She looked absolutely stunning.

Who could forget 'The Good Wife' star's purple grape juice-inspired Naeem Khan dress? Not us.

We know Julianna Margulies isn't afraid to make bold choices -- who else would step out of the house in that Naeem Khan number? Which is why we love this choice from Badgley Mischka. Not only are the aqua pants -- yep, they're awesome -- an on-trend colour, the bustier top will highlight Margulies' stunning facial features and dark hair.

The lovely Michelle Williams can look sweet in almost any outfit. Williams's porcelain skin practically glowed in this red Valentino dress with lace sleeves.

The 'Blue Valentine' star wore a long-sleeved, dark blue, Jason Wu gown to the Golden Globes this year.

Since the 31-year-old doesn't look a day over 22, we think Williams's would look quite angelic in this elegant Emilio Pucci Pre-Spring 2012 gown.

Lea Michele has a killer body and the 'Glee' star definitely put it on display at the Screen Actors Guild Awards this year. She stole the show in her strapless Versace gown with a daringly high slit.

We were less than impressed with Michele's gown of choice at the Golden Globes. With a body like hers, there's no need to pick out a dress with too much glitz and too little material.

The problem with Michele's Marchesa gown at the Golden Globes was it clung to her body in all the wrong places. This spring green Elie Saab Haute Couture dress will only cling to her upper body and accentuate her small torso. Let's not forget how beautiful the invisible tulle embroidery will look.

This 'Modern Family' star is known for her curves and stunning features -- we love how this pink Marchesa dress highlights both.

We doubt anyone was too surprised to see Vergara in this body-hugging (and custom!) Vera Wang gown at the Golden Globes last month.

Wouldn't it be great if Sofia Vergara completely threw us for a loop and didn't sport a strapless, body-hugging mermaid gown to the Oscars? This Vera Wang, high neck, silk chiffon gown would look great on her. If Vergara has any problems with it, we're sure Wang would be more than happy to customize it.

Emma Stone looked like the belle of the ball in this Alexander McQueen gown at the Screen Actors Guild Awards. The full skirt really brought out her girly side.

'The Help' star took it up a notch and went for a more mature look at the Golden Globes. She wore a custom-made, deep plum, Lanvin gown with embroidered shoulders.

Who says white dresses are only for weddings? A lot of stars have been sporting them and we think it's Stone's turn. Even though she isn't walking down the aisle, this stunning strapless crinkle chiffon Oscar de la Renta gown would look radiant on her.

This Giambattista Valli Haute Couture gown accentuated Natalie Portman's tiny waist -- we're not sure she really had a baby. Pregnant or not, there isn't a time when Portman doesn't look good.

Portman turned heads in this pretty pink number at the Golden Globes. We weren't a fan of the fabric on the side of her dress though.

Since Portman clearly has her figure back, she should go all out at the Oscars and wear this Naeem Khan Resort 2012 metallic sequin, v-front gown.

Angelina Jolie wore a classic black Jenny Packham dress to the Screen Actors Guild Awards this year.

Jolie once again made looking flawless seem easy at the Golden Globes. Her white, one-shoulder, Atelier Versace gown with a pop of red was a showstopper (to say the least).

No matter what the mother of six wears, she makes a statement. This embroidered aubergine Dior Haute Couture 2012 dress paired with dramatic long gloves would be fitting for Jolie, don't you think?