When Is Canada's 2012 Federal Budget?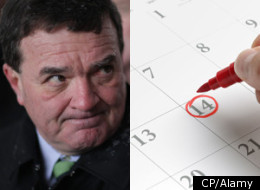 UPDATE: Jim Flaherty has announced that the federal budget will be delivered on Thursday March 29.
When is Canada's 2012 federal budget?
That's the big question in Ottawa as February draws to a close without a firm date.
Finance Minister Jim Flaherty has said he still hopes to present the budget in March and Ottawa insiders have their eye on March 27, according to The Globe And Mail's John Ibbitson.
That means the budget would come just days after the NDP choose their new leader at their Toronto convention on March 24. Besides keeping the Ottawa press corps on its feet, a March 27 budget would quickly shift focus away from the New Democrats and back to the Conservatives' agenda.
That doesn't seem to be why the Tories are holding off though. Ibbitson speculates that Flaherty may wait until April to present the government's spending plans, largely due to the economic uncertainty in Europe.
Back in January Flaherty was already warning that troubles in the Eurozone could delay the budget.
Those warnings were echoed by Environment Minister Peter Kent in a meeting with The Huffington Post Canada's editorial board on Thursday. "We're very concerned about the precarious international state of the economic recovery and anything that we do in Canada with regards to management of our budget and deficit reduction has to be done in light of that," Kent said. "We continue to follow with interest and concern what's going on, for example, in the European economy."
And what's going on in Europe seems to be changing what is coming when the budget does drop.
On Thursday, Flaherty said the coming budget will not be austerity driven. Flaherty is changing his tone after months of Tory telegraphing on coming cuts to the public service of between 5 and 10 per cent and indications the government is set to lay out plans to reform Old Age Security.
The Conservatives look as if they are responding to criticism that Canada doesn't need cuts when the global economic situation remains uncertain. Earlier this month, ratings agencies Moody's and Fitch both argued that Canada doesn't need to implement austerity measures and that doing so would likely have serious adverse effects in a climate of reduced international demand.
It seems like Flaherty is listening, but we'll have to wait until ... well we'll just have to wait to find out.