Robocalls: Rick Mercer Rants About Fraudulent Election Calls Scandal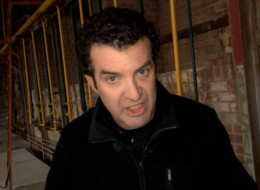 Rick Mercer delivered a devastating rant on the robocalls scandal Tuesday night on CBC.
The host of the "Rick Mercer Report" gave his take on the misleading phone calls made to Liberal and NDP supporters on the day of the 2011 election sending them to voting stations that did not exist.
Mercer argues that the bar in Canadian politics has always been very low, but that there has been a ray of light which is now threatened with extinction by the deepening scandal.
Thr tactics practiced in the last election are different from the "dirty tricks" of the past says Mercer. "This is big money and technology targeting people who want to vote and trying to physically stop them. We can't have this."
Echoing Barack Obama's famous words at the Democratic National Convention in 2004, Mercer exclaims "This is not a left or a right thing, this is just a thing."
"If stopping people who want to vote from doing so becomes the new normal we will have hit a new low in the sewer that is Canadian politics."
Mercer's rant comes amid new revelations in the robocalls affair. Tuesday it emerged that the disposable cellphone used to make robocalls in a Guelph riding was registered to the obviously fake name Pierre Poutine of Separatist Street in Joliette, Quebec.
Meanwhile, fired Tory Staffer Michael Sona, who worked in the Guelph riding in question, emerged from a week-long silence to deny any involvement in the scandal while calling for the guilty party to come forward.
Looks like Mercer will have plenty of material for next week's rant.