Canada Economy: Dollar Soared, Job Losses Piled Up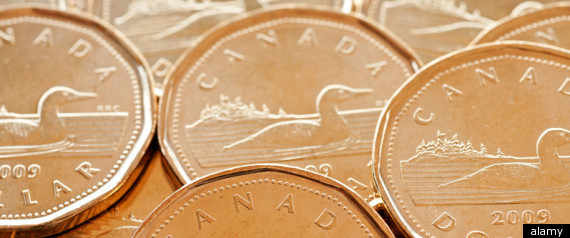 OTTAWA - A new paper on the impact the strong Canadian dollar has had on the economy puts into sharp focus why Ontario Premier Dalton McGuinty is not the oilsands' best friend.
The analysis by Bank of Montreal economist Douglas Porter traces the 10-year climb of the loonie from about 62-cents in the first quarter of 2002 to it current level above par with the U.S. currency.
The loonie's surge has had several triggers, but a big one has been wealth flooding into the country from exports of commodities such as oil, triggering a 22 per cent contraction in the manufacturing sector, with many of those 500,000 lost jobs being shed in Ontario.
On Monday, the Ontario premier ruffled the feathers of his Alberta counterpart, Alison Redford, by suggesting the strong "petrodollar" had hobbled his province's manufactured exports.
"If I had my preferences as to whether we had a rapidly growing oil and gas sector in the West or a lower dollar, I'll tell you where I stand — with the lower dollar," McGuinty said.
His comments drew a swift attack from Redford and Saskatchewan Premier Brad Wall, but is somewhat backed by a 2008 report from the Organization for Economic Co-operation and Development that referenced the phenomenon known as "Dutch disease."
The term was coined in 1977 by The Economist magazine to describe what happened when the Netherlands first began rapid expansion of a natural gas field in 1959. As the export of gas climbed, so did the Dutch currency, the guilder, making that country's exports less competitive and leading to a collapse of jobs in other sectors.
The shift from manufacturing to oil exports as a key engine of economy growth has hurt Central Canada, particularly Ontario, and helped Alberta, which Porter points out has been the country's "runaway job growth king" over the past decade.
"Fortunately for Canada, the factory job losses have been largely mirrored by solid gains in the resource sector over the past 10 years," Porter says.
"Unfortunately, the sector remains only one-fifth the size of manufacturing," he said, noting that trade-offs for growth in the resource sector have not been sufficient to compensate for the losses.
The Canadian Manufacturers and Exporters has also blamed the high dollar, which reached parity about four years ago, for the continuing difficulties in the sector, although the group sees weak U.S. demand as more significant.
Economist Jack Mintz of the School for Public Policy in Calgary says blaming the dollar for manufacturing's decline is too simplistic. He notes that other countries, such as Switzerland, have been able to have the best of both worlds, a robust economy and a strong currency.
Part of the difficulties for Ontario, he said, is that a large part of province's industries were tied to General Motors and Chrysler, which collapsed during the recession.
As well, Canada has seen increased competition from emerging manufacturing powerhouses like China, India, Korea and Brazil.
Porter said he wants to make clear he is not putting the 500,000 lost jobs solely on the doorstep of the dollar, but he added that if the currency continues to remain at current levels, the hollowing out of the sector will only intensify.
Of note was the recent abandonment of the Electro-Motive plant in London, Ont., among other plant shutdowns.
Notwithstanding the gradual recovery in the auto sector, "Canadian manufacturing payrolls look extremely vulnerable to further weakness at today's exchange rate," he said.
The decade-long contraction in the key sector has also had several interesting side-effects, including on productivity, the report argues.
The traditional assumption is that a strong currency will force firms to become lean and mean, but manufacturing is among the most competitive sectors in the economy. If there's less of it, overall productivity declines.
"Looking at the historical record, periods of Canadian dollar strength have been associated with some of the weakest productivity gains, while the strongest increases have come during periods of loonie weakness," Porter said.
And Canadians haven't gained as much in terms of lower consumer prices as conventional wisdom suggests, possibly because retailers haven't fully passed through the benefits of cheaper imports.
Porter also notes that average inflation has been a bit higher in the past 10 years at 2.1 per cent than in the previous decade, at 1.6 per cent.
Related on HuffPost:
Loading Slideshow
5 Signs Canada's Workers Are In For A Rough 2012

Photo: CP/Andrew Vaughan

Good Jobs Few And Far Between

When it comes to evaluating Canadian job growth, the employment numbers are just part of what worries Benjamin Tal, deputy chief economist at CIBC World Markets. "It's not only the quantity, but also the quality of employment that's falling in Canada," says Tal. "A lot of the jobs that are being created are low-quality, especially part-time jobs and low-paying jobs." Though -- unlike the U.S. -- Canada has regained all the jobs lost in the recession, he says that an absence of good-paying jobs is the "main reason" why wages have stagnated. Adjusted for inflation, personal after-tax income is now rising at the slowest rate since 1995. Meanwhile, the skills mismatch in many jurisdictions has left employers short on skilled labour despite still-high unemployment levels in other regions. "If you lose a job, you don't have the skill set to go an find a job elsewhere that companies want and need," says Tal. (Alamy photo)

Globalization

When Caterpillar decided to stop assembling locomotives in its Electro-Motive facility in London, Ont., it was a poignant reminder of how globalization is giving deep-pocketed, transnational corporations the ultimate trump card in bargaining with workers: a cheaper alternative. According to Mike Moffatt, a labour expert at the University of Western Ontario's Ivey School of Business, because of automation and an increase in imports from lower wage jurisdictions like China and Mexico, Canadian workers are competing for fewer manufacturing jobs. "That's given firms real power to negotiate down wages," says Moffatt, who points to the <a href="http://www.reuters.com/article/2012/02/06/riotintoalcan-alma-idUSL2E8D699U20120206" target="_hplink">Rio Tinto lockout in Quebec</a> as another illustration of the might afforded to companies with global reach. Since locking out workers at its aluminum smelter in Saguenay-Lac-Saint-Jean on December 31, the Anglo-Australian mining giant has used non-union workers to operate the facility at one-third capacity. With no plans to return to the bargaining table, the company recently announced it is restarting two suspended lines, and is expecting to return to full capacity in May. As Tal maintains, "In this environment, the bargaining power of labour is diminishing."

Austerity Agenda

Just as the power has shifted toward private-sector employers, Michael Lynk, a labour law expert at the University of Western Ontario, says there is a sense that governments are becoming emboldened amid the post-recession climate of austerity that has swept from Toronto's City Hall to Parliament Hill. "There's increasingly an attitude of take-it-or-or leave-it by [private sector] employers, but we may begin to see that with public sector bargaining as well, where they basically say, 'You have to meet our bargaining objectives this round, and we're going to be prepared to endure a short or lengthy lockout to prove our point," he says. Though global economic instability recently prompted federal Finance Minister Jim Flaherty to pull back on his earlier commitment to deep cost-cutting in the upcoming budget, government departments are expecting spending to be slashed by between five and 10 per cent, a goal that will be met at least in part at the expense of public service jobs and benefits. The Canadian Centre for Policy Alternatives recently estimated that the <a href="http://www.behindthenumbers.ca/2012/02/02/federal-cuts-could-push-unemployment-to-8/" target="_hplink">federal government's budget cuts could push unemployment up half a percentage point, to 8 per cent</a>. (CP photo)

Pension Problems

From <a href="http://dalgazette.com/featured/faculty-strike-rumours-explained/" target="_hplink">Dalhousie University</a> to <a href="http://www.thestar.com/article/1120516--labour-strife-ahead-in-air-canada-pilot-talks" target="_hplink">Air Canada</a>, employers no longer able -- or willing -- to fund costly pension plans are mounting attempts to roll back retirement benefits, stoking labour unrest and a growing sense of financial insecurity among workers. As Dalhouse University labour economist Lars Osberg explains, the financial crisis took a huge bite out of the value of corporate pension portfolios and the interest rate required to generate the stream of returns to make these programs sustainable. All of which explains why experts anticipate a deepening of the trend away from inflation-protected, gold-plated defined-benefit pension plans, shifting responsibility for retirement savings from employers to workers.

Decline Of Unions

The power in numbers that enabled Big Labour to negotiate better wages and benefits in the aftermath of the Second World War is a distant memory today, as the <a href="http://www.huffingtonpost.ca/2011/12/12/canada-income-inequality-decline-unions-middle-class-jobs_n_1139136.html" target="_hplink">erosion of unions continues to whittle away the strength of collective bargaining</a>. This is particularly true in the private sector, where unionization sits at 16 per cent of employees, less than a quarter of public sector unionization. "I think you will see more disputes with unions having to compromise more than in the past," says Tal. "I really don't see that they have the upper hand at this point." Given the yawning gap between private and public sector unionization, Lynk warns that pressure on public sector unions could mount as it has in the U.S. in recent months. "The argument they've been floating is, 'Why should public sector workers have jobs for life, good pensions, and decent wages? They're eating up your taxes,'" he says. "I wouldn't be surprised if we're not [starting] to see the beginnings of that kind of argument here in Canada."