Canada Income Inequality And Education: Will Tuition Hikes Widen The Wage Gap?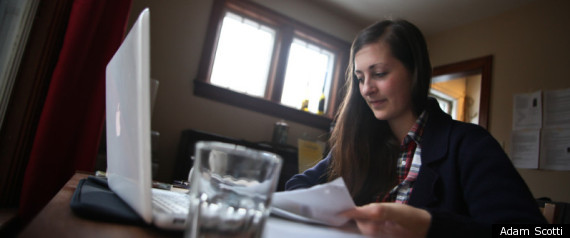 This feature was produced by Miles Kenyon and Sarah Mateshaytis, with Jane Caulfied, students in the School of Journalism at the University of King's College in Halifax, in partnership with The Huffington Post Canada.
Grace McCaffrey hopes her university degree will open doors. She doesn't want to take the same path as her mother, who worked at McDonald's after university when she was pregnant with her daughter.

"I don't have to live ... that way and that by educating myself I can find a different route around that," says McCaffrey.

While her mother eventually found work as a day-care director, McCaffrey wants to create a different lifestyle for herself — a desire that doesn't come cheap.

At 21, McCaffrey is in her third year of a double major in sustainability and environmental sciences at Dalhousie University in Halifax. Like many Canadian university students, she finds financing her degree isn't easy.

She expects to be around $30,000 in debt once she graduates, right around the Nova Scotia average of $31,000. In Canada, average tuition for undergraduate students is currently $5,366 a year.

While McCaffrey hopes it's worth it, many potential university students in Canada don't pursue post-secondary education because of the financial burden that comes along with it. According to a study from the Canada Millennium Scholarship Foundation, 30 per cent of respondents didn't attend university because of financial barriers.
More on income inequality at Mind The Gap: CEO Pay Jumped 27 Per Cent In 2010.. Which Provinces Have The Widest Wage Gap?.. Rich People More Likely To Cheat And Steal, Study Finds.. FULL COVERAGE..
It seems plausible, then, that breaking down financial barriers to education would decrease income inequality — the uneven distribution of income between the rich and the poor — by providing equal opportunities to higher education and therefore equal opportunities for financial success to those less fortunate.
But the connection between access to education and income equality is anything but clear. Evidence suggests that accessible education will only work to help reduce income inequality if it's part of a broader societal effort to reduce the income gap.
'Fuzzy Relationship'
Some experts say that while students such as McCaffrey may be feeling the pinch now, they're making a worthwhile investment for the future.

Studies have shown that "better-educated individuals tend to earn higher wages, experience shorter periods of unemployment and have access to more prestigious jobs." As of 2006, nearly a third of 25- to 64-year-old university graduates in Canada were earning more than two times the national median income.

A study by the Organization for Economic Co-operation and Development states that university graduates actually save money for non-graduates. Graduates tend to be healthier and less reliant on social assistance programs and therefore decrease taxes by being less costly for the government.
Another study by the OECD concludes, "The trend to higher educational attainment has been one of the most important elements in counteracting the underlying increase in earnings inequality in the long run."
It would only seem logical, then, that provinces would view providing accessible post-secondary education to Canadians such as McCaffrey as a smart investment.

But it's not that simple.
The relationship between post-secondary education and income inequality is a complex one, according to Steven Pressman, a professor of economics at New Jersey's Monmouth University who's writing a book about the disappearance of the American middle class.

"It is a fuzzy relationship," he says. "The two affect each other but affect each other in all sorts of funny ways."
He says we can see a relationship between income equality and accessibility to education when we investigate three groupings of countries:
Nordic countries: income distributed very evenly, relative to the rest of the world; higher education cheap, sometimes free.
Continental Europe: relatively equal income distribution; relatively small costs for higher education.
Anglo-Saxon countries (Canada, United States, Britain): greater income inequality; extremely expensive higher education.
But he says the connection between the two factors gets complicated when we broaden our scope.
"Once we go out of this set of western industrialized countries, I don't think that relationship [between income inequality and higher education] works so well," he says. "Probably the two best counter examples I can come up with are Brazil and Japan."
Brazil has a large gap of income inequality but offers free education. Conversely, Japan has a relatively narrow income inequality but has high tuition. If access to education were a primary factor in equalizing the distribution of wealth, one would expect Brazil to have a smaller income inequality gap and Japan to have a much larger one.
So it seems clear that income inequality and education are intertwined in a complex economic, political and societal tapestry.
NEXT PAGE: THE ROLE TAXES PLAY
How Education Costs And Spending Compare