Worst Dressed Oscars 2012: Worst Dressed Celebrities (PHOTOS)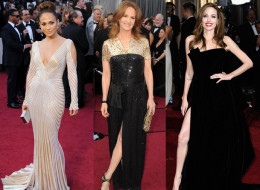 It's not unrealistic to say that many heaved a sigh of relief when the Oscars came to a close on Sunday. The fatigue of watching award show after award show really took a toll on everyone -- including us. But we weren't the only ones. Hollywood's elite also felt it and it showed on the red carpet.
This year's Oscars award show was just not up to par. Stars looked almost clumsy and uninterested in what they were wearing. With Angelina Jolie jutting her right leg out at any available moment, you might not have missed the awful dresses that were showcased on the red carpet.
Let's take a look at all of the biggest misses this year:
Oscars 2012 Worst-Dressed
We love Miss Maya but the beading on this plum-colored gown reminds us of medieval armor. (Photo Credit: Getty Images)

Too shiny, too drapey, too bad. (Photo Credit: Getty Images)

A sequined, dual-toned robe is never a good idea during awards season, especially when it has a lapel. Or ever. (Photo Credit: Getty Images)

This gown comes with its own arm sling. (Photo Credit: Getty Images)

The draping is all over the place and as a result, this dress looks unfinished. (Photo Credit: Getty Images)

A rather bland and boring choice from one of Hollywood's most elegant stars. (Photo Credit: Getty Images)

The gown has a bit too much sheen -- she looks like a stained glass window. (Photo Credit: Getty Images)

Is she channeling Jessica Rabbit? (Photo Credit: Getty Images)

JLo was wearing pantyhose on her arms. Tacky tacky. (Photo Credit: Getty Images)

This oversized bow look isn't our favorite on the usually chic star. (Photo Credit: Getty Images)

Pretty, but she was looking so frail (and a bit too thin) in this plunging white gown. (Photo Credit: Getty Images)

We would have liked to have seen the "Bridesmaids" star in something a bit less draped and more flattering. (Photo Credit: Getty Images)

Is that her bra peeking out of the bust of her blueberry-hued dress? (Photo Credit: Getty Images)

This is a look much more fitting for senior prom than for the Academy Awards. (Photo Credit: Getty Images)

The dramatic fishtail gown topped with a tailored jacket are just too much when worn all together. (Photo Credit: Getty Images)

Electric neon yellow and black lace might be okay for the MTV VMAs, but not for the Oscars. (Photo Credit: Getty Images)

A pretty color, but not a very flattering cut. (Photo Credit: Getty Images)