B.C Teachers' Strike: Union Head Apologizes For Child Care Chaos On Day 1 Of Job Action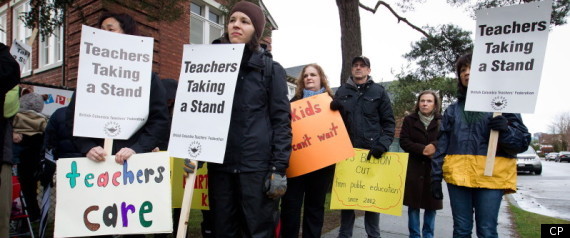 VANCOUVER - Striking teachers armed with protest signs and axes to grind mobilized around British Columbia public schools on the first of a three-day walkout Monday, while parents and students tried to take the disruption in stride.
Small packs of the unionized workers fanned out under frigid Vancouver rains to demonstrate against the provincial government as its members recommenced debating back-to-work legislation in Victoria.
The province's nearly 570,000 public school students were encouraged to stay home.
"If you're a parent, you really should care for what's going to happen to your kids in school because it's not looking good right now," said French immersion teacher Renald Sans, who joined colleagues to walk circles around an east side elementary school.
"I think we're right and they're wrong and the public should see that."
Grade 6-7 teacher Helen French said that over the 12 years she's worked in the system, she's watched first-hand as resources have been cut and more "special needs" children have been added to her classes.
"In my mind, the only thing that's fair right now would be if they were to put all the money pulled out of the system back in," she said, though noting she would settle for a cost-of-living increase.
"It's my job to advocate for my students, I'll be out here as long as I need to."
The dispute has prompted hundreds of last-minute programs to open for children at community centres while parents work.
In the city's more affluent west side, about two dozen parents who support the labour action gathered in front of Premier Christy Clark's constituency office. They delivered dozens of letters decrying the government's approach to bargaining.
Many brought their small children, who got down on hands and knees to colour in signs with magic markers and cheer with delight as passing trucks honked in approval.
"The government isn't giving enough money to (teachers)," said Grade 2 student Edden Asmoucha, wearing a polka-dotted coat and holding a sign twice her size that read "Negotiate, don't legislate."
The seven-year-old expressed mixed feelings, as her mother hovered nearby.
"It was the teacher's choice that they went on strike," the young girl said in a confident voice, explaining she felt the decision is "sort of good and sort of bad.
"Good, because they're showing their feelings to the government, but bad because I want to be in school."
Just around the corner, the mother of a sister and brother aged eight and six walked their dog in the opposite direction of the vibrant display.
"I feel like at school my kids have been brainwashed a little bit. There's two sides to this story," said the 40-year-old Vancouver resident, who asked to remain nameless because she's feeling pressure from her fellow parents.
Teachers are demanding too much from the government in a time of budget-crunching throughout the country, she said.
"Right now, it's just not a good time," she said.
"There's talk in Ontario that the teachers there may have to cut back a little bit, and the teachers here are comparing what they have here to (those) teachers."
She's said she's upset by the "biased" view that's been pushed on her children.
"I was at the school today and the teachers asked, 'Did you write some letters (to the government)? I said 'Yes,' but I did not."
Yuki Urqhart was at a Vancouver playground with her children as part of a family holiday from their home in Keremeos.
"I'm kind of disappointed, but oh, well, they need money," she said of the teachers.
"I guess they're fighting for their own sake. But really, though, they should think about kids more than money . .I don't take any sides, but really, I'll take my kid's side to say 'Hey, why don't you guys keep teaching good things for kids,' not about money though, right?"
Father Rob Whiton, who was also at the park, said he understands the teachers' concerns and said he supports them.
"I think the bigger class sizes and the conditions of the schools in general need to be upgraded and although the wage demands might be a little excessive, I do think both sides should negotiate in good faith and get it resolved."
Earlier in the day, the head of the B.C. teachers' union apologized to parents who made alternative care arrangements for their children.
But Susan Lambert said her members felt they had no other choice and would take actions to "resist vigorously" the provincial government legislation that forces an end to the job action of 41,000 teachers.
"We don't come to this in any cavalier or light fashion," she told reporters just before the school bell rang at the empty school. "I apologize to parents for the inconvenience."
Lambert said the strike is the last resort for teachers to protest Bill 22, which will force an end to their job action, impose a cooling off period and bring in a government-appointed mediator.
"We just couldn't take it anymore, we just had to say something and we had to say it in a way that maybe this government finally will listen."
The union's comments angered B.C. Education Minister George Abbott, who said the union is completely manipulating and distorting the picture for its members when it claims the bill means larger class sizes.
But he said the strike itself was probably a good thing.
"The union is getting an opportunity to do some venting," Abbott said. "I do hope that people can recover some sense of proportion. I've been quite surprised at the level of vitriol, name-calling and the like that we have seen during this dispute."
Lambert said the teachers want an independent mediator to find a compromise. She denied that teachers' demonstrations in front of schools amount to a picket line, which has been barred by the Labour Relations Board.
"What people are doing is demonstrating."
Students will be without instruction for the next three days, head back to the classroom on Thursday and Friday, and then most will be off for spring break.
The legislation will be debated this week in the legislature and, when passed, will impose heavy financial penalties if defied by the union or individual teachers.
The federation has been staging limited strike action to back demands for better wages and benefits since September, but voted to strike last week when Abbott introduced the legislation.
Teachers last walked off the job in an illegal strike that lasted two weeks in 2005.
FLASHPOINTS IN THE HISTORY OF CANADIAN LABOUR
Loading Slideshow
Labour Day: A Canadian Invention

Few Canadians realize it, but Labour Day is as Canadian as maple bacon. It all began in 1872, when the Toronto Typographical Union went on strike to demand a nine-hour workday. When <i>Globe and Mail</i> chief George Brown had the protest organizers arrested, Prime Minister John A. Macdonald passed a law legalizing labour unions. Thus, a Conservative prime minister became a hero to the working class, and Canada became among the first countries to limit the workday, doing so decades before the U.S. The typographers' marches became an annual event, eventually being adopted by the U.S., becoming the modern day Labour Day.

The Winnipeg General Strike

The end of World War I brought social instability and economic volatility to Canada. On May 15, 1919, numerous umbrella union groups went out on strike in Winnipeg, grinding the city to a halt. Protesters were attacked in the media with epithets such as "Bolshevik" and "Bohunk," but resistance from the media and government only strengthened the movement. In June, the mayor ordered the Mounties to ride into the protest, prompting violent clashes and the death of two protesters. After protest leaders were arrested, organizers called off the strike. But the federal mediator ended up ruling in favour of the protesters, establishing the Winnipeg General Strike as the most important strike in Canadian history, and a precursor to the country's modern labour movement.

The Regina Riot

During the Great Depression, the only way for a single male Canadian to get government assistance was to join "relief camps" -- make-work projects set up by the federal government out of concern idle young men were a threat to the nation. The relief camps, with their poor work conditions, became breeding grounds for communists and other radicals. The "On-To-Ottawa Trek" was organized as a protest that would move from Vancouver across the country to Ottawa, to bring workers' grievances to the prime minister. The trek halted in Regina when Prime Minister R.B. Bennett promised to talk to protest organizers. When talks broke down, the RCMP refused to allow the protesters to leave Regina and head for Ottawa, and on June 26, 1935, RCMP riot officers attacked a crowd of protesters. More than 100 people were arrested and two killed -- one protester and one officer.

Bloody Sunday

In May, 1938, unemployed men led by communist organizers occupied a post office and art gallery in downtown Vancouver, protesting over poor work conditions at government-run Depression-era "relief camps." In June, the RCMP moved in to clear out the occupiers, using tear gas inside the post office. The protesters inside smashed windows for air and armed themselves with whatever was available. Forty-two people, including five officers, were injured. When word spread of the evacuation, sympathizers marched through the city's East End, smashing store windows. Further protests against "police terror" would be held in the weeks to come.

Giant Mine Bombing

In 1992, workers at Royal Oak Mines' Giant Mine in the Northwest Territories went on strike. On September 18, a bomb exploded in a mineshaft deep underground, killing nine replacement workers. Mine worker Roger Warren was convicted of nine counts of second-degree murder. The Giant Mine closed in 2004.

The Toronto G20

The Canadian Labour Congress, representing numerous labour groups, participated in protests in Toronto during the G20 summit in June, 2010. When a handful of "Black Block" anarchists rioted through the city core, it brought an overwhelming police response that resulted in the largest mass arrests in Canadian history. More than 1,000 people were arrested, with most never charged with any crime. Numerous allegations of police brutality have been made, and the Toronto police are now the target of several multi-million dollar lawsuits. So far, two police officers have been charged with crimes relating to G20 policing, and charges against other police officers are also possible.

Occupy Canada

When Vancouver-based magazine Adbusters suggested the public "occupy Wall Street" to protest corporate malfeasance, New Yorkers took the suggestion seriously, and occupied Zuccotti Park in Manhattan. Canadians followed suit, sparking copycat occupations in all major Canadian cities in September, 2011. By December, most of the occupations had been cleared, all of them non-violently. Though the protests achieved no specific goals, they did change the political conversation in North America. What their long-term legacy will be remains to be seen.