Alpha Nails: Men's Nail Polish That Gives You 'Swag And Sex'
This is what happens when you take a 'traditional' feminine product and attempt anything and everything to make it more masculine.
No we're not talking about nail polish for men, this is nothing unheard of. Seal, Zac Efron and Jessica Alba's hubby Cash Warren, have all been seen wearing nail polish to events. Even brands like EvolutionMan and some products from Essie are specifically targeted to men. But Alpha Nail isn't just selling radiant colours, it's also selling the alpha male lifestyle.
"Alpha Nail focuses on keeping men's nails strong while maintaining an alpha male swagger," it says on the brand's Facebook page.
The nail polish line was founded by entrepreneur Chris Aubrey Marcus, according to Joe Rogan's podcast back in August 2011, and is even endorsed by fighter Nick Gonzalez in this DIY nail video.
Marcus even has a few philosphies he shares with his fans, one of them being peacocking. Peacocking pays homage to the "natural law exploited by the peacock," that refers to a male peacock's vivid colours, according to the Alpha Mail website. "The more noticeable the male [is] within a positive context, the more he humps."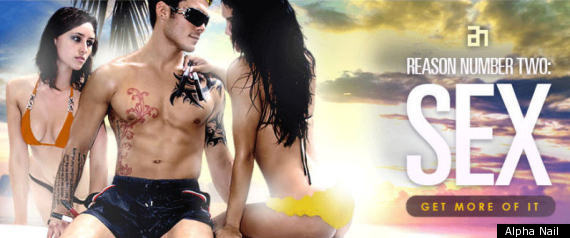 Yes, that's right, Marcus claims his nail polish will somehow result in you, ahem, "humping" more. "You want a great OPENER? Paint one hand matte black, and one hand metallic black and ask a girl which she likes better. Bang. You're in the GAME," the site says.
The Alpha nail polish line comes in 10 different "male-inspired" colours, five matte shades and five metallic ones. The formula also claims to give your nails strength of citral and ginseng.
What's your take? Is this nail polish line just another one to add to the men-specific collection or is it trying too hard to be "manly?" Let us know in the comments below.
Check out these men who rock nail polish:
Seal dons yellow nail polish -- and no ring.

Zav Efron has blue metallic nail polish during the 2010 Teen Choice Awards.

Cash Warren with pink nail polish during Fashion Week.

UNIVERSAL CITY, CA - OCTOBER 15: Musician Dave Navarro arrives at the 'Los Premios MTV 2009' Latin America Awards held at Gibson Amphitheatre on October 15, 2009 in Universal City, California. (Photo by Jason Merritt/Getty Images)

Do you notice Johnny Depp's nail polish?Johnny Depp on Late Show with David Letterman

Singer Adam Lambert attends CIROC Vodka at 20th Annual Elton John AIDS Foundation Academy Awards Viewing Party at The City of West Hollywood Park on February 26, 2012 in Beverly Hills, California. (Photo by Angela Weiss/Getty Imagesfor CIROC Vodka)

Nick Gonzalez endorsing and showing us how to use Alpha Nail.