John Baird: Aung San Suu Kyi Given Honorary Citizenship By Foreign Affairs Minister In Myanmar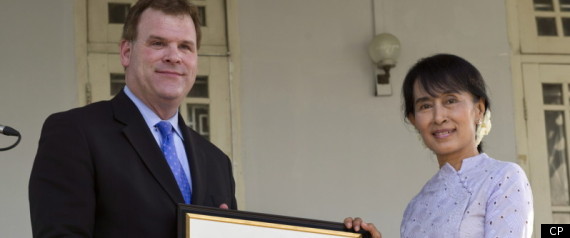 YANGON, Myanmar - Nobel laureate Aung San Suu Kyi is telling visiting Canadian Foreign Affairs Minister John Baird that bogus voters lists are threatening to undermine the upcoming landmark elections in her country.
The revelation added extra gravity to Baird's historic visit to Myanmar, also known as Burma, where he personally conferred honorary Canadian citizenship on the Nobel laureate and freedom fighter.
Emerging from nearly an hour of talks at her lakeside Yangon residence, where she has served 15 of the last 23 years under arrest, Suu Kyi disclosed the new threat to her historic campaign. Baird said he was "very concerned" when told of the new problem.
"We have just discovered there are many, many irregularities on the voters' lists and we have applied to the election commission to do something about this," Suu Kyi said, standing next to Baird on her back porch.
"A lot of dead people seem to be prepared to vote on the first of April. We can't have that, can we? And other things like that."
Baird's meeting with Suu Kyi capped a whirlwind day of travel on a visit to one of the world's international pariahs.
"I was very concerned to learn about a good number of irregularities, which the party is bringing forward to the government, to the election commission officials. We look forward to seeing the results of that," he said.
Earlier Thursday, Baird kicked off his visit with a meeting with his counterpart, Wunna Maung Lwin and Myanmar President Thein Sein. The latter meeting took place at the presidential palace, a massive and opulent structure in the country's new capital of Naypyitaw.
Baird said his government hosts expressed a strong commitment to the election process, but added: "the true test will be in the weeks and months that follow."
Suu Kyi, 66, has been campaigning vigorously, while hosting a steady stream of foreign dignitaries to her scenic lakeside compound.
She is running in a landmark byelection next month that the world sees as crucial test of Myanmar's new civilian leadership, which took over the country last year after decades of iron-fisted military rule.
Her National League for Democracy won a landslide electoral victory in 1990 but was barred by the military from forming a government.
A military junta has ruled Myanmar with an iron fist, jailing thousands of critics — including Suu Kyi, who spent most of the last two decades under house arrest.
Suu Kyi is one of only five people — and the first woman — to be granted honorary Canadian citizenship. Baird's presentation to Suu Kyi coincided with International Woman's Day.
Myanmar's military junta stepped down last year and a new military-backed civilian government, dominated by retired army officers, began steering the country towards democratic reform.
Over the last year, the pace of change has been dizzying at times in this resource-rich — but somewhat backward — South Asian nation of 60 million people.
The Myanmar government has released hundreds of political prisoners, and the media has been given more freedoms. Suu Kyi's image is ubiquitous, and her every word is now reported. She attracts huge crowds at rallies.
But Suu Kyi herself said yet again that the world must continue to subject her country's rulers to close scrutiny with the goal of forcing more freedom.
"We do not yet have complete freedom of information, we do not have complete freedom of communication, but this is what we have to work towards," she said.
Suu Kyi promised that her party "would complain loud and long, and we'll make sure that whatever has gone wrong is put right at some time or the other."
Her party won't leap to condemn irregularities outright "if they can be remedied in some way."
Canada has had varying levels of sanctions against Myanmar since 1988. It opened a strategic engagement with the country last summer, but continues to maintain a strict regime of sanctions that were toughened considerably in 2007.
Baird will not be announcing any easing of those sanctions on this trip, as some other countries have done, including the United States.
Baird's itinerary mirrors that of U.S. Secretary of State Hillary Clinton, who visited the country in December — the first such high-profile visit by an American official in more than half a century, although one of several by Western foreign ministers in the last year.
Any victory by Suu Kyi would be largely symbolic, and she will face significant hurdles once she takes her seat in parliament.
Suu Kyi's party is contesting 48 seats in parliamentary byelections. Even if her party wins all seats, it will still only have a minority in the 440-seat parliament, which is dominated by current and former military members.
Suu Kyi's recent revival is part of an epic story that began 64 years ago — more than two decades before Baird was born. Suu Kyi was just two years old when her father — the hero of his country's independence, Gen. Aung San ­— was assassinated by rivals.
After two decades abroad, Suu Kyi returned to Burma in 1988 to be with her dying mother. That's when an uprising broke out against the military junta, and Suu Kyi was swept up in the tide of history.
She won an election two years later, a victory that she was denied by the military.
In 1991, she was awarded the Nobel Peace Prize in absentia.
Suu Kyi is beloved by the Burmese people and revered the world over.
She fainted last weekend while campaigning, but was quickly back on the hustings after getting some medical attention.
Earlier this week she campaigned for two days in Naypyitaw, the stronghold of the military-backed party that still essentially runs the country.
Related on HuffPost:
AUNG SAN SUU KYI'S HISTORIC CAMPAIGN