BMO Cuts 10-Year Mortgage To Record Low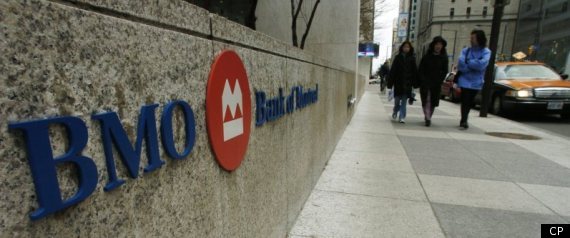 The Bank of Nova Scotia has followed suit with the rest of the big banks by cutting mortgage rates.
Scotiabank announced Friday it will also offer a four-year fixed rate mortgage at 2.99 per cent.
It follows similar moves made Thursday by TD Canada Trust, CIBC, and Royal Bank.
The cuts all came after the Bank of Montreal announced that it would offer a five-year fixed rate mortgage rate at 2.99 per cent.
BMO also cut the rate of its 10-year mortgage to 3.99 per cent, the lowest any of Canada's big banks has ever offered on a 10-year mortgage.
While the banks are offering the same interest rate, the longer amortization period offered by BMO could be significant for some home buyers.
This latest rate is available until March 28 and applies to mortgages with a 25-year amortization period.
This is the second time this year that Canada's big banks have matched mortgage rate cuts. BMO first offered the 2.99 per cent rate on its five-year mortgages in January before pulling the offer after a few weeks.
Canada's other major banks also cut their rates in January for a short time, but only offered the 2.99 per cent rate on four-year amoritizaiton periods.
Analysts have said fierce competition in the mortgage lending market has driven rates to record lows. However, this has eroded profit margins, forcing banks to look elsewhere for profits.
Some analysts speculate the rates were pulled quickly because of fears that profit margins were eroding too quickly.
CIBC recently announced it was looking to sell its mortgage broker business to drive customers into branches and thereby increase profit margins.
While lower rates have been a benefit to home buyers, they have raised concerns among some Canadian policy makers. Bank of Canada governor Mark Carney has spoken about Canadians' rising appetite for debt, while Finance Minister Jim Flaherty has repeatedly warned Canadians to get their financial houses in order.
The Bank of Canada kept its key interest rate unchanged Thursday, further adding to concerns of rising household debts.
WHAT $350,000 WILL BUY YOU IN THESE CANADIAN MARKETS
Loading Slideshow
St. John's, Nfld. -- $125 Per Square Foot

This four-bedroom, two-bathroom custom-built bungalow in St. John's West End neighbourhood boasts hardwood floors, a covered sundeck and an oversized yard. With an asking price of $349,900 and 2,750 square feet of livable space, this spacious home costs approximately $125 per square foot.

Trois Rivieres, Que. -- $127 Per Square Foot

This five-bedroom, two-and-a-half bathroom house features a double-width garage and a heated inground pool. At approximately 2,750 square feet and an asking price of $349,900, it works out to around $127 per square foot.

Winnipeg -- $160 Per Square Foot

This spacious split-level home in southeast Winnipeg features four bedrooms and three baths, a stone fireplace and a jazuzzi in the master bedroom. It sits on a 142-foot-long, pie-shaped lot. At 2,182 square feet and a $349,900 asking price, it works out to around $160 per square foot. <strong>CORRECTION:</strong> <em>An earlier version of this slide incorrectly listed the price-per-square foot as $600</em>.

Red Deer, Alta. -- $248 Per Square Foot

This five-bedroom, three-bath home features vaulted ceilings, a fireplace and a massive walk-in closet in the master bedroom. At 1,408 square feet -- this average-sized house on the prairie works out to $248 per square foot.

Montreal -- $250 Per Square Foot

This two-story townhouse condo just east of downtown Montreal features three bedrooms and two baths, cherry wood floors and a terrace. At 1,400 square feet and an asking price of $349,000, this condo works out to $250 per square foot.

Burlington, Ont. -- $388 Per Square Foot

This cozy bungalow on the edges of the Greater Toronto Area features four bedrooms, two baths and a long, 175-foot lot. Highlights include a granite countertop and newly finished hardwood floors. At a snug 900 square feet, this house is going for $388 per square foot.

Toronto -- $499 Per Square Foot

This one-bedroom, one-bath condo in Toronto's Entertainment District features a balcony with a southeast exposure. In a sure sign the condo is outfitted with just the basics, the unit's sellers boast of its "brand name appliances" and "frost free refrigerator." At 700 square feet (including the balcony), it works out to $499 per square foot.

Vancouver -- $688 Per Square Foot

This one-bedroom, one-bathroom corner unit in Vancouver's Kitsilano neighbourhood "shows much larger than the square footage," the realtor boasts. That's good, because at 508 square feet, this place is only slightly larger than some of the bedrooms and living rooms available in similarly-priced houses in other markets. The condo boasts "gorgeous mountain views," but it'll cost you -- $688 per square foot.