Justin Trudeau: Boxing Photos With Tory Senator Patrick Brazeau Released (PHOTOS)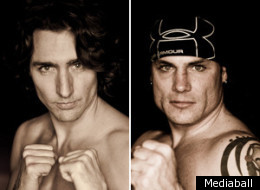 Justin Trudeau has posed in topless pictures for his boxing match with Tory Senator Patrick Brazeau.
The Liberal MP shows off his washboard-worthy abs in the shots, but his biceps can't match those of his muscular Conservative opponent, who also happens to be a black belt in karate.
The photos from Media Ball show the two fighters in top condition ahead of their charity fight for cancer research on March 31 in Ottawa. The contest will also be airing live on Sun News Network.
Besides bragging rights, Trudeau confirmed on Twitter that he has made side bets with Brazeau. The losing fighter will have to cut his hair short and wear a jersey promoting the winner's political party for a week.
If the odds-makers are right, Trudeau will be the one sporting the new look. The website Bodog has Brazeau down as the three-to-one favourite and Sports Bet Online also heavily favours the Tory senator. HuffPost readers, however, disagree. At the time of writing, our totally unscientific poll suggested Trudeau is a three-to-two favourite.
Maybe these photos will change your mind.
Conservative Senator Patrick Brazeau congratulates Liberal MP Justin Trudeau after their charity boxing match for cancer research Saturday, March 31, 2012 in Ottawa. THE CANADIAN PRESS/Fred Chartrand

Liberal MP Justin Trudeau kisses his wife Sophie Grégoire after he won a boxing match against Conservative Senator Patrick Brazeau during charity boxing match for cancer research Saturday, March 31, 2012 in Ottawa. THE CANADIAN PRESS/Fred Chartrand

Photo credit: Adam Scotti, @AdamScotti

Photo credit: Adam Scotti, @AdamScotti

Photo credit: Adam Scotti, @AdamScotti

Photo credit: Adam Scotti, @AdamScotti

Photo credit: Adam Scotti, @AdamScotti

Photo credit: Adam Scotti, @AdamScotti

One of the Sun News Network host's Justin Trudeau mascots went to the Liberal MP after the fight -- complete with signature. Photo credit: Adam Scotti, @AdamScotti

Photo credit: Adam Scotti, @AdamScotti

Photo credit: Adam Scotti, @AdamScotti

Photo credit: Adam Scotti, @AdamScotti

Photo credit: Adam Scotti, @AdamScotti

Photo credit: Adam Scotti, @AdamScotti

(HuffPost Canada)

(THE CANADIAN PRESS/Fred Chartrand)

(THE CANADIAN PRESS/Fred Chartrand)

(THE CANADIAN PRESS/Fred Chartrand)

(THE CANADIAN PRESS/Fred Chartrand)

(THE CANADIAN PRESS/Fred Chartrand)

(THE CANADIAN PRESS/Fred Chartrand)

(Photo: Media Ball)

(Photo: Media Ball)

(Photo: Twitter - @TheBrazman)

(CP)

(CP)

(CP)

(CP)

(AFP/Getty Images)

(AFP/Getty Images)

MONTREAL - DECEMBER 2, 2006: Newly elected Liberal Party Leader Stephane Dion (C) is congratulated by Gerard Kennedy (R) and Justin Trudeau (L) after delivering his victory speech at the Palais de congres in Montreal, Quebec, Canada. Dion will lead the Liberals into the next election against Stephen Harper's Conservatives. (Photo by Simon Hayter/Getty Images)