Air Canada Admits 'Operational Challenges'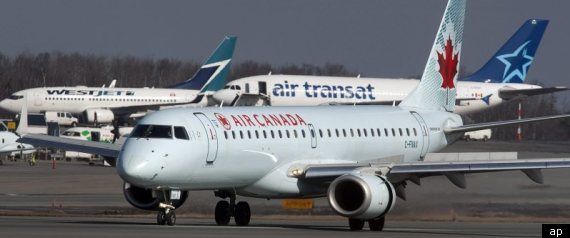 Air Canada says it is facing "a number of operational challenges" during one of the busiest travel days of the year after warning earlier this week that pilots could disrupt service by calling in sick or reporting fatigue.
Websites for both the airline and the airports list a number of delays and cancellations for flights between Montreal and other cities including Toronto, Halifax, Saint John, N.B., and some American destinations.
They come just days after the airline issued a statement saying it believes the Air Canada Pilots Association was planning "to engage in illegal job action in the form of … increased sick calls" amid contract disputes with pilots, ground crews and baggage handlers.
Air Canada spokesman Peter Fitzpatrick wrote in an email to CBC News on Saturday that the airline could only say it was facing "a number of operational challenges," including weather, during what is considered to be a peak travel weekend at the tail end of the March break.
Fitzpatrick did not confirm reports that an unknown number of pilots had called in sick on Saturday, saying only the "vast majority of Air Canada employees are working hard to get our customers to destination safely."
The pilots' association was not immediately available for comment, but some pilots took to Twitter to say the weather was the cause of any service disruptions, not sick calls by co-workers, the CBC's Karina Roman reported.
Tories push through back-to-work legislation
Earlier this week, the Conservative government's back-to-work bill to send a pair of Air Canada contract disputes to binding arbitration passed the Senate.
Labour Minister Lisa Raitt proposed the back-to-work legislation, which would cover about 8,600 mechanics, baggage handlers and other ground crew and about 3,000 pilots. Raitt said the move was necessary to avoid a work stoppage that would harm the economy.
When contacted by CBC News about Saturday's delays and cancellations, the minister's office said it was aware of the situation.
"These issues fall with Air Canada internally, and should Air Canada feel that these actions constitute an illegal strike, they can bring this matter to the Canadian Industrial Resolution Board," Raitt said in a statement.
Chair of the pilots association's flight safety division, Barry Wiszniowski, sent out a memo on March 8 to union members, reminding them of their professional responsibility to consider how "accumulated stress" might negatively affect their alertness and flight performance.
"As you are well aware, there have been recent events that may have increased your personal stress levels both at work and at home with your family," Wiszniowski wrote. "It is important that you understand that as a professional pilot, you have a duty and obligation to ensure that when you operate an aircraft you must be fit for the task at hand."
In another development, Jean-Marc Bélanger, chair of the master executive council of the pilots association, wrote in an email to fellow Air Canada pilots on Saturday that he was "booked off" flying duty "because I have self-assessed as unfit to fly."
Bélanger cited sleep deprivation "and the unknown commitment of the corporation to support me in line with the many aspects of our joint obligations" as reasons for deciding he could not fly.
Related on HuffPost:
FLASHPOINTS IN THE HISTORY OF CANADIAN LABOUR
Loading Slideshow
Labour Day: A Canadian Invention

Few Canadians realize it, but Labour Day is as Canadian as maple bacon. It all began in 1872, when the Toronto Typographical Union went on strike to demand a nine-hour workday. When <i>Globe and Mail</i> chief George Brown had the protest organizers arrested, Prime Minister John A. Macdonald passed a law legalizing labour unions. Thus, a Conservative prime minister became a hero to the working class, and Canada became among the first countries to limit the workday, doing so decades before the U.S. The typographers' marches became an annual event, eventually being adopted by the U.S., becoming the modern day Labour Day.

The Winnipeg General Strike

The end of World War I brought social instability and economic volatility to Canada. On May 15, 1919, numerous umbrella union groups went out on strike in Winnipeg, grinding the city to a halt. Protesters were attacked in the media with epithets such as "Bolshevik" and "Bohunk," but resistance from the media and government only strengthened the movement. In June, the mayor ordered the Mounties to ride into the protest, prompting violent clashes and the death of two protesters. After protest leaders were arrested, organizers called off the strike. But the federal mediator ended up ruling in favour of the protesters, establishing the Winnipeg General Strike as the most important strike in Canadian history, and a precursor to the country's modern labour movement.

The Regina Riot

During the Great Depression, the only way for a single male Canadian to get government assistance was to join "relief camps" -- make-work projects set up by the federal government out of concern idle young men were a threat to the nation. The relief camps, with their poor work conditions, became breeding grounds for communists and other radicals. The "On-To-Ottawa Trek" was organized as a protest that would move from Vancouver across the country to Ottawa, to bring workers' grievances to the prime minister. The trek halted in Regina when Prime Minister R.B. Bennett promised to talk to protest organizers. When talks broke down, the RCMP refused to allow the protesters to leave Regina and head for Ottawa, and on June 26, 1935, RCMP riot officers attacked a crowd of protesters. More than 100 people were arrested and two killed -- one protester and one officer.

Bloody Sunday

In May, 1938, unemployed men led by communist organizers occupied a post office and art gallery in downtown Vancouver, protesting over poor work conditions at government-run Depression-era "relief camps." In June, the RCMP moved in to clear out the occupiers, using tear gas inside the post office. The protesters inside smashed windows for air and armed themselves with whatever was available. Forty-two people, including five officers, were injured. When word spread of the evacuation, sympathizers marched through the city's East End, smashing store windows. Further protests against "police terror" would be held in the weeks to come.

Giant Mine Bombing

In 1992, workers at Royal Oak Mines' Giant Mine in the Northwest Territories went on strike. On September 18, a bomb exploded in a mineshaft deep underground, killing nine replacement workers. Mine worker Roger Warren was convicted of nine counts of second-degree murder. The Giant Mine closed in 2004.

The Toronto G20

The Canadian Labour Congress, representing numerous labour groups, participated in protests in Toronto during the G20 summit in June, 2010. When a handful of "Black Block" anarchists rioted through the city core, it brought an overwhelming police response that resulted in the largest mass arrests in Canadian history. More than 1,000 people were arrested, with most never charged with any crime. Numerous allegations of police brutality have been made, and the Toronto police are now the target of several multi-million dollar lawsuits. So far, two police officers have been charged with crimes relating to G20 policing, and charges against other police officers are also possible.

Occupy Canada

When Vancouver-based magazine Adbusters suggested the public "occupy Wall Street" to protest corporate malfeasance, New Yorkers took the suggestion seriously, and occupied Zuccotti Park in Manhattan. Canadians followed suit, sparking copycat occupations in all major Canadian cities in September, 2011. By December, most of the occupations had been cleared, all of them non-violently. Though the protests achieved no specific goals, they did change the political conversation in North America. What their long-term legacy will be remains to be seen.