Sofia Vergara Strips Down To Lingerie For New Esquire Spread (PHOTOS)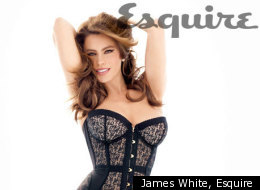 Sofia Vergara is one incredible-looking lady. She's already been dubbed "one of the desirable women of 2012" -- yes, we're aware it's only March. And she recently landed on the cover of a top fashion magazine.
But it's a new spread -- and the accompanying article -- that has our jaw, ahem, dropping over her natural beauty.
In the latest issue of Esquire, the 39-year-old Colombian actress swaps her form-fitting frocks for an array of lacy black lingerie. (Our only concern is she may be in danger of becoming over-exposed.) In the article, she discusses everything from "romantic sex" to her voluptuous body and how she appreciates it.
Check out the full interview at Esquire.com.
See more pictures from the shoot -- as well as other images of celebs in lingerie -- in the below slideshow.
Celebs Show Us How To Wear Lingerie
Credit: Rex/MyDaily

Credit: Armani

Credit: BEBE SPORT

Credit: Getty Images

Credit: Getty Images

Credit: Getty Images

Credit: Victoria's Secret

Credit: Passionata

Credit: Next

Credit: Calvin Klein

Credit: Getty Images

Credit: La Senza

Credit: Victoria's Secret

Credit: Von Follies

Credit: Victoria's Secret, Russell James

Credit: Calvin Klein

Credit: Next

Credit: Calvin Klein

Credit: Victoria's Secret

Credit: Triumph

Credit: Calvin Klein

Credit: Valisere

Credit: New Look

Credit: Love Kylie

Credit: Ultimo

Credit: Ultimo

Credit: Bonita de Mas

Credit: H&M

Credit: Ultimo

Credit: Ultimo

Credit: Getty Images