Air Canada Strike: Pearson Airport Workers Ordered Back On Job After Wildcat Walkout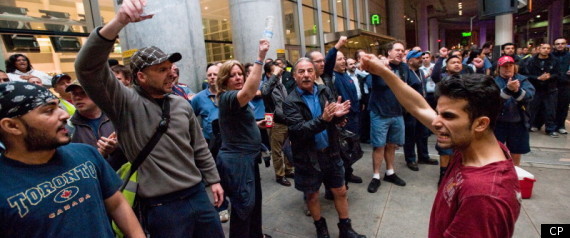 TORONTO -- Union officials say a wildcat strike by Air Canada ground workers that started in Toronto and spread to other airports is over.
Union spokesman Bill Trbovich says three workers were suspended after Labour Minister Lisa Raitt was heckled while walking through the airport late Thursday.
Trbovich says when word of the suspensions spread their colleagues staged an illegal walkout, prompting the firing of 37 workers.
The ground workers returned to their posts this morning after an arbitrator told them that everyone would be reinstated and there would be no punishment.
Dozens of flights were cancelled or delayed as a result of the wildcat, which Raitt called illegal as she warned that law enforcement had been notified.
They workers say they're angry that Raitt brought in back-to-work legislation and sent their contract dispute with the airline to arbitration.
The walkout that started last night left hundreds of passengers in limbo.
Many people had to leave flights already on the tarmac until management was able take over some baggage handling duties and allow the delayed flights to continue to their destination.