Canada Inflation: February Sees Jump As Gas, Food Push Prices Up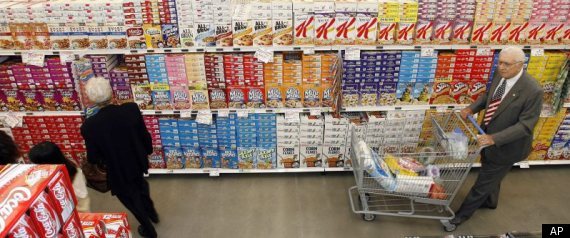 OTTAWA - Consumer prices continued to gain steam in Canada last month, as higher prices for key goods like gasoline and food pushed the rate of inflation up a notch to 2.6 per cent.
As well, underlying core inflation — which excludes volatile items such as energy and fresh foods — rose two notches to 2.3 per cent, above the Bank of Canada's two-per-cent target line.
On a month-to-month basis, overall price increases equalled January's 0.4 per cent pop.
The first two months of 2012 has seen prices rise on both the monthly and annual meters, reversing what had been a generally downward trajectory that began last May.
Analysts, however, doubted inflation's staying power, given the slack in the economy and muted wage increases. As well, next month should see a fall-back given last spring's sharp run-up in the world price of oil in the wake of Middle East uprisings.
"We are seeing spunk in recent inflationary readings, (but) we believe that this momentum will wane in the ensuing months as energy price growth decelerates," said TD bank economist Sonya Gulati.
"If, however, the U.S. economic recovery continues to pick up speed and/or European developments turn out to be more positive, then Canadian inflation pressures may force the Bank of Canada to begin monetary policy tightening earlier than the mid-2013 timeline we have incorporated into our forecast."
In the last public statement on prices in early March, the Bank of Canada's noted the profile for both core and headline inflation had been firmer than expected, but still predicted the rate would moderate to about two per cent.
That's about right, believes Bank of Montreal economist Douglas Porter, although he cautioned there was a key risk. If political tensions between Iran and the West escalate, oil, which is already at levels well north of fundamentals, would cause a temporary spike in inflation. The price of oil is a major portion in the overall make-up of the consumer price index, affecting gasoline, heating and transportation costs.
"I think people should be very careful in just assuming gasoline prices are going to recede," Porter said.
"I don't believe (inflation) would get away from us because wages are so restrained almost everywhere, but we can certainly have temporary burst in inflation if we have some sort of conflict in the Middle East."
It is unclear whether the central bank would look through a temporary spike. Despite uneasiness that super-low interest rates are luring Canadians into unsustainable debt levels, the bank has kept the policy rate anchored at one per cent since September 2010, fearing a hike would give lift to the dollar and harm the economy.
Middle East concerns are already playing a role in driving up energy prices.
Pump prices rose 2.6 per cent over January and were 8.9 per cent more than a year ago, helping drive up the transportation component of the index by 4.2 per cent annually. As well, electricity costs increased by 8.7 per cent.
Meanwhile, the cost of food continued to rise faster than inflation overall — it was 4.1 per cent higher than a year ago, as the cost of meat rose 7.1 per cent and bread by 7.2 per cent.
In general, Statistics Canada said seven of the eight major sub-groups of goods it tracks rose in February, including shelter, household operations, clothing and footwear, health and personal services, and alcoholic beverages and tobacco.
Only recreation, education and reading saw a pull-back in prices from a year ago.
Regionally, Quebec and Ontario both experienced significant increases in annual inflation. Prices rose by four-tenths of a point to 3.2 per cent in Quebec, thanks to a 13.4 per cent pop in gas, while Ontario's rate rose half a point to 2.9 per cent as electricity costs rose 8.9 per cent.
On the other side of the ledger, annual inflation took a dip in Alberta, falling a full point to 1.9 per cent.
Loading Slideshow
What Is Inflation?

Inflation refers to the increasing price of goods and services that ultimately decreases a nation's purchasing power. As the cost of living increases, each unit of currency buys less. The result is a decrease in the value of a nation's currency.

Measuring Inflation

Inflation is measured by Statistics Canada using the Consumer Price Index (CPI). The cost of a fixed "basket" of goods and services purchased by typical consumers is tracked over time. About 650,000 prices are checked each year across Canada.

Inflation Rate

The number that determines the rate of change of prices (usually calculated monthly or annually) is the rate of inflation. The core rate of inflation excludes the most volatile items in the CPI basket, such as gasoline, vegetables, and tobacco.

International Lending And Exchange Rates

As nations borrow money from each other, prices can rise as a response to interest and national debt. Inflation can also occur when a currency's exchange rate plunges, causing imports to spike in price.

The Money Supply

Widely considered a long-term cause for inflation is the amount of money in circulation. However, there is disagreement among economists as to how the money supply affects inflation. Many say that as governments print excesses of money to cope with crises (for example, to revive an economic recession), prices increase dramatically. But others argue the recent economic crisis, which resulted in the printing of money but little inflation, disproves that theory.

Production And Labour Costs

Production and labour costs are factors contributing to inflation. If the raw materials for a product increase in price, so does the price of the final product. Similarly, a rising cost of living causes workers to demand increased wages--costs that are passed on to the consumer.

Deflation

When prices fall, what occurs is the opposite of inflation: deflation. This is typically considered dangerous because lower prices can correspond with lower demand, leading to a deflationary spiral. Depressions are linked to deflation, but deflation itself doesn't always symbolize a bad economy. For example, more efficient production can result in price deflation, but that doesn't indicate a shrinking economy.

Hyperinflation

Fast economic growth is not always beneficial because it can lead to hyperinflation--a cycle of rapidly rising prices. When there is a drastic increase in the money supply without a corresponding increase in demand, the value of each unit of currency diminishes. In the picture above, a woman protests hyperinflation by carrying around worthless notes in Serbia during its hyperinflation crisis in 1992.

Controlling Inflation

The Bank of Canada employs interest rates to maintain a target inflation rate. The bank can raise interest rates when inflation is too high, or lower them when it's too low. With high interest rates, demand typically decreases for certain goods and services as they become harder to finance.

Other Methods Of Control

In an attempt to control inflation, Prime Minister Pierre Trudeau's government introduced the Anti-inflation Board (AIB) in 1975. It was the board's responsibility to supervise and control wages and prices, and was part of a 1970s trend -- followed even by U.S. President Richard Nixon -- that saw politicians attempt to legislate away inflation. Canada's program was phased out in 1978, and most Western countries abandoned price controls after finding them largely ineffective.