SNC-Lavalin CEO Quits: Pierre Duhaime Steps Down From Company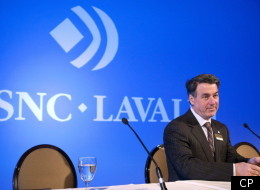 MONTREAL - Engineering giant SNC-Lavalin's chief executive officer Pierre Duhaime has resigned after an internal investigation revealed he signed off on US$56 million of questionable payments, breaching the company's code of ethics.
The Montreal-based firm said Monday that an independent probe into certain payments the company made was the result of "management override, flawed design or ineffective enforcement of controls" in relation to hiring agents for two of its projects.
SNC said the company's CFO and chairman refused to approve the payments, but Duhaime stepped in to allow the payments to be made.
"The CEO's authorization of these payments did not comply with the Agents Policy and therefore was in breach of the Code (of Ethics)," the company's internal review found.
The company (TSX:SNC) did not disclose which projects were involved in the investigation — referring to them only as "Projects A and B" — though it did say that it doesn't believe the payments in question are related to its operations in Libya.
Last month, the company's board launched an investigation over the circumstances surrounding $35 million in payments, which had previously been thought to relate to its involvement in Libya. The ties sparked criticism that it was excessively cosy with the former Gadhafi regime.
Around that time it also parted ways with executive vice-president of construction, Riadh Ben Aissa and vice-president finance Stephane Roy, saying that the conduct of its employees had recently been questioned.
In February, the investigation into the first set of payments, worth some US$33.5 million, was widened to include another set of payments worth some US$22.5 million that were also improperly attributed to construction projects to which they did not appear to relate, the company said.
In a press release Monday, the company said Aissa —who is apparently not co-operating with the investigation — authorized the signing of agreements for the projects, which were improperly documented.
It said Aissa "is believed to have significant knowledge about most of the investigated transactions, but has not been met despite a request to his counsel."
It added that Roy may also have knowledge, but he has not been interviewed since prior to his dismissal in February.
The company said the review has not found any evidence "establishing the nature of the services or actions undertaken by, or the true identity of, any presumed agent."
It said the counterparties named in the agreements "appear to be without substance, and any individual named on the public registers in relation to the corporate counterparties does not appear to be a true principal."
SNC also reported Monday that net income attributable to shareholders dropped 52 per cent to $76 million in the fourth quarter, or 50 cents a share, compared to net income of $158.7 million, or $1.04 cents per share, in the same period a year earlier.
In February, the company announced its 2011 outlook would be reduced by some 18 per cent or $80 million, in part because of those improperly recorded payments which would need to be recorded as period expenses in the fourth quarter.
SNC-Lavalin also said the quarterly cash dividend would be increased by 4.8 per cent to 22 cents per share for the fourth quarter of 2011.
The company said that Ian Bourne will assume the function of vice-chairman and interim CEO until a new chief executive is hired to replace Duhaime.
"I look forward to working with our employees to build shareholder value," Bourne said in a release.
SNC-Lavalin is one of the top engineering and construction groups in the world and is currently working in some 100 countries.
Earlier this month, a class-action lawsuit was filed on behalf of shareholders who acquired its securities between March 2009 and February 2012.
The suit is seeking $250 million in damages from the Montreal-based company in relation to the millions in mysterious payments.
SNC denies all liability in respect of the claims alleged in the proposed class-action.